My attitude going into this race was SO completely different than any other race I've ever done. I'm usually a stress mess - I let the race get to my head and I psych myself out. But this is why it was different:

1. This is my first race since December 31 - Beat the New Year.
2. I've been battling this stupid stress fracture since January 2010 and consequently haven't run a consecutive 3 miles (I usually have to walk a bit in between each mile to give my ankle a rest).

3. I've never done a triathlon before.
4. I felt like I really didn't "train" that hard for this race (these past few weeks I've been so preoccupied with getting a gazillion articles of clothing sewn).
I had an open house last night for all my children's clothing, but was able to get to bed by 9:00pm. Oh....it was so nice to sleep!
I went and picked up the babysitter at 7:00am and Tim and I headed off to the Orem Rec Center. Though it was warm, there was still a bit of chill in the air.
We dropped off our bikes in the transition area, picked up our race packets, timing chips and got our arms and legs numbered (that by far was the coolest part of doing a triathlon! I felt totally official).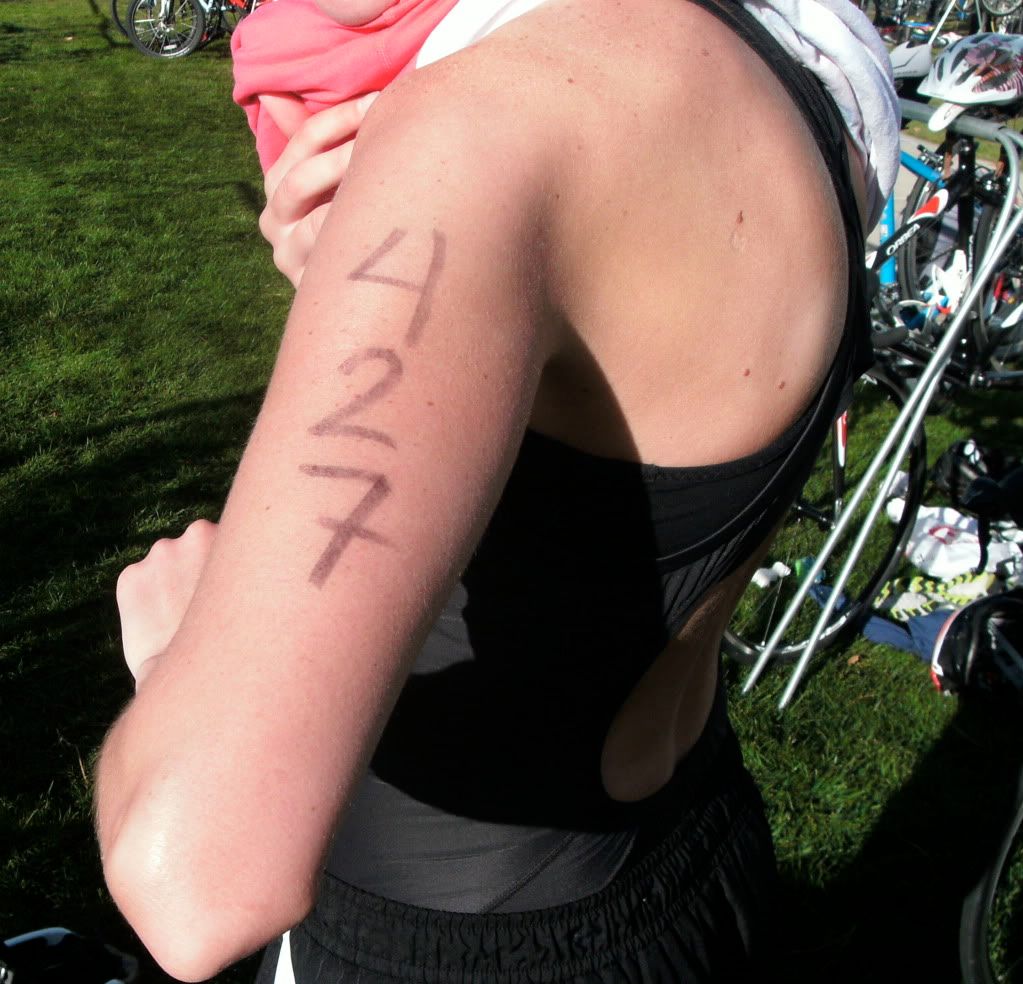 We went back to our bikes and I started watching all the "PRO'S" hang out by their gear. I felt like such a fish out of water - I had NO idea what I was doing!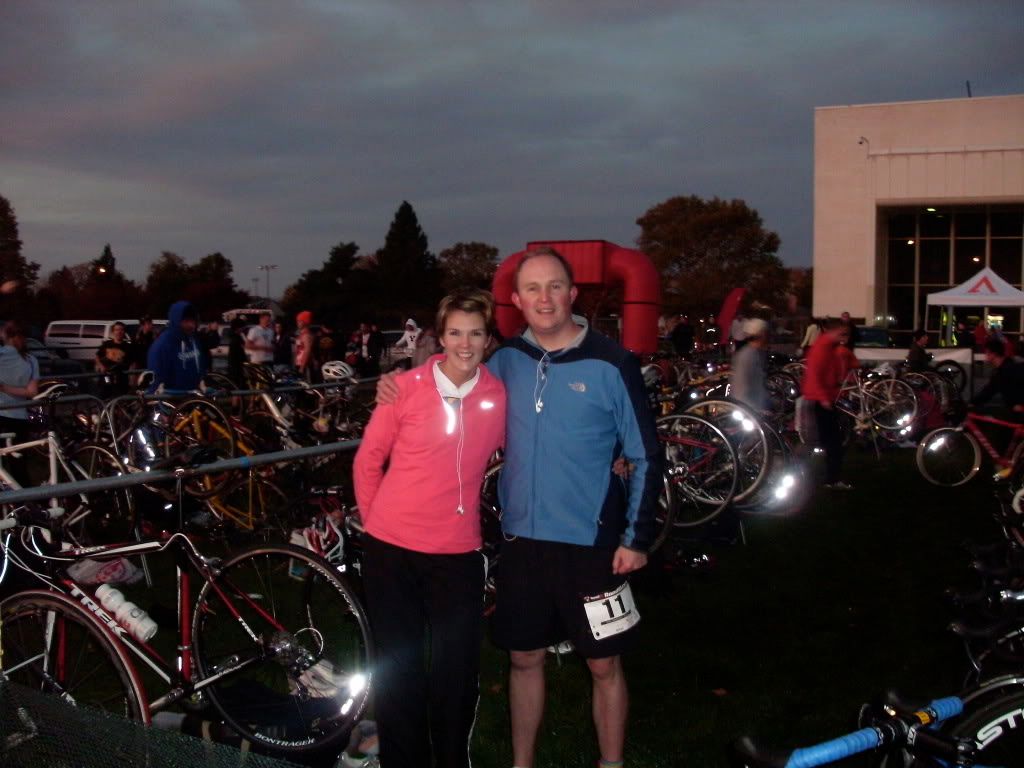 We went for a quick potty break (having to take off all the layers of clothes over a swim suit was a PAIN).
We took a quick spin on our bikes. It felt good to warm up, but then I started to think how out of shape I really am! How slow I am on a bike and what a terrible swimmer I was.
My main goal during the run was to help Tim run a consistent race. But silly me, I didn't bring my Garmin and they didn't have mile markers. I felt OK during the run, but I could feel that my lungs were sucking air. Definitely need to bump up the miles.
As I rounded the corner to the finish...I kept thinking "I still have to bike and SWIM". But quickly took off my shoes, put on my helmet and swore because Tim was already gone. So I ran through the transition area and clipped into my peddles.
When I train on my bike, I am SLOW SLOW SLOW! But today, I was a lot faster. I consistently passed people. We had to go up this GIANT hill on 400 south in Orem. Though it was hard and I was really sucking air, but I didn't die and was able to recover quickly. That was a real confidence booster. We had to do the bike loop twice.
I quickly dismounted from the bike, threw my gear down and headed to the pool. Running in a swim suit to not fun! That swim was the STINKEST thing I've ever done. There were so many people in the lanes and I kept getting kicked and hit. In the shallow end, I ran faster than I swam. My goggles were constantly foggy and my contacts were getting messed up. I just kept thinking, 5 more laps to go, 4 more laps to go....But then I was done.
Tim was at the finish with his parents. He finished 3 minutes ahead of me. I'm so competitive, who cares if he is my hubby, it made me mad he beat me! I told him it was "GO TIME" at the next tri!
We dried off and got dressed. They had posted the results and I had to do a double check. I placed 6th in my AG - but there were 3 of us that finished at 1:13:00, so if I would have been 2 seconds faster, I could have come in 4th! Given my training for the past several months, I feel ok about the race (I can definitely run and bike faster). I definitely want to do another tri!

Run: 25:35
T1: 1:54
Bike: 34:04
T2: 1:17
Swim: 11:03

Total:1:13:55