Russian champion tries Crocs, commits to racing a marathon in them
Nikolay Chavkin in the video below did 3x1000, first two in Adidas carbon-fiber models, the last one in Crocs. Surprised by the result (2:52, 2:52, 2:50) with the fastest interval done in Crocs, he committed to racing a marathon in Crocs if the video gets 42K likes and 195 comments (for 42 km 195 m, the marathon distance). Nikolay's current marathon PR is 2:14:00. The video was created by a Russian sporting goods store chain. Their moto is "more sports - brighter life", which we think is wonderful, and also deserves a Like. If you want to see a fast marathon in Crocs, go to the video and click the Like button. And make sure to share it with your friends.
Miles:
This week:
0.00
Month:
0.00
Year:
1393.21
2014 - Minutes Lifetime Miles:
28605.00
| | | |
| --- | --- | --- |
| Slow miles | Fast miles | Total Distance |
| 54.80 | 0.00 | 54.80 |
| | | |
| --- | --- | --- |
| Slow miles | Fast miles | Total Distance |
| 0.00 | 0.00 | 0.00 |
Designated rest day...and perfect timing too!! We were up late last night having a festive night and it was nice to sleep in. I purchased my kids candy for $8 (because they are 8 years old). Best investment EVER. I took all that junk out to the trash man this morning. We are going to Target on Saturday to spend out hard-earned cash.
I've been cleaning like a mad lady today. AND I'm doing the pre-Christmas dejunk. I took several bags to DI and straightened up closets. I still need to tackle the toy room, but I need to find another bucket of motivation. All those darn legos and polly pockets!
We'll see how long the cleanliness lasts!
Comments(2)
| | | |
| --- | --- | --- |
| Slow miles | Fast miles | Total Distance |
| 5.00 | 0.00 | 5.00 |
I received my Ogden Marathon confirmation email last night...I'm IN!!! I'm SUPER SUPER excited and yet very nervous! I reviewed my flexible training plan (2 mile/week increase and every 2 weeks is a rest week) I made earlier in the week and started planning tune up races. Then I got frustrated with myself for not being laid-back and not having the "I don't care" attitude. And I couldn't fall asleep because my brain was in overload. "Am I trying to do too much too soon"..."I won't be able to get my fitness back and this will all be a waste of time and money" yada....yada...yada....
Running makes me mental sometimes.
I went to the gym this morning. Once I realized how warm it was, I wish I had gone outside. I watched a news story of how a lady gave birth in her car as her husband was driving her to the hospital. Ahhhhh...
6 x 5 min walk/5 min run 52:52 (getting faster)
During my last 5 min run, I really wanted to make it to 4.9 miles so it was actually an 6:22 minute run and I walked the last .10 as a cool down. I ran most of my runs at 7.0 mph or higher which is WAY faster than I normally do. I was breathing hard, but definitely manageable.
Quick foam rolling
My massage therapist worked on my lower legs today. She's SO awesome!
Comments(2)
| | | |
| --- | --- | --- |
| Slow miles | Fast miles | Total Distance |
| 5.80 | 0.00 | 5.80 |
My youngest daughter earned a sleepover with her cousin. I'm afraid she thought "sleepover" meant stay up ALL night long. She was still going strong at 10:00pm when I went to sleep. Then I heard her again at 1:00am. I think she went to sleep shortly thereafter. But she was the first one awake this morning. It is going to be a long grumpy day for a 5-year old.
I got to the gym later than normal so I could make breakfast for everyone and do hair. I left them to rake 500 bags of leaves. Darn it!!!
3 x
10 side lunges with weights
10 hamstring lifts
60 planks
15 skull crushers
On the run:
2 x 5 min walk/5 min run
2 x 4 min walk/6 min run
1 x 5 min walk/5 min run
1 x 3 min walk/7 min run
58:42!!!!! I tried to do my runs at 7.0mph but it was a lot harder today. Probably because I was running further at the speed. NO ankle pain. Yahoooooooo!!!!!!! I just need to build up my fitness.
Long stretching session
Foam rolling
We took our kids to Target this afternoon to let them spend their Halloween candy money. Way better than consuming all that candy.
Comments(2)
| | | |
| --- | --- | --- |
| Slow miles | Fast miles | Total Distance |
| 5.00 | 0.00 | 5.00 |
I headed up the LP Hwy again this morning. They switched the construction cones, so I tried to stick on the sidewalk. But at each intersection, they have laid new cement which has plastic covering over it, so I had to tip toe over it. Very complex!!
I'm still contemplating HOW great I felt this morning. My first mile was slow and hard (but it also has a mile long hill), but after that I was cruising!
50:38
5 min walk/5 min run
4 min walk/6min run
2 x 3 min walk/7 min run
2 min walk/8 min run - I was about a mile away from my house and wanted to see if I could run an 8 minute mile. But I did it in a 7:37. Yahoo!
No ankle pains. My kids got up so darn early because of day light savings, so my morning nap was cut short :(
Comments(1)
| | | |
| --- | --- | --- |
| Slow miles | Fast miles | Total Distance |
| 4.00 | 0.00 | 4.00 |
3 x
10 back lunges
10 side to side lunges
10 bicep curl/overhead press
60 second plank
On the RUN:
Calves felt very tight and very beat up from yesterday's hard effort.
4 min walk/6 min run
3x3 min walk/7 min run
LOTS AND LOTS of foam rolling on my calves and ITB. Ankle is achy/tired today.
Add Comment
| | | |
| --- | --- | --- |
| Slow miles | Fast miles | Total Distance |
| 5.00 | 0.00 | 5.00 |
48:47:00
3 x 3min walk/7 min run
2 x 2 min walk/8 min run
Fair to partly cloudy on the run. My ankle was very very tired and my calves ached. UGHHHHHHH!!!!!!
Long stretching session and foam rolling. I wore my compression socks all day yesterday and today.
I still haven't registered for Ogden even though I was accepted into the lottery. I don't know why. I think I have this deep dark feeling that I just won't be ready. Running makes me mental.
Tomorrow is a rest day.
Comments(1)
| | | |
| --- | --- | --- |
| Slow miles | Fast miles | Total Distance |
| 3.00 | 0.00 | 3.00 |
Outside. No watch. Hurried because I had a baby shower to put on.
Add Comment
| | | |
| --- | --- | --- |
| Slow miles | Fast miles | Total Distance |
| 3.00 | 0.00 | 3.00 |
Weights:
3 x
Side lunge with a weight lift
Hamstring lifts
Front/back lunges
Skull crushers
10 pushups
Run:
3 easy miles. Calf still very achy
Comments(3)
| | | |
| --- | --- | --- |
| Slow miles | Fast miles | Total Distance |
| 3.00 | 0.00 | 3.00 |
I found some awesome weight workouts on Pinterest. I'm fairly new to that awesome website....why did I wait so long to check it out!
3x
squats with weights
pushups
jump lunges (I'm not very good at these)
tricep dips
mountain climbers
v-ups
I was totally sweating by the end and I am starting to feel the soreness come on. But it only took me 10-15 minutes to do. Nice!
3 mile run on the TM. Calf still had weird spasms on the onset of running. Lots of stretching and foam rolling.
My baby lost her first tooth last night.
Comments(3)
| | | |
| --- | --- | --- |
| Slow miles | Fast miles | Total Distance |
| 5.00 | 0.00 | 5.00 |
I'm definitely sore from Monday and Tuesday's weight workouts. So it was just running for me today. I'm liking the less running/more weights thingy going on!
5 easy miles on the TM.
46:30:00
Stretching and lots of foam rolling.
When I got home, my 5 year old was in my bed. So much for my morning nap.
I need to decide TODAY if I'm running Ogden. Sigh....
Comments(4)
| | | |
| --- | --- | --- |
| Slow miles | Fast miles | Total Distance |
| 4.00 | 0.00 | 4.00 |
I was very slow dragging this morning getting out of bed. But I did make it to the gym but was only motivated enough to run 4 miles. No lifting today.
My run felt good today. I really need to work on my form, but I have no idea how. I think that is part of the reason for this last stress fracture and for the current aches and pains.
I was really sad when I saw that Hostess was closing down. Really...no more cupcakes and twinkies????
Add Comment
| | | |
| --- | --- | --- |
| Slow miles | Fast miles | Total Distance |
| 5.00 | 0.00 | 5.00 |
I received a sweet invitation to run with Smooth and her gang this morning! I was so EXCITED, but realized that I needed to be home before they were going to be done. DARN IT!!!
SO I decided to text my SIL and see if she wanted to run up the canyon. She just did IVF on Thursday and none of the embryos survived. Having done IVF, I can understand her devastation. I told her we would just run...no talking so she doesn't have to put on a happy face (only if she wanted too).
Then Smoothie's gang moved up their start time. Ahhhh....I really wanted to go with them, but knew I couldn't bail on my SIL. BUT then I received a text from my SIL at 5:55am that her hubby had just gotten home from work and she couldn't leave the kids with him (he needed to sleep).
So I went from 2 running dates to nothing. I guess that is how the cookie crumbles!
It was much warmer than I had anticipated this morning and ended up taking off my jacket.
My first 2.5 miles were HARD. I was going slow and breathing like a monster. But as soon as I turned around, I was able to kick it into the next gear. I was able to maintain an 8:15-8:30 pace for 1.5 miles and then continued to pick up the pace. My last .4 home I was able to hit a 6:30 mile (talk about breathing hard!!!).
Quickly showered and headed up to SL to drive my mom around. I hope she can get a job and car soon.
No stretching or foam rolling.
Comments(2)
| | | |
| --- | --- | --- |
| Slow miles | Fast miles | Total Distance |
| 0.00 | 0.00 | 0.00 |
Two steps forward, one step back. That is how I roll lately. It seems like after I do a faster run, I'm always SO darn achy for the next few days. Is that normal? Should I not go fast?
Very very very achy today. Sigh. 30 minutes on the stair mill.
Squats with overhead press
Pushups
Squat position but just lifting up my heels
Dips
Donkey Kicks
Calve raises
Add Comment
| | | |
| --- | --- | --- |
| Slow miles | Fast miles | Total Distance |
| 4.00 | 0.00 | 4.00 |
I'm trying to figure out how my ankle feels today. It felt okay on the run, but usually become achy afterwards. We'll see :(
4 slow miles on TM
3x
60 sec planks
30 cherry pickers
20 LLL
Stretch and foam roll
I gotta get my mom mojo back in full swing because here comes Thanksgiving break!
Comments(3)
| | | |
| --- | --- | --- |
| Slow miles | Fast miles | Total Distance |
| 0.00 | 0.00 | 0.00 |
30 minutes on bike
3x
assisted pull ups
assisted dips
fire hydrants
fire hydrants with leg extended
donkey kicks
abs
PT appointment - SUPER SUPER awesome. I can't run for a few more days (sad), but my perspective on running/training totally changed after talking to my new PT for 2 hours. But I'm too tired to write about it now. It will have to wait till tomorrow.
Comments(1)
| | | |
| --- | --- | --- |
| Slow miles | Fast miles | Total Distance |
| 0.00 | 0.00 | 0.00 |
Even though I couldn't run the turkey trot, I was very excited to cheer on family members. And I LOVE to be a loud and obnoxious spectator! I guess one of my pet peeves at races is that spectators will just stand and watch and never clap or cheer. So I try to make up for everyone elses' lack of excitement.
All of our cheerleaders staying warm in the van: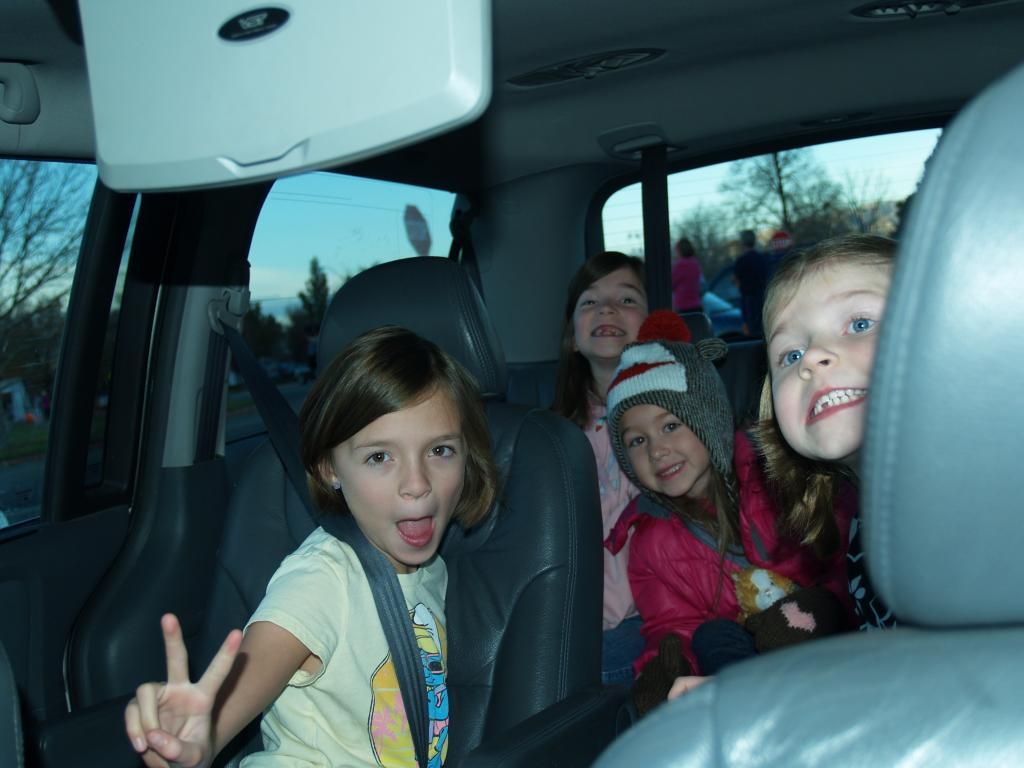 Husband, Aunt and Uncle running: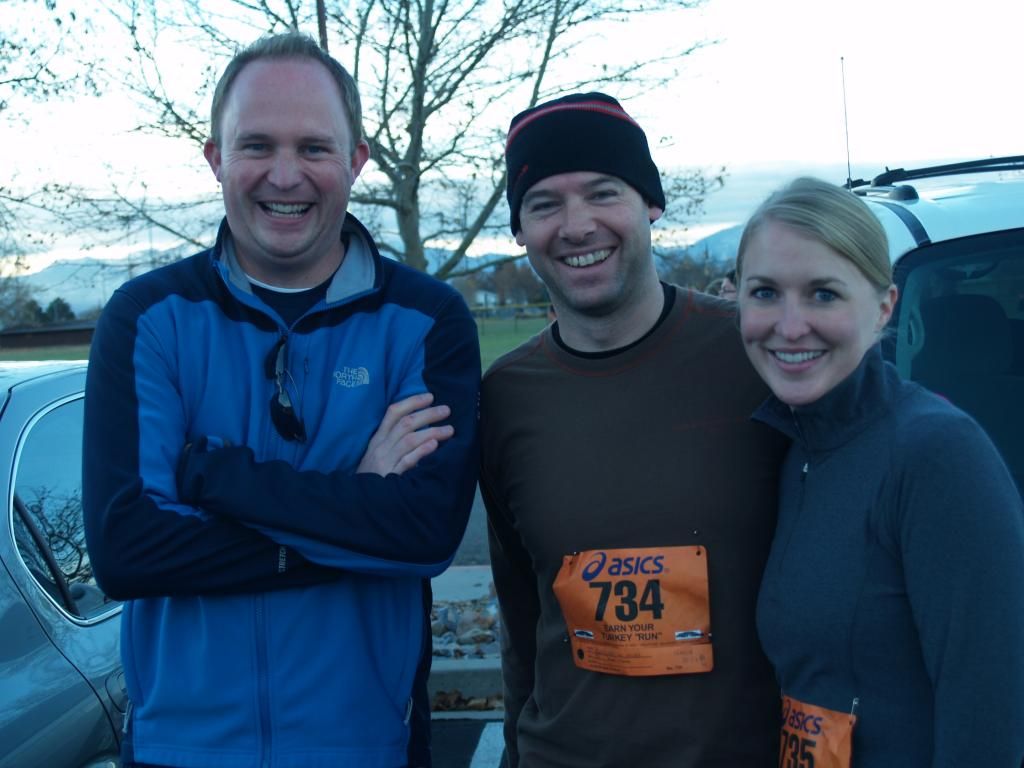 (Funny side story...as a kid, I would always go with my aunt to cheer for my mom, grandpa and uncle at the Grandma's Marathon. I LOVE to go to this race every year and had dreams of running it someday! One year, I was in the local newspaper for being one of the best spectators. I was super annoyed that the reporter was interrupting my cheering.)
Onto today's turkey trot! My kids and I went to the one mile point to give a big shout out to all the runners (and they did not disappoint!!!)
Mile 1:
Sasha
Melody (sorry for the blurry picture...ya'll were going to fast!!!)
Josse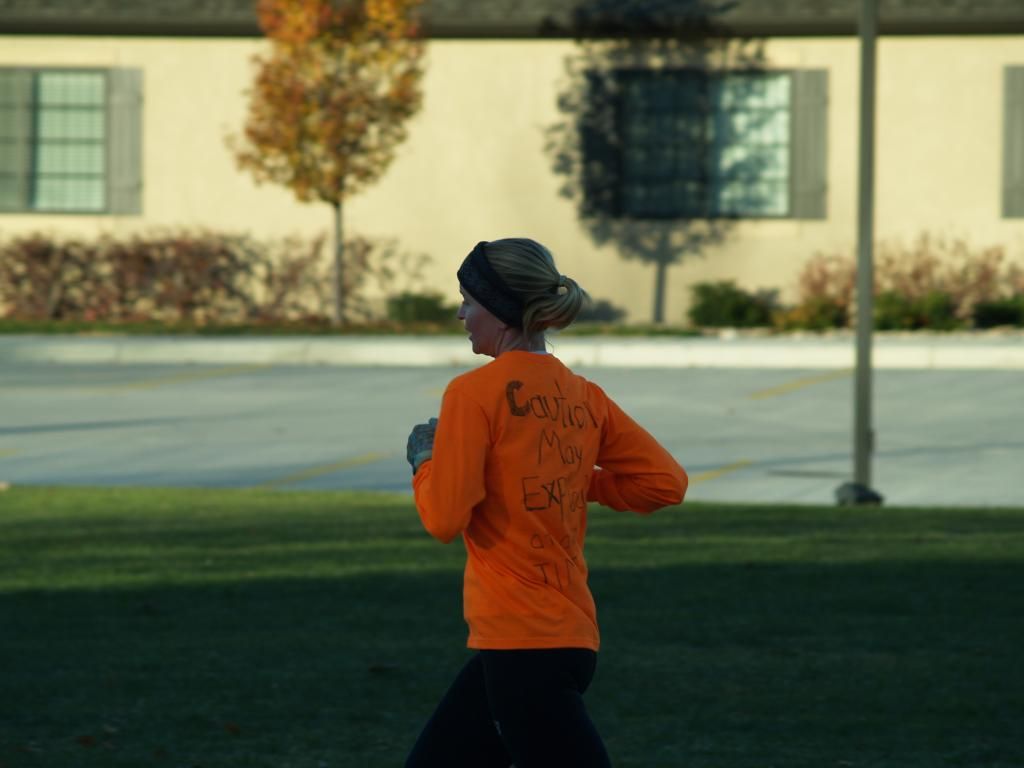 Husband, Aunt, Uncle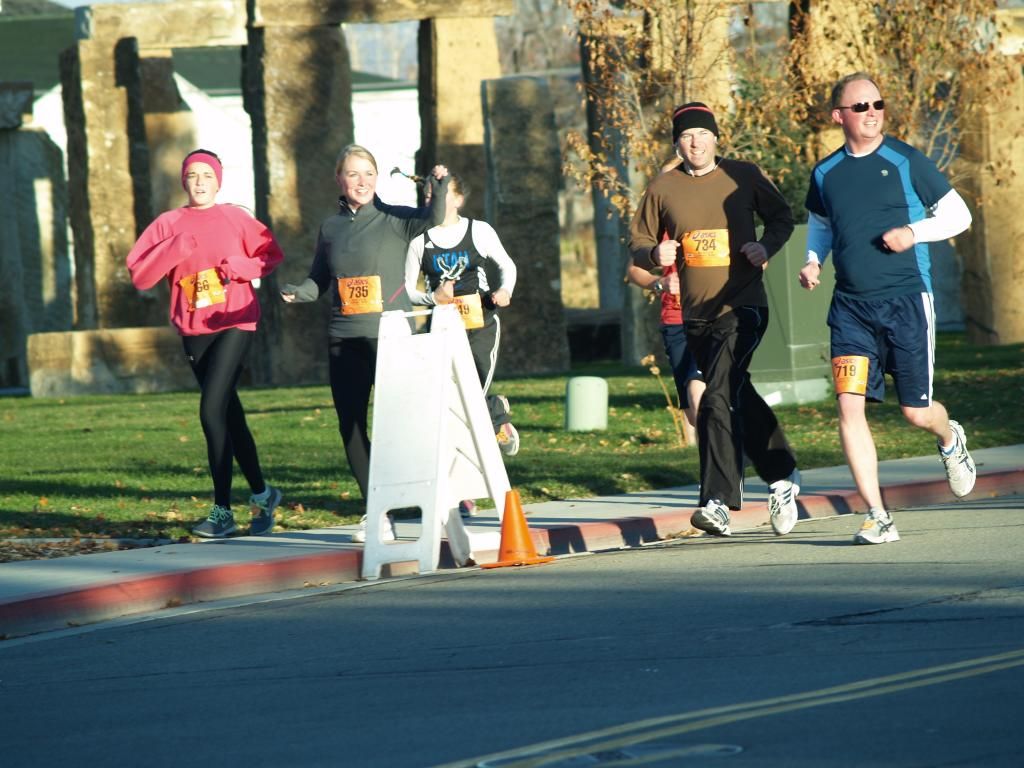 Cute spectators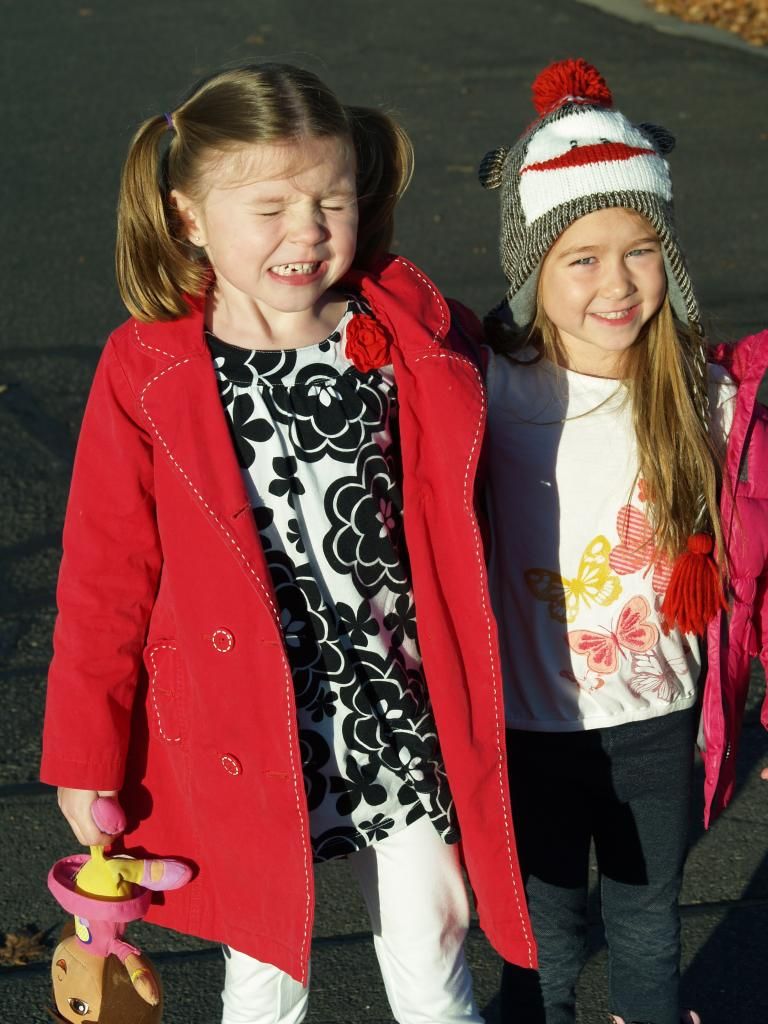 Finish of Husband, Aunt, Uncle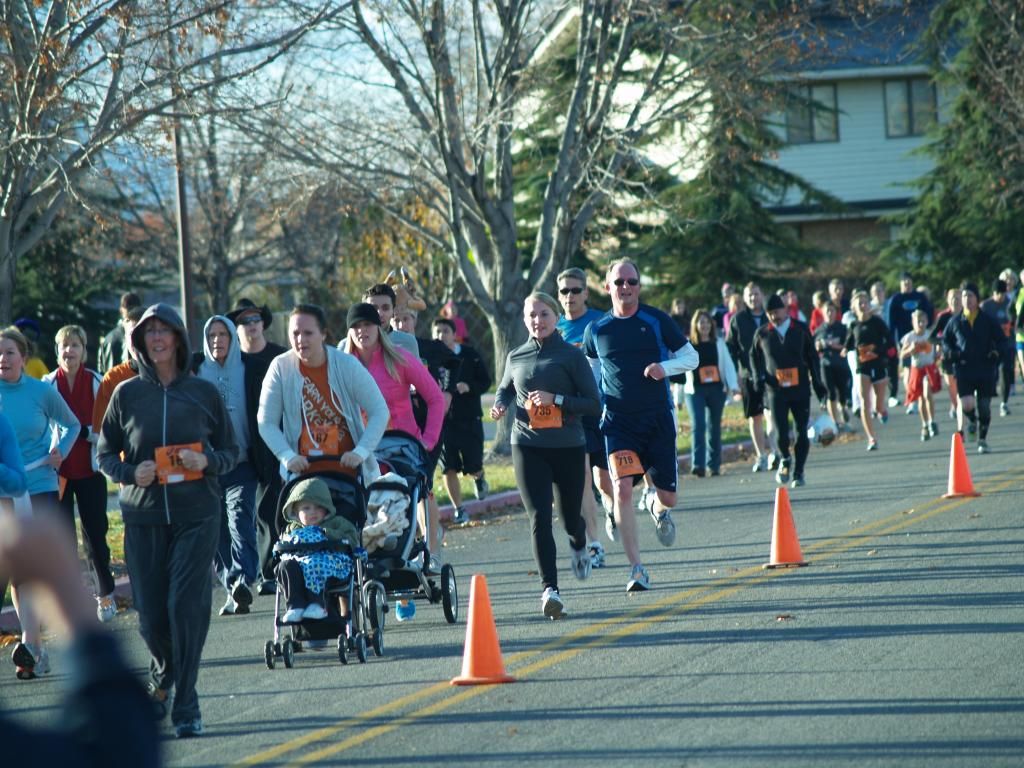 I was so proud of my husband as he PR'd today! Yeah...Go TIM!!!! It was a super fun morning and it was great to see so many FRBers out there!
Time to cook some 'taters! Happy Thanksgiving everyone!!!
Comments(4)
| | | |
| --- | --- | --- |
| Slow miles | Fast miles | Total Distance |
| 0.00 | 0.00 | 0.00 |
30 minutes on the bike with some climbs
3x
lunge matrix
15 pushups
abs
planks
Here is my PT visit from Tuesday ( for my own record).
When I met with my sports medicine doctor after my followup x-ray back in October, he suggested that I meet with a PT. I guess I wasn't very excited (time and money) and he is 25-30 minutes from my house. But this past week (or two), my ankle has been very achy, so I decided to just go and see him.
When he came in, I told him my long list of injuries and that I was getting close to hanging up my racing shoes. He laughed and told me I still was a long ways from throwing in the towel. He videoed taped me running on the treadmill and asked me to count how many times my right foot hit the ground in 60 seconds.
I hit the ground 45 times. I should be hitting the ground 90 times in 60 seconds....I am TOTALLY overstriding. As we watched the video, we determined I was a very strong heel striker. He said to reduce the heel striking and get rid of the lower leg aches, I needed to shorten my stride (significantly) which would help the heel striking. He called it the gerbil run. I tried it a few times. It was hard to keep count and move my feet that fast.
We talked a lot about training (I was there almost 2 hours!!!!). He suggested that I only run 3 days a week (a tempo run, a speed workout and a long run....and if I felt like I REALLY need to get out another day, I could do a run/walk recovery run). I asked him about the FRB common theme: run 10 miles/day and you will run Boston approach. He laughed and said I would probably never get to that point because my body would break down because of my running form.
I think he knew I was completely baffled by everything that came out of his mouth. He told me I needed to change my whole paradigm about running: less is more. I kept firing off question after question. He has run 18 marathons (a few sub-3 hours) and Ironmans. So I felt like he was qualified and knew his stuff.
SO....even though all of this has been SUPER helpful (I've spent several hours doing research on running form the past few days), my ankle still has been very achy. I'm not sure if I've refractured it or if it is achy because it is weak.
For the time being, all running goals are on hold. I need to process what he said about less is more. I need a little device to attach to my body and will print out what is wrong !!! Running makes me mental!
Comments(1)
| | | |
| --- | --- | --- |
| Slow miles | Fast miles | Total Distance |
| 0.00 | 0.00 | 0.00 |
Oooooo...my buns are sore from yesterday's lunge matrix.
3x
hamstring lifts with bar
60-75 sec planks (side-side-front)
tri-dips
30 minutes on stair mill watching some crazy snake hunter show...eeeewwwww....
foam roll and stretching
Off to go skiing with the family...yahoooooo!!!!!
Comments(1)
| | | |
| --- | --- | --- |
| Slow miles | Fast miles | Total Distance |
| 0.00 | 0.00 | 0.00 |
I totally feeling turkey fat this morning. Ughhhhh.....I think a lot of other people were feeling that way too because the gym was crazy busy!
4 miles on the stair climber (I looked at the clock every time I had to wipe off my sweaty face. 3 MINUTES....insane!!!)
A few LLL, donkey kicks, fire hydrants
Stretch and foam roll
Comments(2)
| | | |
| --- | --- | --- |
| Slow miles | Fast miles | Total Distance |
| 1.00 | 0.00 | 1.00 |
Yesterday was a bust. I had sick kids up all night who eventually ended up in my bed. Kids in my bed is never fun. Then I had to take my super emotional daughter to the doctor and I think she may have ADD. Then I was at the school all day. I spent too much time plunking out songs for the Christmas piano recital on Monday. The joys of being mom and not getting in a workout.
3 miles on the stairmill
1 mile test run. I wanted to work on counting my steps. I had to turn off my music and look at a spot on the TM so I could focus on my counts. I counted 5 times for 1 minute each - 80, 78,77,80,80. All this "funning form" stuff is hard....hard to make a new habit.
My ankle felt very creaky and achy and did until I got back home. But now several hours later, it feels okay.
Assisted pull ups and dips
B6 with no weights
foam roll and stretch.
Comments(2)
| | | |
| --- | --- | --- |
| Slow miles | Fast miles | Total Distance |
| 2.00 | 0.00 | 2.00 |
I'm SO very grateful for good, kind people who help me with my pathetic form!!!
2 miles on the stair mill
2 miles running - concentrate on stride count
LLL (feel the BURN), single leg balance stuff, lunge matrix, foam roll and stretch
Add Comment
| | | |
| --- | --- | --- |
| Slow miles | Fast miles | Total Distance |
| 54.80 | 0.00 | 54.80 |
Debt Reduction Calculator