Russian champion tries Crocs, commits to racing a marathon in them
Nikolay Chavkin in the video below did 3x1000, first two in Adidas carbon-fiber models, the last one in Crocs. Surprised by the result (2:52, 2:52, 2:50) with the fastest interval done in Crocs, he committed to racing a marathon in Crocs if the video gets 42K likes and 195 comments (for 42 km 195 m, the marathon distance). Nikolay's current marathon PR is 2:14:00. The video was created by a Russian sporting goods store chain. Their moto is "more sports - brighter life", which we think is wonderful, and also deserves a Like. If you want to see a fast marathon in Crocs, go to the video and click the Like button. And make sure to share it with your friends.
| | | | | | | | |
| --- | --- | --- | --- | --- | --- | --- | --- |
| Pegs 36 #8 Miles: 173.00 | Pegs #9 Miles: 322.25 | Peg 37 White Miles: 258.50 | Streak LT Miles: 5.50 | Peg 37 Navy Miles: 473.50 | Fly's Miles: 41.00 | Peg 37 Magenta Miles: 453.00 | Peg Shields Miles: 361.00 |
AM - 3, 6:17 pace. wasn't hard... wasn't easy though. new year, fresh start, getting back into shape and all.
RIP to MF DOOM, one of my favorite rappers of all time.
SOTD: vaudeville villain - viktor vaughn
all caps - madvilliany
doomsday - MF DOOM
books of war - RZA and MF DOOM
AM - 3 miles, 6:14 pace. i'll try and get in something longer and slower after work
also i discovered lactaid which means i discovered greek yogurt and that stuff mixed with muesli is the bomb yo
AM - 5 on the treadmill at 8.2 mph. 100 miles in the next 6 days! time to get based up with some base training
PM - 5 miles in about 31-flat. wanted to go longer but my legs were just refusing to slow down, even if it did feel like they were. hitting 12 miles in 1:15 would be fun but i wasn't confident the legs could handle it after basically no running last week. after a couple of days of doubles i'll be back in my pace pocket
sotd: the middle of next month - boldy james
AM - 5 on the treadmill, 8.2 mph. wish my 24/7 gym kept those hours after the lockdown but i gotta wait until 5AM to run instead, at least until it gets warmer. last winter i was able to run outside at 4am most mornings and i have no idea how i did it
PM - 8 miles, 6:26 pace. had some of the worst stomach cramps of my life!! i was barely able to keep my back straight so when my watch died at 7.5 it broke me and i stopped there. not sure if the cramps were from the greek yogurt i had after breakfast or the coffee 90 minutes before the run, but hopefully it's unrelated to both because i can't live without my 3 cups a day and adding greek yogurt into the diet is easy protein. i'll get that PM 12 tomorrow!
AM - 4 on the treadmill, felt fresh from two days basically off. i'm not sure if i got salmonella again or that lactose-intolerance medicine was false advertising but dealt with the worst stomach cramps of my life the past couple of days. mostly passed it now.
AM - 5 before work. cold and windy.
AM - 5 before work. for being below freezing out, it wasn't that bad. 4 years in Alabama have definitely made me better at running in extremes on the other side of the spectrum though. took it easy so i was surprised to see the first mile was 6:22 afterwards
AM - 5 on the treadmill. felt solid. ever seen the episode of the office where they race a 5k? i was andy on this run
AM2 - 12 at sandy. wet, cold, and hilly, my three favorite words to describe a run. oh, and muddy. last time i ran at sandy was november at about 7:08 pace, which was by far the fastest i've ever ran this tough-ass course. pace today was 6:40. probably should have been a few seconds slower but hit 9 miles right at 60 minutes and tried to get the pace to 6:38 so i could say i ran 30 seconds faster than i ever have at sandy; too bad the last 3 miles are all uphill. feels good to have 17 miles punched in before 9am!
PM - 8. came through the first two miles in 13-flat then relaxed; i'll be shocked if i can still do that in a few days
sotd: on that time - playboi carti
AM - 5 on the treadmill. was checking the logs last night and realized yesterday was my first 20+ mile day since september. my ex booty called me late last night but i went to bed at 8pm. tragic!
AM2 - 12 at sandy, 6:57 pace. was tired from the flux of mileage; finishing this run made for 42 miles in the past 28 hours. feeling pretty good! might end up getting 100 by thursday
PM - 8. high 6:40 pace the first 4 then the legs ran out of juice. survived it!
sotd: lost in moments - ulver. as someone who loves the industrial genre of music imbreding with basically any other genre, finding an industrial jazz song the other day that slaps was big for me
AM - off. recovery day; my legs aren't in desperate need of it but kinda feel like i'm at the cusp of overdrafting, with currency being miles and my legs being the bank in this metaphor. gonna try and get 25 again tomorrow if it feels feasible in the morning
PM - 5-mile shakeout, 6:18 pace. bounced back from the last two days much faster than i expected. felt really good! just super strong.
sotd: ante up - M.O.P.
AM - 5 on the treadmill. felt pretty good. the cold front we've had the past week melts away today so i'm saving the rest of my mileage for the pm so i can run in 60-degree weather instead of 20.
PM - 5 miles with some strong headwind, 6:18 pace again. too fast for a shakeout! luckily i didn't space these first two runs apart by much so i can afford the time to take a little more rest than i like to between shakeout and longer run(it's usually about 90 minutes)
PM2 - 15 easy. watch died but i'm sure the pace was slow. easy day tomorrow!
AM - 5 on the treadmill. working out some kinks from not getting the chance to run yesterday, but them's the breaks. hopefully should get a chance to run tonight to get the 100-mile week, either way easy day tomorrow then it's trying for 100 miles in 4 days again
sotd: tookie knows II - schoolboy q
AM - 5 before work, 6:37 pace. felt good, went a little faster for a shakeout just because it was cold and i wanted to get back indoors. didn't get the chance to run after work yesterday, oh well
AM - 5 on the treadmill. gonna have a lot more treadmill running on deck with the storms starting to come back in full soon. in an alternate timeline andy williams wrote a song about spring in the south called "it's the least wonderful time of the year"
PM - 5. didn't get a chance to run earlier because of GI issues. feeling better afterwards; always feel like it's russian roulette with this where either you run it off or you make it 100 times worse
sotd: omegah red - books of war
4AM - 8 easy. felt good, especially for it being totally dark out and below freezing for all of it. 7:09 pace.
11AM - 8 easy. was gonna go for 12 but my legs told me stop at 8 so i did. ran an hour earlier than i planned so that might have factored in, but on the bright side now i have the chance to run again before the storms hit tonight, or just get an extra hour of recovery. 6:51 pace. turned the pace off my watch face so all it says is distance so all the runs for the next few weeks are gonna be about the same effort.
6PM - 4 jogging, 7:44 pace. rain ended up starting much earlier than the snake oil salesmen we call meteorologists predicted, so my only options were the turf football field and the treadmill. both have their pros and cons, but turf is my absolute favorite running surface and i figured as long as i take it super easy the constant turning wouldn't be too much of a hassle for my legs. going out the door i thought the most i could manage was 4, but after a few minutes loosening up i felt much better. usually when i do this course for the first time i'm more susceptible to straining my legs, so still called it early. i'll probably have to run here again in the early morning since it'll still be raining anyway. i can only run so many turns!
sotd: i'm so tired - fugazi
3AM - 6 jogging on the turf field, 7:53 pace. it was pretty nice out for 3am in January; since it had just stopped raining it was high 40's with 100% humidity
4PM - 3. 6:59 pace. felt good aerobically, body wasn't hurting, but legs were completely lifeless, as they have been since the morning run. hopefully the shakeout gets the recovery blood flowing
AM - off. legs really haven't felt that good since the second run on tuesday. kinda annoying when i did 25's last week no problem that a 20 kicks my ass; but i'm hoping it's either from the 10 miles of turf turns or my shoes being past their prime, preferably the latter since i ordered a new pair last weekend. legs feel much better than they did at 3am, but if i don't feel comfortable running i'll just do a session on the stationary.
PM - 30 minutes at high resistance. got a little over 8.5 miles so i was fine with it
PM - 3 on the treadmill. new shoes came in! wild that i've bought 9 models of the exact same shoe. legs felt okay, i think. really i won't know until i see how i feel in the morning. not feeling too bad an hour later though
sotd: neighborhood threat - iggy pop
4AM - 5-mile shakeout, 7:02 pace. felt like a deer on ice the first mile then relaxed and felt better. did a light pickup for about 2 minutes towards the end to loosen up the legs. nothing crazy, about 6-flat pace. didn't realize how worn down my pegs i've been using were until i put on a new pair
sotd - samurai sword - the microphones
AM - 5 shakeout, 6:46 pace. felt great, surprised my legs bounced back from tuesday already; my calves were absolutely ripped to shreds wednesday/thursday
also i found a rare peg 36 color scheme and i will 100% pay extra to get them because they're sick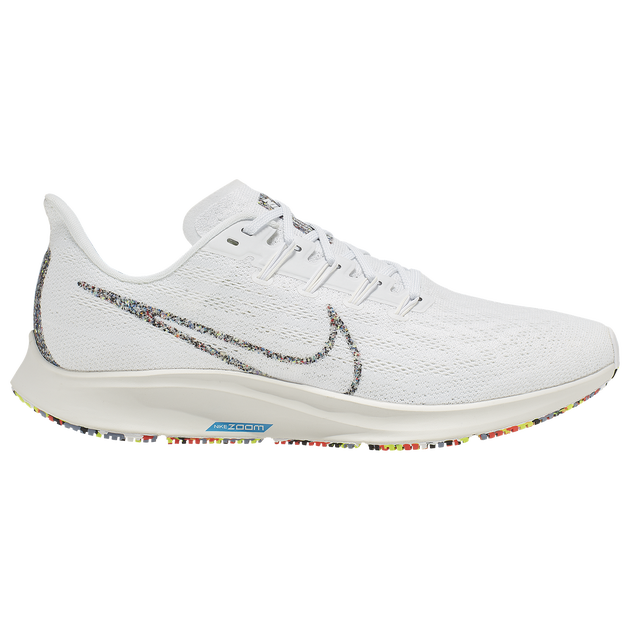 sotd: a madman's dream - east flatbush project
4AM - 7 miles pretty easy, 6:53 pace. 100% humidity, low 60's, and windy... not terrible running conditions for an early january morning. moving back up to doubles today!
PM - off. felt like i stretched too far and re-strained my calf; it's nothing major but i can tell over the past month my hips got out of alignment again so i'm using this as an excuse to see the chiropractor and give myself about 24 hours to let the adjustment set in. should be up and running again tomorrow night
sotd: fantasy - against all logic
PM - jogged on the treadmill for a couple minutes, then did 30 minutes hard on the stationary at high resistance. around tempo run effort, i guess. got 10.2 miles in that time
4AM - short shakeout. legs needed more time to feel better than i expected. felt alright... i think. one run at a time.
AM - 5. felt much better than yesterday!
AM - stationary
PM - few minutes of jogging on the treadmill and some more stationary to loosen up, then drills and plyometrics. burpees kicked my ass, but i definitely have a better vertical than i did a year ago. with as much jumping as i did and my legs feeling fine this probably means i can start running again
really wanted to run today but i had really bad stomach cramps and a jacked HR all day. long as it's not covid, whatever; hopefully i can sleep it off so i can run tomorrow. surprised how sore i am from the plyo session last night; feels like i did leg day(go figure)
PM - 4, 6:41 pace. felt pretty good! wanted to go longer but with only 7 miles ran in the last 8 days and a weight session later tonight(albeit mostly upper body) i decided to keep it short enough to test out the legs without really testing them. i'll go for 10 tomorrow and that'll be the real gauge. looking back it's only been two weeks since the wheels fell off and i've gotten some good stationary work in so maybe i haven't lost too much fitness. hope not; i was starting to feel really good a few weeks ago. legs feel stronger from the plyometrics!
PM2 - 10 minutes on the stationary to loosen up then core, back, chest and hips. probably gonna be sore tomrrow. good!
another day without running but this is one of the best excuses i've had in a while to miss it. i was completely ready to run but came outside to find my tires had been jacked, and no one else in the lot. it's messed up, and after filing a police report and knowing replacing this is all coming out of pocket after buying new ones just a couple months ago, i'm demoralized to the point where i don't think a run would fix it. it's a cold world man
PM - 3 at night after finally getting new wheels on the car. i'd been up since 2am so i was pretty tired but wanted to get the legs moving so i forced myself to hilton. could have felt worse after 2 days of no running
also i got a great story out of this crappy situation with the wheels. i needed a ride to an auto shop to get lug nuts but obviously couldn't drive, and the only person available to drive me was my ex i haven't seen in about 2 years. we drive to the shop and it was honestly less awkward than i thought it'd be.
so i get back in her car and after a few seconds driving back to my place i hear her sigh and look over and she's got the whole waterworks rolling down her cheeks. i'm like yooo wassup g and she says she just found out her new bf is cheating on her. well, apparently she meant cheating on her at that very moment because she pulls off the main road and drives to what i assume was her mans' apartment and is like "there's that two-timing mfs car, i think i remember where she lives" and pulls out, slams on the gas and drives around looking for her house, i guess
so now i'm just awkwardly sitting in the passenger seat trying not to say anything like i'm in timeout or something, worried i'm about to get caught up in a first-degree murder charge. there was a look in her eyes; i've never seen it in anyone before and honestly, it put the fear of god in me lol. she drops me off and i tell her she's too pretty for prison and she peels off and now i'm praying my ex doesn't catch a case because that looks bad on my tinder resume
like any faithful ex would i (mostly jokingly) offered to beat up her new man but apparently he plays football for bama so i'd like to emphasize the fact that my exes go on to date national champions which kinda feels like a dub for me somehow
sotd: i hit it first - ray j.
AM - 3 again. started to feel the days i haven't ran the past month coming back to haunt me but i definitely felt stronger than i would have if i didn't do the strength sessions this week. it's supposed to rain from noon through tomorrow morning but i'll still try to get out there for a shakeout tonight even if i'm tired after work.
AM - 5, 6:35 pace. was running on 3 hours of sleep yesterday and unfortunately didn't have it in me to do it again so slept through my alarm and didn't have much time before work, so took it a bit faster for still being half-asleep. felt much better than i have the past couple of days; i didn't look at my watch until after the run and i'm not sure if i expected the pace to be faster or slower.
feel like i've been lacking ambition in running the past couple of months, and REALLY feel like that switch got flipped the past couple days. not letting that fire get snuffed this time!
sotd - la mala ordina - clipping
AM - 10 miles, 6:39 pace. was tired but tried to pick it up the last mile and ran a 5:58. felt less like i was flying and more like i was desperately running for my life, lol. felt good to feel that pain; although i'd rather it correspond to something in the 5:20's instead. baby steps. shakeout and plyos tonight!
PM - 5, 6:51 pace. legs felt tired but had a LOT of bounce in them. guess that's why you do strength work
PM - plyometrics. tough one!
AM - 5, 6:36 pace. felt pretty good. took a step around mile 3 and felt my calf strain a bit. didn't feel it before or after that but told myself i'd stop at 5 to exercise caution. shame, but it's a run.
PM - 5 shakeout, 6:59 pace. felt pretty good! could feel the plyos in the legs, both for better and for worse(mostly better). weights in a couple hours!
PM - calves, quads, biceps, triceps. had a paradox where my calves felt strained from running, but the way to avoid that was by straining them more with weights, so might be incapacitated for the morning run tomorrow. either way, it was a good session.
bringing back sotd! today it's bad boy for life by p. diddy bc we're keeping the lombardi down in the dirty south!
20 min of jogging on the turf field
5 on the treadmill before work! felt good
AM - 8 easy before work, 6:53 pace. surprised i didn't cut the run short; it was cold with a vicious wind and corresponding wind chill. we're supposed to have a nasty winter storm hit us later today and last until tuesday morning, so monday's mileage is up in the air. hopefully the weathermen and weatherwomen are once again exposed as frauds tomorrow so i can get the work in.
sotd: blockbuster night pt. 1 - run the jewels
7 on rodeo, first 5 at 6:17 pace. weights later.
6:40 pace on hilton. i forget why i stopped early
12 on sokol, 6:43 pace. weights after
letting my fans know i am alive and well, and also getting some decent 90-minute runs and strength training in lately. been super busy with things like work and academics but i'll enter all my training whenever it clears up(should be some point in the next few weeks, probably immediately after tax day). i'm gonna try to do a 30-mile long run the saturday after next and if i get that done i'll definitely be here talking my talk lol. haven't ran yet today because of a pretty nasty storm, but once it clears up tomorrow it'll be 70's and sunny for the next week. i'm gonna get some great runs in.
12 on sokol, 6:34 pace. weights after
8 before work on mural. 6:41 pace. cold and dark!
treadmill. no running last couple days bc bad storms.
AM - 6 hilly, 6:52 pace. had a bad cramp.
PM - 3, 5:54 pace. felt amazing
AM: 11, 6:47 pace. tired from the second run yesterday.
PM: 5 on mural, 6:38 pace
11 at sokol, 6:37 pace. last 2 miles in 12:20
it rained all night so running on sandy should have sucked. lotta mud, lotta hills. however, i got my new shoes in the mail yesterday, plus a pair of 2" shorts(haven't worn short shorts since like 2017), so i guess that was a recipe for success.
11 miles at 6:18 pace with the last 4 in 24:07, 136 avg HR. felt amazing the entire way, i kept expecting the hills to finally do me in but it never came. a few days ago i felt super good on my second run of the day and ended up running 5:54 pace like it was 7-flat, and ever since then i've just felt great on every mile of every run. i'll probably run again tonight since we're supposed to have a severe storm hit us from basically midnight to midnight tomorrow(i'll say it for the umpteenth time, gotta love spring in the south), so not sure what i'll be able to get in. i might end up running over 100 miles this week for the first time in forever, but only if i can get in something tomorrow, so fingers crossed. if not i'll definitely clear that next week, then workouts start the week after that.
PM - 5, 6:33 pace. saw ethan running while i was stretching beforehand, he asked if i'd finish his run with him and i figured eh, it's been a while since i ran with someone. took it a bit easier because his breathing seemed labored(he said he ran a 15:20 5k last week so i'm kind of surprised), then once he dropped off after 3 miles ran the pace i wanted to from the start. ended up being about 6-flat, felt easy. good day of training. if i get a few more days like this in before workouts start, i'll be very excited to see what i can do when i really let loose :)
sotd- enecs eht no kcab - one be lo & DJ virus
Peg 37 White Miles: 16.00
AM - 3 on the treadmill
AM2 - 7 on sokol, 6:17 pace. felt great.
sotd: huh??? - rural internet
| | |
| --- | --- |
| Pegs #9 Miles: 7.00 | Peg 37 White Miles: 3.00 |
AM - 13 on mural, 6:26 pace. it stormed last night, so not only was the course soaked and windy, but also nearly 70 degrees with full humidity by 6:30am. the run should have sucked, and it did, stayed strong though. after like 4 miles the average pace never got slower than 6:27 or faster than 6:26, so i was running good splits even if i felt like i was about to catch on fire.
also, if any southern vets have recommendations on combatting humidity on runs, would love to hear it. jogging 7:30's during the hotter months like i've done in the past is one thing, but aerobic runs like this in warm weather mean getting uncomfortably close to that red line, and i'm not trying to cross it on a run meant for recovery
PM - 5, 6:35 pace. i work this afternoon until late so my only chance to run was around noon. since the recovery time was small plus it's been a solid week of decent mileage, decided to take it easy... after running the first mile in 6:01 :)
sotd: stay fresh - j rocc
| | |
| --- | --- |
| Pegs #9 Miles: 13.00 | Peg 37 White Miles: 5.00 |
6-mile jog on the track, 7:12 pace. felt tired from yesterday, i'm pretty sure it's more to do with a lack of recovery than the running itself. feeling a lot better now that i got the blood flowing
AM - 11 miles on sokol, 6:16 pace. sokol isn't an easy course, so flying on it without putting in too much effort is a huge mental boon for that first workout next week. might do some short hills this week, but if i do it won't be anything too hard.
Peg 37 White Miles: 11.00
AM - 11 miles on sokol, 5:59 pace. if yesterday was a boon, not sure what you'd call this. double boon? boon squared? boooon? either way, this was awesome, and running it on a hilly course with an avg HR of 139 makes it even better. last 5 miles in 5:58, 5:55, 5:54, 5:47, 5:44
PM - 3 on mural, 6:16 pace. probably would have taken the PM off, but we have a nasty storm hitting us from tonight to tomorrow night so i probably won't get a chance to run in the morning. all i got was 3 before the storm hit WAY faster than expected
Peg 37 White Miles: 14.00
PM - 3 on hilton, 6:22 pace. felt easy, but conditions were terrible.
AM - 11 on sokol, 6:10 pace. felt way easier than the two sokol runs i did earlier this week. long run should be fun tomorrow if i'm feeling good. ready to hurt!
Peg 37 White Miles: 11.00
AM - 18-mile LR at mural, 6:12 pace. last 13 in 1:19:39.
quick complaint; this run definitely would have been faster at sokol or hilton, maybe even sandy. temperatures went below freezing last night, so at 6:30 the grass was wet and mushy which isn't the best surface for running fast. otherwise, perfect conditions. no wind, 36 degrees at the start and 48 by the end. also might be worth mentioning i went to the gym 30 minutes prior to bike on the stationary for a few minutes and do a bunch of dynamics and drills to warm up, mainly because it was cold out and i wanted to keep the pace honest from the start. might be worth doing even after it warms up. great run!
pictured below: why i immediately regret getting cool color schemes for running shoes
PM - weights after work. mostly upper body and core, along with sled pushes and farmers walks. went heavy on the sleds and they killed
Peg 37 White Miles: 18.00
AM - 8 easy from northridge to sokol and back, 6:50 pace. then jogged to the track, did some drills, changed shoes and ran 6 x 100m strides with a 200m stride to finish it off. only timed the 200, that was a 30.0.
legs felt fine but i came up about 2k calories short of replenishing what i burned yesterday, and it bit me in the ass by giving me some serious hunger pangs during the run. strides felt great
also calling it now, i am 100% gonna lose at least one toenail this week. my middle 3 on my left foot have been on the precipace of falling off for about a month after a lot of trail running, and running in flats on a track isn't doing them any favors. onycholysis: a runner's best friend
| | |
| --- | --- |
| Peg 37 White Miles: 8.50 | Streak LT Miles: 1.50 |
AM - 4 w/u + drills and strides, then 4 x k w/ 2:45 rec in 2:59, 3:03, 3:04, 3:04. 5 c/d
nothing crazy on my first workout, but even the tower of babel started from the ground, right? botched that second k by coming through the first 200 in 31, surprised that didn't end up hurting me more but i guess calling 6:20's easy pace had to be good for something. kept the total work short since i knew my legs were gonna get shocked from actual hard running, but never tightened up or went over the red line, plus i felt pretty good on the cooldown, so i think i ran the times i was supposed to. happy with it all things considered! RIP to my index toenail
PM - 6 at hilton, 6:06 pace. obviously, i was still reeling from this morning ;)
| | |
| --- | --- |
| Peg 37 White Miles: 15.00 | Streak LT Miles: 3.00 |
AM - 6 on sokol, 6:24 pace. legs felt tired, but weren't hurting and really weren't all that sore either. however, what i said about not eating enough on sunday and it biting me in the ass, multiply it by 10 for this run. it's tough being a poor college student when you're burning over 5000 calories more days than you aren't, lol. ended up calling it at 6 because i was straight up starving, but also it's probably for the best i cut the 12 short this morning considering yesterday was basically all quality and i can't be getting greedy so early in training.
PM - 6, 6:18 pace. ankles felt a little stiff, i think that's more because of it being on hilton than anything else though
sotd: reptilia - the strokes
Peg 37 White Miles: 12.00
PM - 7 on mural, 6:17 pace. felt stiff at first, but the last 15 minutes or so i started feeling good. last 2 miles in 6:03 and 5:36. not too often that i'll dip under 5:40 to close out a run! hope to change that soon; bought myself an early birthday present in the form of a whole bunch of supplements after reading a book on them for endurance athletes. once i can add spirulina, beet root, and tart cherry extract to my pre-run shakes, it's over!
anyone else unable to comment on blogs? or am i being silenced for speaking the truth
AM - 4-mile shakeout, 6:43 pace. TERRIBLE run! i wore sweatpants for some reason despite it being 70 degrees out with full humidity, and by 10 minutes in my legs had overheated to the point they were completely lifeless. normally i'd be wearing running tights under, but i wasn't today, and couldn't strip the pants off and just run around in my briefs, so i was stuck in my own little slice of hell. those last two miles i just kept feeling crappier so i called it at 4.
AM - 8 on sokol, 5:59 pace. would have been longer(and probably faster considering the last 6 miles were 5:55 pace), but during that last mile my stomach was NOT having it. oh well, at least it felt a lot easier than 11 at the same pace last week.
AM - 4 miles on sokol, 6:11 pace. couldn't run this last weekend, isn't important why. felt good on this run(was already at 5-minute pace by ~10 minutes in), but since i hadn't run in 72 hours i cut it short since i could tell my legs needed a run to loosen up before i do anything else. in theory it should be back to the usual by tonight
AM - 8 miles on sokol, 6:07 pace. would have gone a few miles longer, but same issue as last friday where i really needed a bathroom but the park rangers hadn't unlocked them yet. it's kind of terrifying how controlled 6:00-6:15 pace has become for me lol
AM - 10 miles on hilton, 5:58 pace. kept it honest, but still relaxed. good run, hopefully 23-year-old me has a LOT more like it coming down the pipe :)
Peg 37 White Miles: 10.00
AM - 4 on sokol, 6:13 pace. watched the al davis 30 for 30 last night, it's a pretty good watch
AM - 10 on sokol, 5:58 pace. spent most of the run trying to recall where joe flacco signed this offseason; not that i'm a fan, it just bugged me that i knew i knew but still couldn't remember(spoiler: it's philly)
Peg 37 White Miles: 10.00
AM - 10 miles on mural, 5:57 pace. last 4 miles in 23:00.
this was supposed to be a long run, with the plan being to make the first 6-7 miles a little uncomfortable, but relaxed enough that i could drop the pace after that and still try and go for 20. legs felt good, conditions were perfect... but after 6 miles started having some rough GI issues. once that happened i said screw it and tried to run the last 4 miles in 22:59 or faster(so close). wish i could have gotten 20 in under 2 hours like i hoped, but in the last 72 hours i've done three 10-milers on three different courses all under 59:45, which is pretty sick.
Peg 37 White Miles: 10.00
AM - 10 on mural, ~6:10 pace. yesterday i tried to run the last 4 miles of my run in under 23 minutes and came up a few decimals short. today i ran the first 4 miles in 22:47. definitely could have held that pace a while longer, but i'm planning on doing a workout tomorrow so after 4 i ran another 6 a lot easier, about 6:35 pace(watch died near the end). i've been running for over 10 years now and i still have no idea how i got this fit over the past month or so(okay, i do, i just didn't think nudging my easy pace down would work out this well!)
Peg 37 White Miles: 10.00
AM - stretching, core, and weights. did front squats + step-ups and i think it gave me carpal tunnel syndrome lol
AM - 6 at sokol, 6:07 pace. legs were grateful to have yesterday off, and the DOMS from weights yesterday didn't kick in until after the run, so double positive.
PM - 5 miles on mural, 5:59 pace. was planning on going a LOT longer but my calves were still a bit raw from yesterday, so 5:59 was playing it conservative
Peg 37 White Miles: 11.00
AM - 7 lighthearted miles on sokol, 6:26 pace. it's supposed to storm bad friday night, and we have a cold front precipitating it, so even though i started at 9:30 it was mid-40's and gray out(in late april. in central alabama). would have been great conditions if it weren't ludicrously windy. spent a few miles in the middle exploring the golf course next to sokol; i'll probably run it again, just not when i have to constantly have my head on a swivel for someone yelling "fore"
AM - 3 shakeout on hilton, 6:32 pace.
PM - 23 miles on mural, 6:13 pace. 30 minutes later and i'm still delirious, but i'll try to give a quick summary. ran the first 19 miles in an amazing groove, then not having any caloric intake during this run bit me in the ass and those last 4 miles i was just trying not to pass out. wanted to go for 27, but i thought i'd be lucky to get that far going 6:40 per mile so i'm fine with this. threw up after, first time i've ever ran hard enough to do that. great freaking run. shoutout to connor baller for calling me immediately after to gas me up lol
kinda pissed that i didn't just jog another 3.3 to run what probably would have been a mid-2:40 marathon, but i really didn't have anything left at the end there. next time.
| | |
| --- | --- |
| Peg 37 White Miles: 3.00 | Peg 37 Navy Miles: 23.00 |
AM - 6 very easy on hilton, no watch. legs had no life to them, but weren't hurting or even really sore, which was a surprise because i was pressing through a lot of pain last night. very windy, you could definitely tell a bad storm is hitting tonight.
AM - 10 at the gym with a 3-mile tempo in 15:55. felt uncomfortable from the start, but not any more uncomfortable as the run went on, which i think is the indicator i ran it correctly. not too shabby, considering i had a hard run just 36 hours prior. could have fooled me!
| | |
| --- | --- |
| Fly's Miles: 3.00 | Peg 37 White Miles: 7.00 |
AM - 4 on sokol, 6:15 pace. put off the run until 9:30 and found out the hard way that's probably not gonna be an option again until september, barring another cold front. got to 4 before the heat cramps broke me. looks like it's that time of the year where the alarms go from absurdly early to ludicrously early.
AM - 12 x 400m w/ 200m jogging recovery in 60". w/u and c/d for 12. was already a mile into the cooldown by 6:30am so suffice to say i woke up early for this one.
splits: 72, 71, 72, 70, 68, 71, 70, 72, 71, 72, 72
average of 71.6. good session. i'd like to do 16 or 20 400's when the cycle brings this workout back around in the future, but given that i haven't done much running on the track i didn't want to throw too many turns on the ankles/knees too fast. never really done this workout before, i really liked it. felt like one of those workouts you can't fake.
PM - 5 on mural, 6:09 pace. 5:48 last mile.
| | |
| --- | --- |
| Fly's Miles: 4.50 | Peg 37 Navy Miles: 12.50 |
AM - 3 miles on sokol, 6:10 pace. might do another long run tonight, depends on if i can handle the heat and if my legs are recovered from yesterday(mainly the former)
AM - 3 on sokol, 6:26 pace. won't mince words; felt god-awful. it's either the humidity or karma for putting off training yesterday. hopefully the latter, since i'm giving the long run another shot tonight. it's gonna be hot, and it's gonna be hell. luckily i have an addictive personality and i'm definitely fiending for the euphoria i got from the LR last week
PM - 7 miles on mural, 5:58 pace. did everything possible to offset the heat and it still won in the end. it's a damn shame, those last couple miles i was really starting to relax and get into it. just couldn't get through the chest cramps. it's supposed to rain tomorrow night so i might give this week's long run one more shot tomorrow if the incoming storm means slightly cooler conditions.
AM - 5 on sokol, 5:53 pace. couldn't run in the AM yesterday and my knee got pretty sore for the rest of the day, so took the day off. usually the run right after an off day i feel lethargic, but the legs felt absolutely juiced. first 4 miles in 5:42, 6:02, 5:51, and 5:35 with some decent hills, then remembered i took yesterday off for a reason and ran an easier 5th mile then drove home. knee felt fine at least, and i have the peace of mind to get something slower and longer tomorrow knowing i did something faster today.
3 on sokol, 6:13 pace. forgot which pegs i wore
AM - 10 miles on mural, 6:04 pace. felt really good; wasn't blowing the door off the hinges the last few miles like i tend to at mural but was strong throughout. very muddy run.
was reading a book by brad hudson yesterday where he wrote that a marathon runner doing a bunch of 400m repeats for a workout is as useful as a 400m sprinter doing a 20-mile training run for endurance. i respect him as a coach(i wouldn't have been reading his book otherwise), but i still thought that was a really stupid take. while you're likely running much faster than you'd run in a marathon, it still helps to reinforce good form and mechanics, which is vital in a long race. if he had just said it wasn't an efficient workout for a marathoner i'd have no problem with it, but it's the sprinter analogy that annoys me. not like i could write a book any better, though.
PM - 6 on mural, 6:16 pace. have 1-4pm off from work today, so as soon as my long break started i got the rest of my miles in. since it was only about 6 hours recovery since the last run and i spent a majority of it on my feet, wasn't running with much spunk. with that being said, honestly surprised it was that quick. i'll credit the storm hitting later today for making it 70's and windy out, which did me a lot more favors than the normal 1pm weather down here.
| | |
| --- | --- |
| Peg 37 White Miles: 10.00 | Peg 37 Navy Miles: 6.00 |
AM - 4 on mural, 6:09 pace. despite using the same phone alarm to wake up at 4am every day, today it decided to go off on silent mode(i've said it before and i'll say it again, extremely dumb feature for an alarm. my phone wasn't even on vibrate or "do not disturb"). i guess it's not a bad thing considering if i ended up waking up at 7:30 without it i probably needed more sleep than the alarm would have given me, but it also means it was already 70's with 97% humidity out the second i woke up.
having stayed in alabama the last couple summers i already knew easy running in humidity sucks, but aerobic running in humidity REALLY sucks. luckily i'm going to provo for at least a portion of this summer, but i am curious if it's something i could adjust to, if i could do something like that 23-miler at 6:13 pace i did a couple weeks back in these swampy-ass conditions. now THAT would be impressive.
PM - 3 on hilton, 5:49 pace. apparently, it was a BOGO for getting my ass kicked by humidity today, although if i'd waited another 2 hours for it to get dark out i think i would have been able to go 6-7 like i wanted. gonna just pretend this was a tempo run so i don't feel as bad for only getting 7 miles in today lol
| | |
| --- | --- |
| Peg 37 White Miles: 4.00 | Peg 37 Navy Miles: 3.00 |
PM - 4 on the roads, 6:30 pace. stormed all day and didn't clear up enough until pretty late, so got to do a run down some empty campus roads which is always fun, even if i hate running on hard surfaces. wanted to go longer, but again the legs really aren't fond of asphalt(god forbid i run on a sidewalk someday)
AM - 3-mile shakeout on hilton, 6:29 pace.
PM - 8 miles on mural, 5:43 pace. once again got my ass kicked by the heat, have to accept the weather two weeks ago was a fluke and any long runs will probably have to be done in the morning the next few months. after 5 miles of a great groove i realized the heat was starting to hit me hard so i decided to just close with a strong 3 miles and get out before i got killed. ran that in 16:37(5:37, 5:30, 5:30).
i keep trying to imagine aaron rodgers not on the packers next year, it just sounds weird. wonder if all those anonymous sources on twitter are true
| | |
| --- | --- |
| Peg 37 White Miles: 3.00 | Peg 37 Navy Miles: 8.00 |
AM - 3 before work on mural, 6:09 pace. felt very easy. all i had time for today, hoping to get some decent mileage in tomorrow.
AM - 9 on mural, 6:05 pace. very very wet, probably 60% of my backside was soaked in mud by the end. i like to think it'd have been faster otherwise, but this still felt pretty easy. excited to see how elevation affects these aerobic runs, and even more excited to see how fast i'm running them when i get back to bama after a solid summer of elevation training
likely no running today. i got really nauseous with a killer migraine for most of yesterday and by the time i went to bed i was super achey and burning up. i feel better this morning, but not 100%. hopefully it's just a stomach flu or something and not COVID because i'm supposed to drive up to utah in a few days and that's just godawful timing. sounds like the kind of thing to happen to me, though. guess we'll see.
the symptoms started showing up after i cooked some eggs yesterday that i left a little runny, so it could be salmonella. honestly i hope so
PM - 3. after some advil and allergy pills this morning, felt much better. run was just "eh", but that's fine. gashed my shin open pretty good on a branch, didn't realize until i was getting gas for my car after and look down and see it bleeding everywhere
3 in a big storm, 6:20 pace
3 in another big storm, 6:17 pace
AM - 10 on the rail trail, 5:51 pace. felt great. drove down to yeehaw country(also known as texas) on monday and would have ran more since, but a brutal storm hit about a mile into that first texas run and lasted until late last night. hate running on asphalt but i'll be dadgum'd if it isn't easy to run fast on
PM - 5 on the country backroads, 5:53 pace. very hilly, very windy. only reason it was that fast was all the downhill(and tailwind) came in the last two miles, those were 5:37 and 5:28. went off today! i'm sure i'll be tired for the morning run tomorrow.
AM - 10 on the hilly backroads again, 6:11 pace. ran this right after waking up without the aid of caffeine; i usually wake up at least 90 minutes before a run to really wake up and ALWAYS have some form of caffeine beforehand, and today i saw the effect of it, or lack thereof. the pace was good but mentally i just didn't want to be out there lol. sucked it up and did what i needed to do.
PM - 6 miles on the backroads, 6:09 pace. first time running 15+ mile days back-to-back since january. that's embarrassing :) what's more embarrassing is if i continue the trend tomorrow, it'll be the first time since september!
AM - 11 miles on the backroads, 6:09 pace. made sure to make it extra hilly.
PM - 6 backroads, 6:00 pace. ran at 3:30 with not a cloud in sight and i only sort of completely regretted it. i hear heat stroke builds character
AM - 10 on backroads, 6:09 pace. slept in and started the run at 8:30, oh boy did that suck. wasn't super hot but sun was blaring and it was warm enough to bring the misery. hills were just salt in the metaphorical wound. probably not running tonight so i can wake up absurdly early tomorrow to drive to provo, and considering that drive is about 18 hours not sure how running tomorrow will fare either. it'll probably be a two day drive, but i'd rather the second day be shorter. last few days were money so i'm not too worried about an off day.
PM - 3 in farmington, new mexico. 5:56 pace. knew the ~6000ft elevation was gonna kick my ass before i even started the run, i just don't think i was aware how much i could get my ass kicked :) good god that thin air burns the lungs something terrible. i woke up at 2am and had done a 13-hour drive prior so i'm gonna say those were also major factors for the suffering, if nothing else than to help me sleep tonight. would have done more but the place i drove out to ended up being a major dud for a running route; all short dead ends or had lots of aggressive trailer park dogs.
AM - 5, 5:59 pace. was gonna run on the treadmill at the hotel, but the gym there was literally 93 degrees and the thermostat wouldn't turn down, so decided just to leave for provo an hour early. found out during the drive i'd be arriving about an hour before my homie i'm staying with would be home, so decided to run a few miles on this random desert road so i wouldn't be waiting around once i got to provo. considering i drove for 5 hours then just jumped out the car to run, i'd say it was a good run. elevation still kicked my ass but much less than yesterday. i need a run where my legs aren't stiff from a long car ride to really see how much the elevation is affecting me
AM - 6 miles trying(to no avail) to find a good running route immediately by the place i'm staying the next few weeks. 6:10 pace. i assume some people enjoy running in that they get to explore new areas; not me. guess it's time to go hunting for the perfect morning trail.
also, got asked to be a groomsman yesterday for a wedding in a couple weeks. only mentioning this because the groom in question reads my blog and i'm calling him out for not telling me he was engaged until yesterday, even though he knew i was coming to utah this summer for months, and has been engaged for months. his fiancee reminded him about asking me about the groomsman thing and i wonder how much longer he'd have waited to ask if not for that. anyway s/o to will; my wedding gift for you is me buying the dress clothes i wasn't aware i needed to bring with me. besides that, happy for them. the three of us have been friends for like 8 years and if you've seen the last episode of the office where michael says "my kids are growing up and marrying each other", that's the vibe
AM - 3 on kiwanis, 6:30 pace. never running here again lol, the unkept lawn in front of the UA law school is a better grass loop than kiwanis was. would have just drove to the trail i've been eyeing and running another few miles there but my left calf hasn't felt good since i didall that asphalt/concrete running yesterday, and the uneven grass didn't do it any favors. i miss bama and the good grass loops it had, even with the unbearable humidity
Noon - 4 up and down a very technical mountain trail, 7:02 pace. considering garmin says i gained over 1000ft elevation just in the first two miles, that pace is pretty good, especially considering i could barely run back down without risking dying by means of a loooong tumble. probably donating plasma later today, if it doesn't kill me it's probably a triple-run day, even if the mileage won't constitute it. 0-for-3 on trying to find a good running route in provo! i'm depressed
PM - 4 on BYU mural, 5:55 pace. I ran the first couple miles of yesterday's run here and wasn't a huge fan, but after realizing there probably isn't a ~1300m flat and fast square grass loop like there is at bama, i liked it a bit more knowing there probably isn't much better as far as grass loops go. it's only about .40 miles and it's more shaped like a right-angled triangle than a loop, but take what you can get i guess.
AM - a little over 10 on BYU mural, 5:58 pace. felt pretty good; i was tired from staying up late watching a terrible horror movie with the people i'm staying with(joe wright's "woman in the window"), but physically it didn't feel harder than any other aerobic run i've done at lower elevation the past couple months.
AM - 3-mile shakeout, 6:28 pace. only did this because my homie wanted to do this workout with me but he was taking forever to wake up so i got some miles in.
AM2 - 8 x 200m with 200m jog recovery in 60". averaged about 31-flat. nothing too crazy; we weren't sure if we'd even find an open track so i didn't have a real workout planned, so just sort of pulled this out of the hat. felt pretty good. 10 for the AM in total.
PM - 4 on mural, 5:57 pace. left achilles felt a bit tight, otherwise felt great.
AM - 12.5 with the blog sensei himself(better known as sasha) and blog veteran chad(pretty sure i got his name right. i'm no elephant!). 7:05 pace with a 5-mile pickup in there in 29:13 that felt REALLY good. kept having to check my watch because i don't think 5:50 pace has ever felt that easy. i would have taken pacing duties for a couple of miles, but as soon as i got ahead sasha had to scold me for (unintentionally) dropping the pace down :) can't remember the last time i ran with someone(again, no elephant); it definitely was a nice way to have the run go by a little faster.
PM - 3 on mural after work. 6:4x pace
Peg 37 Magenta Miles: 12.50
another bagel today. ran after my first job moving stuff and had my right peroneal tendon flare up. it's happened a handful of times the past year or so, and every time i've shot myself in the foot(or ankle) by coming back just a smidge too early and extending the time spent not running. i'll probably give it the full 72-hour recovery. done some strength work(mostly above the waist) to compensate. it sucks, but what can you do.
PM - 3 on mural, 6:09 pace. i was taking it easy, i swear. ankle felt a bit tight, but wasn't hurting so fingers crossed i'm in the clear
Noon - about 5. ankle continued to bug me after wednesday's run, but i said i'd play coach and give my basketball-focused homeboy a workout to get him some aerobic fitness(8 x 400 w/ 200m rec). the first 4 he was dropping off pace each repeat, so i offered to pace him for the first 200m of #5; did that in like 41(he'd been averaging like 92 up to that point). i was surprised my ankle felt better after it, so i told him i'd run his last 3 and just to stick on me. ran 85, 80, and 75 with him in tow on every repeat, so i'm proud of him. didn't put in much effort on my part, but somehow my ankle just felt better on every 400 until it felt completely normal on the last one, and about 90 minutes later it still feels fine. weird. not gonna run again today, but that's a huge boon if by some miracle jumping into his workout cleared up the tendonitis.
PM - 3 miles, 5:50 pace. probably(definitely) too fast, but eh, my legs were supercharged and it was a short run. ran without the calf sleeve after basically having that thing on 24/7 since last saturday, barely noticed it
PM - 3 miles between shifts, 5:52 pace. ran on a grass field with a pretty good slope on either side so got some uphill running in too
AM - 8 miles up and down the canyon, 6:04 pace. first few miles were all uphill with a strong headwind. sort of demoralizing to start a run, but once i turned around and had nothing but downhill and tailwind, it got a lot more fun. kept track of the mile markers on the trail, so even though i ran what my watch called 8, it seemed to undermeasure a bit. i hate blogging mileage that doesn't end in .0 or .5, so i won't add an extra 100m or so, but i will take two seconds off to account for what the pace more likely actually was(watch said 6:06). hate to jinx myself but i think this one signified the ankle is all better and i'm ready to get back in the trenches, so to speak.
PM - 4 on mural
AM - warmed up a couple miles, then tried pacing t-bird for a 3-mile tempo at 6-flat pace. after 800m he was falling off and told me to just go, so i ran another 4 laps for a 8:10, so about a 5:10 mile. that felt really good, and i wanted to hold it for longer, but t-bird was basically jogging and my ankle has been a bit annoyed since yesterday. funny how it originally got upset after running on pavement, then got better, then as soon as i tried running on pavement again it once again flares up. and by funny, i mean it put some merit behind me demonizing pavement and sidewalk running the past couple years. i get that it's doable, and most people on the blog run nearly all on roads(i did too back in my 2015-2017 days on the blog), but i've stuck to soft surfaces since i picked training back up a couple years ago and my legs respond way better to it
anyway like i said t-bird had fallen off, so i stopped after the ~5:10 mile and told him i'm switching up the workout and we'd just finish with 2 x 800 trying to run the second lap faster. i ran 2:20(73, 66) and 2:18(70, 68). the homie killed it and ran 2:50 both times with solid negative splits. wish it had been a more substantive workout, but i definitely got something out of it, and had fun. going into the 800's i was hoping i could do 2:30 going 80, 70 so i was very surprised(my watch charger broke so i had trevor taking my splits, so it was mostly ran on feel) not exactly sure on the mileage but i'm confident i got at least 8
| | |
| --- | --- |
| Fly's Miles: 3.00 | Peg 37 Navy Miles: 5.00 |
AM - 13 on mormon mural. no calf sleeve or KT tape the past 24 hours and the ankle felt 100% the entire time, thank heavens. i'm going back down to the south after my best friend's wedding but that still gives me 3 weeks at elevation, and barring something else flaring up i'm gonna try my hardest to get triple-digit mileage for each of those. the 13 felt good, i was out of breath for a while after though. didn't have trouble doing it but i could tell i lost a bit of fitness since the ankle originally got aggravated. gonna really get on top of plyos and weights when i get back to bama so this kind of thing doesn't happen again.
AM - 5. warmed up on the track for a workout, but on the last lap i felt a tweak in my left calf and stretching didn't do much do alleviate it. did a couple hard strides that felt pretty good but i knew the workout was doomed so i drove back to the apartment. after stretching, rolling and icing the calf feels fine again so silver lining, i guess.
AM - 2. jogged to mormon mural and my ankle felt better than yesterday, but still a little irritated. then i saw sage ducote fly by and realized today is the utah valley half, and i told spencer i'd cheer him on so i stretched on the sidewalk for about an hour looking for him. unfortuanetly i haven't seen him in over 5 years, so i'm pretty sure he ran past me without me recognizing him. once the pacer holding up a sign with a certain pace on it(that i won't say in case i'm wrong and he was behind it) passed, i figured he'd have had to pass by at that point, so ran about 2 miles on mural, but my ankle still felt off so i jogged back to the apartment. i did see former blogger and running partner a couple weeks back in chad though, and i cheered for him. nice job, spencer and chad!
also a couple hours later driving down university i saw former(i think) blogger tom slick as well(i could tell because it said the pseudonym on his shirt). shoutout tom too
AM - 5 on mormon mural
PM - 5 on mormon mural after an exhausting shift. felt my calf flare up those last couple minutes
AM - as i set out to run i thought it might be better to play it safe since my calf felt off at the end of yesterday's second run, so i went back and did some squats and lunges to supplement. then after about 45 minutes i said "screw it" and went out anyway to run 7 on missionary. actually felt really good; since my watch charger is broken i've just been setting a timer on my phone for however many miles i want to do at 6:30 pace and run that out, but i'm pretty sure this was closer to 6-flat pace. calf felt good, i think it may be mormon mural as a course that keeps screwing with the wellbeing of my ankles. it's a tragedy because if i drive somewhere for my late evening run there's no way i'll find a parking spot within a mile of the apartment, so i'm kind of forced to run there for my PM runs, at least until my friend's wedding. then i'm fleeing the state like i got a warrant lol
PM - about 4 on mormon mural, probably more. really wish i had a working watch on this one because i was flying. wouldn't have been surprised if it was around 5:45 pace. felt good.
| | |
| --- | --- |
| Peg 37 Navy Miles: 7.00 | Peg 37 Magenta Miles: 4.00 |
AM - 7 on missionary. wanted to go for 10 but i was pressed for time
PM - 4 on mormon mural. uneventful, aside from it being hot.
| | |
| --- | --- |
| Peg 37 Navy Miles: 7.00 | Peg 37 Magenta Miles: 4.00 |
AM - 11 on missionary. hips and ankles were very sore waking up, can't explain how but i think the air mattress had something to do with it. i'm homesick for my bed(bedsick)
AM - 11 on missionary. probably gonna be a lot of boring fundemental running the next 6 weeks or so, save some light work next week with trevor.
AM - 11 on missionary. had to deal with stomach cramps the last 7 miles or so, but i persevered.
AM - 10 on missionary, 6:16 pace. finally got a working watch charger! i was curious to know the pace i'm running, but more curious to know the elevation gain on missionary considering it's a grass field running on a decent slope. gained(and lost) 700 feet, according to the watch. i normally don't put that much faith in elevation conversions but with that plus all those hills i thought it'd be worth knowing what the equivalent would be for 6-flat pace on one of my bama courses, turns out about 6:24 pace(for a 13-miler, which is what i'm planning on bumping up to starting tomorrow). so if i can keep my missionary runs in the 6:1x pace range, i'd consider it quality aerobic mileage
AM - 4. blew out a tire last night and had to spend most of my free time before a long shift getting it replaced. got a few miles in while they changed it
AM - 10 on missionary, 6:10 pace. wanted to go a few miles longer but really needed a restroom towards the end and there's none available on missionary. i really really really miss sokol(and it's bathrooms)
PM - 4 on mormon mural, 5:49 pace. got impatient and went out while it was still in triple-digit temperatures. last couple steps on mural i felt my left ankle flare up to the smallest possible degree that i could notice, but didn't feel it in the last quarter mile from the field back to the apartment so i'm confident it'll be alright; just confirms my theory that mormon mural is cidium for the ankles, at least for me. i'm sure keeping my foot on the gas and running in heat didn't help but i'm confident the course itself was the main factor. i'll say for the two billionth time i'm homesick(or coursesick) for sokol, hilton and mural back home
| | |
| --- | --- |
| Peg 37 Navy Miles: 10.00 | Peg 37 Magenta Miles: 4.00 |
AM - 10 on missionary, 6:02 pace. great run, felt like i finally figured out how to pace the course. would have gone for 12 but i wanted to play it safe with the ankle, which felt fine. might run tonight, if i do it'll have to be on pavement though, so we'll see
PM - 4 on the riverwalk, 5:56 pace. i'll skip the diatribe about how much i hate hard-surface running, but i'll just say if i ever say i'm considering focusing on road racing just know the real gene is probably lying dead in an unmarked grave
| | |
| --- | --- |
| Peg 37 Navy Miles: 10.00 | Peg 37 Magenta Miles: 4.00 |
AM - workout with trevor. i did 8 x 400 alternating between pacing trevor for 80 and running it by myself in 70. 200m recovery in about 50 seconds. ran 74, 69, 75, 68, 80, 70, 80, 67. then 4 x 200m pacing trevor for the first 3. ran 32.2, 30.0, 29.2, and 28.6. t-bird pulled even with me on his last one so he probably ran 29-flat, so big shoutout to him because for a 210 lbs basketball player in trainers with no prior sprint training, that's sick. nothing too hard, those last couple fast 400's were a little tough with the short rest though. some of the pachev clan showed up halfway through so shoutout to the blog sensei too. 10 total
| | |
| --- | --- |
| Fly's Miles: 4.00 | Peg 37 Navy Miles: 6.00 |
AM - 10 on missionary, 6:04 pace. felt tired from yesterday, but my cadence didn't get the memo. last mile in 5:47, which i think is the first sub-5:50 i've dropped on this course. might get a PM run in if i can get t-bird to save me a spot on the street so i can drive up to missionary again and not have to park 3 miles away when i get back. reason 2081 i miss bama: i had a lot i could park in without getting a ticket!
AM - 7 miles easy on missionary, then met with trevor at the track and ran his warmup with him for another mile. 8 x 100m strides in trainers after that, first 4 trying to accelerate the first 30m, hit full speed the next 40m, then deaccelerating the last 30m. last 4 i mostly just ran hard throughout. timed those in 13.2, 13.7, 13.2, 13.0. jogged on the turf for 10
AM - 10 on missionary, 6:14 pace. one of those mornings where i just felt lifeless and had no motivation to get out there, luckily i was able to get myself out the door before i actually talked myself out of a run. didn't feel great mentally, but about 100m into the last mile i decided to try and beat my fastest split on missionary from thursday, which i did with a 5:36. felt much better after that.
AM - 10 miles on missionary, 6:05 pace. last mile in 5:26; probably leaving provo next week with that as my fastest split on the course. i'd wager that same effort would have given me a high 5:0x mile at sea level on a better route. it's funny; i'm feeling the same sense of eagerness about leaving utah that i was 5 weeks ago as i was heading here. maybe moreso
AM - 10 on missionary, 6:15 pace, yadda yadda yadda
AM - 10 on missionary. was actually gonna go a few miles longer, but some security guard came out talking about how it was private property and i couldn't run here. dude was like 7 inches shorter and a couple years younger than me, so i started to bust his chops about how i've been running here a month and ran by security guards no less than 100 times, but the southern hospitality in me came out so i wished him well and left. luckily i only have 3 more AM runs left in provo and wednesday and friday are gonna be with trevor at the track, so i'll just have to find another course to run on thursday and then i'm gone.
PM - 3 w/ strides
AM - 6 w/ strides, 6:30 pace
PM - 2 mile w/u, 5 x 300m w/ 100m jog rec, 3 min rec, 5 x 200m w/ 200m jog rec. ran 50, 48, 47, 48, 47, then 29, 30, 29, 29, 28. had trev run repeats 1, 3, and 5 with me each set, he balled out. c/d for 7
not really a workout i'd write out for early on in a training cycle, but when i hurt my ankle the first couple weeks up here + never found any running courses i liked, i sort of just resigned to this trip up to utah as nothing more than getting a bit of general fitness before some better training the next 3 weeks in texas, then it's full throttle(hopefully) when i'm back to bama. with all that being said, i just wanted to do a fun fast workout with trevor and that's what it was. yeah, fun, in the same way passing a kidney stone is.
| | |
| --- | --- |
| Fly's Miles: 3.00 | Peg 37 Magenta Miles: 10.00 |
AM - long warmup, then 2 x 800m w/ 200m jog rec in 2:31 and 2:27, then 8 x 100 with trevor. was going to do a few more 800's, but my left calf felt a little tight from the PM workout on wednesday and i didn't want to risk anything considering i have to work, pack up my stuff, and attend a wedding today before waking up very early tomorrow for a 13-hour drive. 800's felt really easy, splits were even on each and i definitely could have held the pace for mile repeats had i been willing to do something harder today. last run at elevation! hopefully i can get a run in tomorrow at the hotel, i'll get in what i can doing the rest of the drive on sunday, and then it's on to some bigger mileage.
| | |
| --- | --- |
| Fly's Miles: 2.50 | Peg 37 Magenta Miles: 7.50 |
AM - 30 minutes on the elliptical. was too tired last night to work out from a 15-hour drive and was still too tired to actually get my feet off the ground, hence elliptical
PM - 4 miles on hilly backroads, 6:26 pace. legs were lifeless from driving 21 hours this weekend. also ran in the afternoon while the sun was blazing and it was extra humid because it had rained about 30 minutes prior, so any aerobic gains from elevation were negating by nearly dying of heatstroke out there. hopefully it's more forgiving in the morning.
AM - 6 aerobic at 5:56 pace then 1 more easy. humidity hit hard after about 15 minutes and i had to just survive the next 20. could have definitely held that pace for a while if my body wasn't on fire. the southern runner's mantra: survive in the summer to thrive in the fall
Peg 37 Magenta Miles: 7.00
PM - 4. was dealing with some nausea this morning
Peg 37 Magenta Miles: 4.00
AM - 6 miles, 6:43 pace. felt terrible from yesterday, but i'm sure my next run will feel better than it would've if i skipped this. go habs!
Peg 37 Magenta Miles: 6.00
AM - 10. slow.
Peg 37 Magenta Miles: 10.00
AM - 10 on backroads, 6:50 pace. 94% humidity, ew. for anyone who runs in either dry altitude or at humid sea-level wondering if the other is worse, i'll settle the debate and say humidity is WAY worse. feels like i can't go faster than "brisk warmup" effort without immediately overheating. it sucks, but you work with what you get.
sotd(got a few since i haven't done one in a few months):
whoop tang flow - theophilus london
yoppa - falside
coordinate - young dolph
we're all alone - masayoshi takanaka
pride - kendrick lamar
alone, together - the strokes
i wanna smoke - gangsta pat
thieves in the night - black star
Peg 37 Magenta Miles: 10.00
AM - 8 miles, 6:00 pace. put off the run until 9am instead of the normal 6am start, surprisingly felt much better out considering the humidity was much lower than yesterday. still tough to run in, but this i can work with. last mile in 5:44.
sotd: gone daddy gone - gnarls barkley
Peg 37 Magenta Miles: 8.00
AM - 6 miles, 6:07 pace. took it easier the first few miles since i couldn't run yesterday, then upped the pace to something a bit brisker for the last mile and a half in 8:12. felt pretty comfortable dipping under 5:30 pace for that long.
Peg 37 Magenta Miles: 6.00
AM - 8 miles, 6:26 pace. it was hot, bright and humid early plus my urine tint this morning let me know my hydration since my last run has been piss-poor, so there was a lot of suffering on the backroads today. really wanted to go for 11 but by 8 my HR had been jacked for a bit, my muscles were starting to cramp, and i'd been dealing with sweat in my eyes since like mile #4, so i caved.
PM - plyos/core
sotd: cutthroat committee - key glock
Peg 37 Magenta Miles: 8.00
AM - 8 miles on the backroads. first 7 at 6:09 pace, then jogged the last mile because my left achilles was a little tight. i was probably being overcautious, but why risk it. very hot and humid again; i think i'm going back to starting the runs at 6 instead of 8, which honestly probably won't make much of a difference considering how ridiculous the humidity is at sunrise. like getting to choose the bullet you're about to get shot with
sotd: unfinished sympathy - massive attack
Peg 37 Magenta Miles: 8.00
AM - 6 miles on hilly backroads, 6:26 pace. been feeling less like running and more of a guessing game to how far i can get before the humidity kills me as of late. today's the halfway point of my stay in texas so i've got about 10 more days of it
Peg 37 Magenta Miles: 6.00
AM - 8 on hilly backroads, 6:30 pace. easy. stormed hard this morning so even though i pushed the run back a couple hours it was very nice out.
PM - 5 miles on the rail trail, 5:50 pace. my first day in paris two weeks ago i did 6 on this trail at 5:56 pace and it about killed me, so doing this one at 4pm instead of 6am and still having it be way easier was definitely a mental boon. happy i finally got out for a second run here, it's hard to commit to get out the door when you know it'll be heat death
Peg 37 Magenta Miles: 13.00
AM - 8 on hilly backroads, 6:26 pace. easy again, i was a little tight from the fast second run yesterday. otherwise good stuff; i might hit 100 this week if i can be consistent with the doubles. i don't even wanna know how long it's been since my last triple-digit week
PM - 5 on rail trail, 5:56 pace. felt a good bit hotter than yesterday; i think if it weren't for that 5:50's would be an absolute breeze
Peg 37 Magenta Miles: 13.00
AM - 8 miles on hilly backroads, 6:25 pace. could have been a few seconds faster, but my right calf was having a little on-again, off-again tightness. i haven't ran a step on grass in 3 weeks, my legs hate it. just 8 more days, boys
PM - 5 on rail trail. running at the hottest point of the day finally caught up to me and i got my ass kicked, badly. got a little over 3.5 at 6:01 pace then just died out. pretty sure running when it's this bad out is more wear on my body than any aerobic gains. i'd love to run at like 7pm when it's cooler but the evening is the only time all of my family is home and i'd feel guilty skipping out on that to run. not sure what i'll do for the next week, might not hit 100 after all
Peg 37 Magenta Miles: 13.00
AM - off. back was extremely sore waking up. id normally shoulder all the blame on running on the asphalt rail trail, but considering the two runs before did nothing it was probably a combination of going too hard in the heat and dying, and it being on a hard surface
PM - 5 on hilly backroads, 6:14 pace. considering i had no shade and it was high 90's and humid, i'd call this a better effort than the 5 at 5:50 pace a few days back. it was brutal. back was still very sore but i managed
Peg 37 Magenta Miles: 5.00
AM - 8 on hilly backroads, 6:19 pace. absurdly humid, was sure i'd be reeling from it and the run would be a total slog, but i surprised myself. probably cutting out the PM run until i get back to bama then hitting full mileage, i'm excited for it. hopefully the humidity isn't too bad in T-town and fall comes early this year for us.
Peg 37 Magenta Miles: 8.00
AM - 8 miles on hilly backroads, 6:04 pace. felt like absolute garbage going into it, but after mile 3 just felt like i shifted gears without even doing anything. ran up the ordinarily killer hills like they were speedbumps. not gonna play the conversion game but on a faster course in fairer weather, this would have been really fast.
PM - 5 miles on hilly backroads, 5:58 pace. was overcast and drizzling at the start, but basically the second i hit the turnaround it stopped and the sun came out and the rest of the run it felt like i was running in an oven. managed to power through it with a 5:41 last mile to get the pace under 6
Peg 37 Magenta Miles: 13.00
AM - 8 on hilly backroads, 5:58 pace. extremely humid, shocker. even for how humid it's been, this was something special. so ready to be back in bama, although looking at the 10-day forecast looks like there's a lot of rain on the horizon. again, shocker.
averaged 6:12 pace for the 73 miles and still felt like i mailed it in pretty hard this week. good mental boon with starting workouts up in a couple weeks
Peg 37 Magenta Miles: 8.00
PM - 5 on rail trail. objectively the hottest run of the summer so far. first 3.5 at 6:00 pace, then my left calf started getting a cramp and i eased up. felt fine for the rest of it.
Peg 37 Magenta Miles: 5.00
AM - 6 on hilly backroads, 5:59 pace. normally the first 3 miles are slower since the course starts tough but started pretty fast and eased up after 3. probably my last run in texas unless i run this afternoon.
Peg 37 Magenta Miles: 6.00
PM - 3 on hilton before it started storming hard, 6:17 pace. missed hilton bad, nearly bust buck by the first step. because of the aforementioned storm i had about 15 minutes of respite between my 9-hour car drive and my run, and that was all spent unpacking, so legs were completely lifeless. got some blood flowing, at least. about to train my ass off
AM - 5 on sokol, 6:23 pace. missed it, but by god all the rain bama got this past week turned that course into a waterpark. no traction at all. good news is after a bit more rain tonight it's clearing up for the next week. and, for 100% humidity i handled it pretty well.
AM - 8 on sokol, 6:07 pace. didn't think switching back to grass after a month of running on asphalt and gravel would have any real effect on me, but my sore hamstrings beg to differ. humid summers mean the grass is very wet in the morning which definitely makes the courses in town i have an affection for a bit more difficult, on top of my body having to deal with the humidity as well. with all that considered, solid run. i don't know if it's physically possible for me to survive a fast long run until like late september, though. doesn't mean i won't try
AM - 10 miles on sokol, 6:16 pace. very sloppy conditions, haven't ran much the past few days because of absurd bouts of rain making all my courses untenable(giving the definition of that word a good stretch there). we got over two inches in under an hour at one point. i did a couple miles at the gym the past couple days but i'm not gonna log them to shame myself into getting real treadmill mileage next time it's the only option.
AM2 - hour at the gym. mostly spent doing weights but also did some core and started off with a few minutes on the stationary bike(something i do before every morning run). did some cable kickbacks to end it and i knew by like the second kick my hamstrings are gonna be killing me the next few days. isn't supposed to rain today for once so hopefully getting a PM run tonight is on the table
Peg 37 Magenta Miles: 10.00
AM - 5 on mural, 6:36 pace. very very wet and way too hot for 7am, man. glutes are extremely sore, rest of the legs don't feel too bad though. did the last half-mile at about 6-flat pace just to test the turnover
Peg 37 Magenta Miles: 5.00
AM - 7 on a soaked sokol(aka soakol), 7:02 pace. still very sore from weights, most of it faded as i ran but i had some tightness in my left calf that wouldn't fade so i stopped a couple miles early. very easy mileage in not very ideal conditions.
Peg 37 Magenta Miles: 7.00
6:42 pace on mural
Peg 37 Magenta Miles: 5.00
AM - 5 on sokol, 6:23 pace. really haven't felt that good since the first weight session a week ago; the soreness went away by like wednesday but my legs just never really got the spark back. hopefully the drop in pace this morning is a good sign.
Peg 37 Magenta Miles: 5.00
AM - 5 on mural, 6:30 pace. felt like i had the training wheels welded on, maybe because my alarm didn't go off and i couldn't run until 10.
PM - 5 on hilton, 6:20 pace. felt like the training wheels are loosening off, maybe because we were blessed with a cool afternoon and i got to bask in a 75 degree heat index(for reference, the heat index at this time saturday was 106). i want to pretend this is fall coming early, but i know better.
sotd: this is how i disappear - my chemical romance
| | |
| --- | --- |
| Peg 37 Navy Miles: 5.00 | Peg 37 Magenta Miles: 5.00 |
AM - 5 on hilton, 6:24 pace. it was very nice out for 7am(i usually start at 5:30), dew point had my shoes soaked to the brim in record time though. felt like i was running with sponges on my feet made of cement!
Peg 37 Magenta Miles: 5.00
AM - 10 on sokol, 6:34 pace. felt like dogshit the entire time, which is a real shame because it was mid-60's and overcast out so it should have been a perfect run. it's annoying, but nothing to do except put the miles in and hope i'm stronger for the next run.
AM - 5 on hilton at 3am, 6:42 pace. outer right ankle was a bit tight after work wednesday. not full-on peroneal tendonitis, but the omen of it. that dang problem is basically the only thing that's kept me from being able to run of my own accord the past 18 months(that and crippling anxiety), so i heeded it. this run mainly served as a test, and i passed feeling fine! very relieved. something about hilton in the extremely early morning always makes my pace fall off the map regardless of my fitness so 6:42 pace is pretty good
Peg 37 Magenta Miles: 5.00
AM - a little stationary and dynamics at the gym, the normal warmup for a run. tweaked something in my inner left ankle before my PM run yesterday bringing in groceries up the stairs to my apartment. felt some shooting pains last night so i was worried but felt fine this morning. since i work today i didn't want to risk reaggravating it on a morning run to have it get worse throughout the shift, so just a PM run today, hopefully. can feel myself losing fitness! gotta get back on the train soon
PM - 3 on hilton after work, 6:03 pace. factoring in going straight from work to the park and it still being decently hot out at 6pm, this pace would have probably been easy on a better afternoon; not to call this effort hard, just somewhere in the middle. had to get a feeler out on the aforementioned lost fitness
Peg 37 Magenta Miles: 3.00
AM - 8 on mural, 6:21 pace. course was wet, but not as bad as i feared; guess the sprinklers weren't on last night. tried picking up the pace for the last mile, but my left achilles tightened up about a quarter-mile in so i eased back off and it let me finish the run. other than that, felt good.
Peg 37 Magenta Miles: 8.00
AM - 10 easy on hilton, 6:48 pace. went to bed right after work yesterday because i was exhausted and woke up naturally about an hour before my alarm. didn't feel like finding a way to waste that extra hour so just did the run at 4am on hilton, although the humidity had it feeling like 4pm out there. always enjoy finishing a morning run before the sun rises, can't really put into words why. my guess is it's because it reminds me of when i'd do 5 miles at 4am every morning when i was doing 3 or 4 runs a day. sometimes i can't believe i ran as much as i did a couple years ago
AM2 - plyos and core at the gym. first plyo session in forever went better than expected. core was a reminder that i literally never do core and am stupid for it. was still doing some advance exercises though
sotd: eyes to form shadows - dalek. sometimes i think the music i listen to nowadays would make a 16-year-old me piss myself
Peg 37 Magenta Miles: 10.00
AM - 10 on sokol, 6:20 pace. i was a bit sore from the gym yesterday, but nothing too bad. weather absolutely sucked, nearly 80 and 99% humidity by 6:00am when i started. definitely had to work to get up those grass hills. solid run.
Peg 37 Magenta Miles: 10.00
AM - 5 on sokol, 6:33 pace. died out there, although i think it's primarily due to the unreasonably excessive heat wave we're currently under. the weather channel used something called RealFeel™️ to tell me it was already the equivalent of 86 degrees out by 5:45, dear god. might get a treadmill tempo in tomorrow morning if it's still this rough out. hell, might do that either way.
Peg 37 Magenta Miles: 5.00
AM - 5 early on hilton, 6:48 pace. rained heavy last night but i couldn't mentally commit to the treadmill so i ran on asphalt. gross. anyway go braves for leading the NL east for the first time this season! that division is a joke but with our best player out for the year it'd still be nice to see them get smoked in the NLDS
Peg 37 Magenta Miles: 5.00
AM - 6 easy on sokol, no watch.
PM - 4 on hilton, 5:56 pace. the 8 or so hours leading up to the run were some of the most nerve-racking of my life from a few different angles, and those feelings weren't exactly swayed so by the time i got to hilton i was a time-bomb ticking down to a panic attack. i'm not sure if i ran it off or just lengethened the fuse. either way felt excellent, i was flying but wasn't going hard.
| | |
| --- | --- |
| Peg 37 Navy Miles: 4.00 | Peg 37 Magenta Miles: 6.00 |
AM - 6 on sokol, 6:25 pace. left achilles felt a little tight at points(mostly when running on soft dirt), and i knew if i went too hard i'd be dealing with it all day at work and the PM run would be off the table, so kept it short. besides that felt pretty good.
PM - 3 on hilton, 6:15 pace. would have gone longer but i got a super sharp stomach cramp after i hit 3 so i stopped there. some very ominous flashing clouds on the horizon told me tomorrow morning's run is gonna be sloppy. this one was too, for the record. it just wasn't raining during the run itself.
Peg 37 Magenta Miles: 9.00
AM - 11 easy on hilton, 6:47 pace. started early, then once sunrise came and i had a better view of the grass i was running on the pace dropped from just under 7-minute to 6:30's and 6:20's without any real change in effort. good start to what i hope to be a good week of training.
PM - 5 on hilton, 6:32 pace. my left achilles was a bit iffy towards the end of work but i think it's more due to wearing some very worn down pegs to a job where i'm on my feet most of the time. could have worn the magenta ones but that color clashes badly with just about every item of clothing i own. anyway it had just stopped storming hard so if running on a soaked grass course didn't bug the achilles i'm probably okay
embarrassing factoid: i haven't ran 16 miles in a day since may 14th
Peg 37 Magenta Miles: 16.00
AM - 4-mile w/u, 4-mile tempo in 21:50, c/d for 13
it started raining buckets as soon as i finished the PM run yesterday so i knew the treadmill was my only option(pavement-exclusive running is never on the table). treadmills are usually the quickest way to irritate my achilles on a run but didn't have any issues. tempo went well, honestly might have played it conservative with how good it felt.
PM - 5 on hilton, ~6:48 pace(watch died towards the end). probably would have been a good one if i had some real recovery between this and the morning session(all i had was a nap right after the tempo, then had work and went straight to hilton from there). plan is to not work on mondays and thursdays and do workouts then but today was an exception
| | |
| --- | --- |
| Fly's Miles: 4.00 | Peg 37 Magenta Miles: 9.00 |
AM - 11 on sokol. tried seasoning my rice with furikake last night, forgetting that adding seeds into my diet the night before a run doesn't ever go well. managed to power through the first 8 at 6:19 pace, but my stomach was killing me so i jogged the last 3 on rodeo, no watch. good run regardless.
PM - 5 on hilton, 6:10 pace. bug flew into my eye with a mile to go, good god did that hurt
Peg 37 Magenta Miles: 16.00
AM - 11 on sokol, 6:20 pace. tough conditions out there, very humid and the grass was extremely wet which makes the hills that much harder. good news is by the end of next week the temperatures should start dropping. just thinking of the high being in the 70's without storms causing it, it's got me on the verge of tears
PM - 5 on hilton, 6:19 pace. ran about an hour earlier than usual because it's raining tomorrow morning so if i want to get a workout in i'll have to be up long before the rooster crows. very hot out today so that was fun, what's also fun is despite leaving my shoes out on the porch all day they were still soaked to the soles ~12 hours after the morning run
Peg 37 Magenta Miles: 16.00
AM - 3-mile w/u, 10 x 200m w/ 200m rec in 60", 3.5 c/d. warmup exceptionally slow(barely under 9:00 pace. not that it matters). averaged 32.7 on the repeats.
conditions were brutal this morning: 80 degrees with full humidity by 4:30 when i started warming up. it's like the summer heat used it's dying breath to take a 12-gauge to my nuts. wanted to do 15 intervals but i'm okay with a little less; my goal for this week was to hit 100 miles and at this point i could half-ass the rest of the week and still clear that easily. feels good to capitalize on potential.
PM - off. too much flooding to drive safely to the gym
| | |
| --- | --- |
| Fly's Miles: 3.00 | Peg 37 Magenta Miles: 6.00 |
AM - 5 on the road up from sokol, 7:30 pace. very early(finished before 5am). at this point my disdain for asphalt is enough i could fill a manifesto with it, but every course i usually run was going to be totally flooded and i really didn't feel like hitting the treadmill. all things considered, wasn't that bad. i'm not gonna ever choose this over something like hilton or sokol, but it's an option. didn't trust the legs to handle a full ~80 minutes of hard-surface running so just did a shakeout. more flooding today and tomorrow so might end up finding out if what i said about half-assing the rest of the week and still clearing 100 miles was true
PM - 5 on sokol, 6:04 pace. ran in the early afternoon just before the storms hit. came through about 10 minutes at a lax 5:55 pace but then the heat hit me hard and i surrendered to it. the afternoon heat still might be less of a detriment than the morning dew on sokol that turn my shoes into bricks
Peg 37 Magenta Miles: 10.00
AM - 5 on hilton, 6:20 pace
PM - 5 on hilton, 7:30-something pace. basically jogging. ate some bad fish yesterday and felt terrible all day so no triple-digit week. i'll manage. it had just rained buckets an hour earlier so i had to run on the pavement, so if i get injured this year i'm using this run as the scapegoat
Peg 37 Magenta Miles: 5.00
AM - 8 on the treadmill, 6:10 pace. more rain overnight meant no soft-surface running. felt a few kinks from last night's run, but they worked themselves out. in the home stretch of dealing with the bs of summer in the south. truly the runner's bane
PM - 4 on hilton after work, 6:11 pace. very tired, very hungry. outer-right ankle felt a bit spotty at the end of mile 4 so cut the run short. if it isn't an issue tomorrow morning should have another workout on deck
also just ordered another pair of pegs, found a good deal on eastbay and should get here before the current work-down pairs cause any strain on the legs(if they aren't already). only caveat is that they're the "shield" model. never used a pair of them before, but with how often i run on wet grass maybe it'll end up being a boon.
Peg 37 Magenta Miles: 12.00
AM - 3 mile w/u, 6 x k on a hilly stretch of sokol with 60" rec, short c/d for 9. averaged ~3:20(watch died on #6)
conditions were miserable this morning, feels like i've started every entry off with that for the past month. felt tired by the end of the warmup, it was that muggy. the k course was pretty tough as well, so no ego boosts today.
PM - 4 on mural, 5:56 pace. should have started about 20 minutes later for the sun to set but besides that a pretty good run. been a little while since i busted out sub-6 for a PM run, always nice for mentality if nothing else.
Peg 37 Magenta Miles: 13.00
AM - 11 on sokol, 6:25 pace. felt terrible the first ~20 minutes, was still pretty miserable after but my legs at least showed a bit of responsiveness. extremely muddy out there
PM - 5 on mural, 6:07 pace. last half-mile in just under 2:50. been an incredibly stressful past few weeks, and if i weren't using running as an outlet i think i'd have keeled over by now
| | |
| --- | --- |
| Peg 37 Navy Miles: 5.00 | Peg 37 Magenta Miles: 11.00 |
AM - 11 on hilton, 6:31 pace. one of the most miserable runs i've had in a long time; the fact that i finished before 7am and it was still over 85F out when factoring humidity in is a sick joke. shoes were drenched by 100m in. the appeal of running to me is that if you work hard you come back every day a little stronger, but this weather spits on that concept by putting a hard cap where if you go past a certain effort you just die to the heat. i'm so got damn sick of it
PM - off. it started raining heavy before i got off work and i already had one pair of pegs soaked to the brim, didn't want my others turned to wet sponges too. gonna do a workout on the treadmill tomorrow morning, might just do all AM runs for the next few weeks on the treadmill tbh, at least i could do aerobic pace without it doubling as a suicide attempt. i really can't put into words how badly this morning run broke me emotionally
Peg 37 Magenta Miles: 11.00
AM - 3 mile w/u, 6 x .75 mile on the treadmill in 3:45(12.0 mph) w/ 2:30 jogging recovery, c/d for 12. core, hips, and upper body routine after.
always nice to burn 2000 calories before 6am. means i get to feast today with no repercussions. honestly workout wasn't that hard, it being on a treadmill is a caveat but i did set it at an incline(as i always do) so i'll take it at face value. first one was a shock to the system, next 4 were surprisingly easy, and the last one had me thinking i could add another repeat or two until the last quarter-mile where my form started to break ever so slightly, so called it there. happy with it.
PM - 5 in the new pegs on mural, 6:15 pace. felt good.
| | | |
| --- | --- | --- |
| Fly's Miles: 6.00 | Peg 37 Navy Miles: 6.00 | Peg Shields Miles: 5.00 |
AM - 6 on the treadmill, like 6:25 pace. gonna be busy today so wanted to get my mileage in super early, but i didn't factor in that i couldn't run 11 miles straight on a treadmill at gunpoint. call it ADHD, or mental weakness, or whatever else, but regardless considering we have a hurricane hitting us in a few days i'm not optimistic about running a good week of mileage. i'm tempted to go on my 10th rant of the month about how much i hate summer weather here but i won't. at least i'm still relatively in the driver's seat to clear 100 for this week
PM - 5 on mural after work, 6:16 pace. we got some brief but heavy rain a couple hours earlier so a good test of how water-resistant the new shoes are. in a word, they're good. damn good. not only did they stay dry, but the soles are different from normal pegs, more aggressive which is great for all the grass running i do. hope the long run goes well tomorrow morning, although with the humidity being how it's been, i'm not that optimistic. if i don't get a good one then i'm gonna die trying!
| | |
| --- | --- |
| Peg 37 Magenta Miles: 6.00 | Peg Shields Miles: 5.00 |
AM - 15 on mural, 6:08 pace. last 10 in 60:33.
realized during the run that i don't think i've ran 12 miles straight since april, and i could tell as those last 3 miles felt longer mentally than the 12 that came before it. felt a bit sluggish at the start, but after 5 miles i really started moving. grass was very wet but shields kept my feet entirely dry, i was stunned. only negative was i could feel a blister developing on one of my toes around mile 11 and those last ~20 minutes it was pretty painful. great run! just need to run a shakeout tonight and i'll get my first triple-digit week in about a year
PM - 5 very easy on mural, 6:48 pace. gym after for core and back.
AM - went to the gym for my usual pre-morning run warmup and dynamics, but the blister from yesterday was giving me fits and i knew it was going to get a lot worse if i ran on it, especially since i'm gonna be on my feet the rest of the day at work. i have some very choice words about how pissed i am about it but i'll save them, and just hope i can get rid of it in the next 24 hours so i can run a treadmill tempo early monday morning before the hurricane hits
PM - 4 on hilton. forgot the pace
Peg 37 Magenta Miles: 4.00
AM - 30 min on stationary @ high resistance + core and some strength
PM - 45 min on stationary @ very high resistance w/ a 30 min fartlek of 1 on, 1 off, 2 on, 2 off. covered about 10.2 miles for the fartlek.
whole lot of nothing. blame the hurricane
AM - 4 on hilton, 6:40 pace
PM - 6 on hilton after work, 6:17 pace
lots of flooding from the hurricane so both these runs were on my favorite running surface, also known as pavement. felt nice out on the night run. supposedly the last day of the year the temperatures get into the 90's, also known as my favorite day of the year. or is that the last day with a high in the 80's
| | |
| --- | --- |
| Peg 37 Magenta Miles: 6.00 | Peg Shields Miles: 4.00 |
AM - 3 mile w/u, 3 miles in 16:33(5:41, 5:31, 5:21). short c/d for 8
main reason i hit the track(very early) was because i knew all my courses were still flooded, and didn't want to do a treadmill run. with how mediocre training has been this week i just wanted to get a few miles at 6-flat pace in to refresh the legs, wasn't intending to put any real effort into it. ran the first lap in 85 and knew i didn't have the pride to slow down, so changed the plan to a short light tempo run. basically ran every lap faster than the last, it was nice. would have done a long cooldown but my ankles were bugging from all the turns
PM - 4 on hilton, 6:13 pace. grass wasn't flooded but still malleable so didn't get any real ankle support. ended it short because they were starting to bug again
| | |
| --- | --- |
| Fly's Miles: 3.00 | Peg Shields Miles: 9.00 |
AM - 2 on sokol, 6:28 pace, i think. ankles still felt iffy so cut it short and pretended it was being smart and not weak-willed
PM - 5 on mural, 6:11 pace. grass was a bit too soft so just like the last PM run, no ankle support. they weren't a fan, but it'd have been worse if i did a full AM run so maybe i can feel less guilty about it. work all weekend so no long run for the week, hopefully i can get 10-12 at a solid effort tomorrow morning before clocking in though.
AM - 11 on mural, 6:07 pace. very wet out there. shame i couldn't have gone longer, last two miles were 5:54 and 5:46 without really putting in any more effort than the nine miles prior. still, a solid run. hopefully by the end of the month with cooler temperatures giving me a little more room for improvement i can get back to dropping a few 5:5x pace morning runs a week.
AM - 11 miles on mural, 6:07 pace. basically a carbon copy of the morning run yesterday(the 10th mile was even a 5:54 split again), but i ran the first 4 miles a little slower and the last 7 a bit faster.
PM - off. a couple of weeks ago i mentioned how i wore old pegs to work and felt like they were straining my legs, well wore them to work today and ended up spraining my ankle. nothing major, but the tempo run tomorrow is probably off. i'll play it by ear but two strong aerobic 11-milers over the weekend isn't a bad way to get in shape either. i'm planning on running a 10k as a tuneup race(yes, really) in 10 weeks so this is about the point where i have to be hitting every mile and repeat i need to though. maybe i can move the tempo to tuesday if i'm lucky. or i could be absurdly lucky and wake up in the morning like it never happened. fingers crossed for the latter.
PM - 3 on mural, 6:20 pace. felt like 7:30 pace. came to the conclusion this morning that waiting until the AM tomorrow would be best for the ankle, but when your HR is staying under 50 all day food doesn't burn off easy and i was starting to gain a bit of body dysmorphia. also, even if this run doesn't tell me definitively if the ankle will hold up tomorrow, figured if i couldn't manage this then i definitely couldn't manage something at least 5 miles longer in the morning. run would have been a bit faster if ethan didn't show up for about 10 minutes in the middle for some small talk. i hate conversating during runs, but ethan's a wholesome dude and he wasn't exactly long-winded matching my pace so i eased up.
AM - 8 on sokol, 6:11 pace. weird run in that normally the pace ping-pongs as it drops during the flat gravel section and inflates during the grass hills, but it was the opposite today. strongest i've felt on sokol since probably april, not sure how much is being in better shape than a couple weeks ago and how much is my legs being extra lively. very muggy and wet out. ankle felt fine but i cut it a loop short(wanted 10) because i work today and didn't want to risk reaggravating it. think this means i'm in the clear though.
AM - off. was walking down the stairs of my apartment in the early morning to drive to sokol and my ankle flared up pretty hard once i'd gotten down the steps. went back inside and iced the ankle for about 15 minutes and it wasn't an issue for the rest of the day. weird.
PM - 3 on mural right after work, 5:45 pace. couldn't cool the jets off for the life of me so i stopped early despite still going strong(3rd mile was a 5:38, lol). training has been very mediocre since the hurricane struck but i've ran enough to stay loose so my legs were just absurdly overcharged. not worth much in gained fitness, but it's still fun to let loose.
AM - 10 on sokol, 5:58 pace. ran miles 6-9 in under 23:20. sokol is a tough course so getting my first aerobic run under 6-minute pace in months here makes it a little extra sweet. i think i'm still a few weeks out from 5-minute pace really being a regular occurrence like it was at the tail-end of last spring, but that day will come. i'll make sure of it.
PM - mile on hilton after work, i think it was a 6:12. the shift i'd come off was incredibly miserable and i just didn't have anything in the tank. still would have done the run if the grass on hilton weren't incredibly overgrown(couldn't run on mural since parking was closed off for the football game tomorrow)
| | |
| --- | --- |
| Peg 37 Magenta Miles: 1.00 | Peg Shields Miles: 10.00 |
AM - 11 on mural, 5:57 pace. got work today so no time for a long run, supplemented it by covering the last 7 miles in 5:55, 5:54, 5:50, 5:50, 5:50, 5:51, and 5:43. would have still preferred 20 miles at 6:05-6:10 pace but it's whatever
AM - 11 on mural, 6:18 pace. i've been very happy with the quick morning runs the last couple days, but both days they had my ankle feeling off by the time i got off work. considering i work again today and want to do a tempo tomorrow morning, kept the effort light, particularly in the first 30 minutes.
PM - 4 on mural at 6:13 pace plus a mile of dynamics, drills and strides. felt pretty stiff the first mile of the run but focused on keeping good form and felt better the longer i went.
AM - 4 w/u, 4-mile tempo in 21:19(5:21, 5:21, 5:18, 5:18), c/d on the turf farm for 12.
went to bed at 8pm last night, but took nearly 2 hours to fall asleep. don't know why but just felt like my body was overheating even with the AC on. i was fuming. last time i remember checking my watch it was 9:45, then woke up hot again at 11:45pm. was just pissed and didn't want to bother trying to fall asleep again so just did the workout absurdly early off 2 > hours of sleep. workout should have suffered as a consequence but it went well. wanted to go for 5 but after 3 knew i couldn't today. i'll be optimistic and say 1. if i had gotten more sleep i could have and 2. this workout being extra early means i'll have more time to recover between the weights in a few hours, and every run after.
AM2 - weights. was pumping iron for nearly 90 minutes... woof.
PM - 3 on hilton/RV, 7:10 pace. we got a couple hours of very heavy rain in the afternoon so i resigned to no PM run seeing how my beloved grass courses would be flooded, but about 30 minutes after having dinner i said screw it and ran anyway. hilton didn't end up being that wet so good call, even with it following a meal. it was only frozen cherries and eggs so it could have been worse. felt dead.
| | |
| --- | --- |
| Fly's Miles: 4.00 | Peg Shields Miles: 11.00 |
AM - 10 on sokol, 6:55 pace. pretty miserable run; i was sore, tired, and suffering from an extremely humid morning. the entire run i couldn't stop thinking about how i had an easier time keeping the pace under 6 minutes on this same run last friday than i did 7 minutes today. not that it matters in the grand scheme of things; i got the miles i needed
off. too much rain. one day i'll have the balls to use a treadmill for anything besides tempo runs. one day.
AM - 10 on sokol, 6:24 pace. felt a million times better than tuesday morning, was still a little sore from weights so went on auto-pilot. 6:24 isn't blazing fast in context of the last year or so but i can't remember the last time it felt that easy.
planned on working today around noon so had to try and do this workout early. did my first repeat in a 1200m in 3:48 that felt a little uncomfortable at first but pretty easy by the third lap. got about 10 seconds into the recovery, but since it was still dark out i accidentally stepped inside the track and my left foot landed in the drain. heard a crunch and my immediate thought was "oh my god, i just broke my ankle". hopped a few steps on the other foot before falling down and spending a couple minutes pounding the ground and switching between praying aloud and letting fly every obscenity i know. i think i just sprained it badly. i don't know, man. i'll play it by ear, although i think if it were broken it'd be giving me more grief right now(not that it isn't, just not as much as i'd expect from something being broken)
| | |
| --- | --- |
| Fly's Miles: 1.00 | Peg Shields Miles: 4.00 |
AM - stationary bike + some dynamics. for how violent my ankle sprain was friday, recovery has been a touch better than optimal. didn't move more than a couple 100 feet the rest of the day and was able to work on my feet all of yesterday with no trouble.
we've been getting absurd rain the past day or two. it started raining hard about 30 minutes before i got off work, and by the time i was driving home the roads were so flooded i had to park a few blocks away and trek through the street with water nearly up to my knees. it was crazy. anyway i imagine i'll be good to go tomorrow, although the rain is supposed to last another day or two so it might be a treadmill run. if i have to do a treadmill run i'd prefer a tempo, but i'll make that decision closer to the fact.
AM - 5 on the treadmill + gym after. worked down from 8 mph at the start to 10 mph by the end, felt good. wish i could have gotten a workout in today, but i'll make up for it with a tough session on thursday.
AM - 6 on sokol, 6:20 pace. had some gripes with it but also positives to said gripes. it was a very muggy(and muddy) mid-70's, but the silver lining is after today the low is in the 50's for the next week and probably several months to follow. i think i tweaked my back lifting yesterday, but my legs weren't all that sore and had much more life than last tuesday morning(although the cloud within that silver lining is i barely covered any mileage, let alone a workout). also got very nauseous after about 10 minutes and that had me stop early because i thought i'd throw up. no upside there, but my ankle felt completely normal so still a net positive
AM - hilly 18-miler on sandy. very windy. first 15 at 6:08 pace(miles 13-15 in 17:22) before jogging the last 3. solid run on a tough course, didn't plan on doing a long run until i was walking out to my car. ate a very small breakfast due to this and became acutely aware of it around mile 17
AM - 8 on sokol, 6:12 pace. temperatures dropped from mid-70 at dawn yesterday to 54 today. a welcome change. made a decently quick clip of pace on a moderately difficult course feel very lax. stopped a couple miles early because i rolled my ankle(the one i sprained last week) like 5 times. it never turned enough to actually aggravate anything but i was worried eventually it would. knees were quite sore driving home. good run regardless.
AM - 5 miles on the treadmill + gym. the 5 was a warmup for a tempo run, but i was still a little shook about my ankle so instead of taking a few hours to rest between working out and lifting just got the lift over with. weights went well, i squatted 100 lbs for the first time since probably 2017(18-year-old me would be ashamed of my inconsistency with strength training the last 5 years). bummed i chickened out of a workout, but i feel like i'm on the cusp of a breakthrough in training and i need that ankle to be 100%. i'll get in a couple aerobic runs this weekend to get my confidence up before trying mile repeats on monday
AM - 6 on mural, 6:18 pace. felt sore, but strong.
AM - got about 100m past 8.5 on mural and felt a strain in the arch of my left foot when i landed on it(plantar fasciitis?). stopped and walked around for a minute but it still felt a little sore so i called it there; no reason in risking making it worse. i'm not all that worried; i parked a couple blocks away so i could do some strides and drills beforehand on the turf field, and was able to jog a bit going back to my car feeling relatively fine. 6:01 pace for the ~8.5 which is pretty annoying considering the last 4.5 miles were hovering in the 5:53-5:58 pace range. why couldn't my foot have started hurting like 10 minutes later so i could at least have the victory of it being 5-minute pace? whatever
AM - drills and dynamics on the turf + 10 minutes running. foot felt fine being on my feet for work yesterday, but a bit sore again this morning. felt a bit better towards the end of the run so hopefully just needed to get warmed up.
AM - 5 jogging on the turf. foot feels 95% of the way back to normal so hopefully by the PM i won't have any good excuses for missing runs.
AM - 4 easy on the turf + dynamics
AM - dynamics and drills on the turf. was gonna do an early 6-mile shakeout but my foot wasn't feeling up to the challenge. i wore old pegs that had stability insoles in and i can't tell if it helped or hurt me
AM2 - 6 on sokol, 6:07 pace. would have been a really good run if it weren't already a bright 80 and humid by 9am(i hope to experience this "fall weather" some day). ran the first 4 at 6-flat pace before i started burning up so tried easing off the gas to get more mileage but i'd already redlined. something something global warming something something environmental awareness tangent
AM - 5 on sokol before work, 6:16 pace
AM - 5 on the treadmill before work. i don't distinctly remember it a couple days later but i think i was pretty close to 10 mph by the end
AM - 5 on hilton, 6:35 pace. didn't even look at my watch and was running this on grass in the dark, surprised it was that quick
AM2 - 5 on sokol, 6:04 pace. it felt like a sauna out there.
AM - 4 on hilton, 6:15 pace. then dynamics, drills and strides at the turf field.
AM2 - 10 on sokol, 6:09 pace. i've done plenty of AM doubles but on 99% of them both runs were easy jogging, and the exceptions always had the other run be a jog. never tried keeping all the mileage quick, it was interesting. probably a little out of my depth with the last few weeks of trying to let my ankle heal up, but if i try this again it won't be for another few weeks. it was fun though, i felt tired but not like i exerted any more effort than usual.
AM - 6 on the treadmill. spent a solid portion a couple ticks over 10 mph
AM - 4 on sokol, 6:15 pace. brutal conditions; extremely slick grass, 100% humidity, and enough fog that i don't think i was ever able to see more than 100 yards out. very annoyed because i woke up before my alarm and nearly ran at the gym instead of waiting an extra 45 minutes for it to get bright enough out to be able to run. oh well. did the normal dynamics and strides on the turf before the run and it's probably the first time in 3 weeks my ankle/foot have felt 100%, so silver lining i guess.
AM - 6 on the treadmill. started at 9.0 mph then upped it 2 ticks every mile until i was at 10 mph for the last mile. aerobically it felt easy, my ankle felt stiff again though. just like i hoped
PM - 3 on hilton, 5:52 pace. ran right after work on an empty stomach in a bright 84 degrees. so, ideal conditions
AM - 4 on hilton, 6:04 pace. plus a half-mile of strides and dynamics.
AM2 - 10 on mural, 5:46 pace. course was disgustingly wet, plus with work at 11 i was only able to get a bit less than 2 hours of recovery between runs. hence the run being so slow ;)
really though, no idea where that came from. first 30 minutes were the usual, then towards the end of mile 5 i just took off, and i mean really took off. last 6 miles in 5:44, 5:46, 5:33, 5:34, 5:15, 5:18. i've never ran under 59 for 10 miles so to buck that and get under 58 too, it's sick. half-mile jog after to hit 15 miles by 7:30am.
AM - 8 on the treadmill. woke up just before 2am and felt awake enough i figured i'd get some mileage in and afford myself some more sleep between the run and work today. started at 9.0 mph for the first mile, then upped it two ticks every mile until the last one was 10.4 mph. did this a few days ago but stopped at 10.0, it honestly felt easier today. i'm hoping in a month or two i can be strong enough to do this but get up to 11 miles with the last one at 11.0 mph.
lots of quality mileage the last 24 hours.
AM - 6 on sokol, 6:13 pace. felt terrible.
PM - 4 on sokol just past noon, 5:46 pace. ego had me compensating for this morning.
Peg 37 White Miles: 10.00
AM - 3 on hilton, 6:04 pace. ankle felt bummy.
PM - 2 on sokol just past noon in a few ticks under 12-flat. too hot out to get real running in.
PM2 - 4 on mural, 6:02 pace. felt a little out of shape
AM - couple of miles on sokol, then about 40 minutes exploring the golf course across the street. i'm so familiar with sokol that running it borders on tedium, so it was nice to see some new sights today. 6:15 pace for 10 miles
AM - 3 on the treadmill, about 6:30 pace
AM - dynamics and strides on the turf farm. no run. my knee was tight and my ankles stiff
PM - 5 on mural, 6:05 pace. knee felt better, ankles not as much but i think the run loosened them up. we've got a cold front hitting so i was able to run at 2pm and have it be just 70 degrees out. beautiful.
AM - 3 on treadmill @ 10 mph
PM - 3 on mural just past noon, 5:58 pace. had to stop quick bc i strained my calf a bit
AM - 4 on sokol, 6:07 pace. calf felt meh.
PM - 4 on hilton just past noon, 5:51 pace. felt better!
4 miles on hilton, 6:02 pace i think
AM - 8 on sokol. kept the pace honest to begin with but i could tell after pretty weak training the last 10-ish days the legs couldn't handle ~60 minutes at that effort on those hills, so after running 5.5 miles at 5:47 pace i restarted my watch and jogged another 2.5(6:24 pace, that's jogging right?)
PM - 2 on mural, 5:50 pace. tried easing up but my legs weren't slowing down, so i stopped earlier than i wanted. just need a couple good mileage days to get the legs at equilibrium.
AM - 3 on hilton, 6:10 pace. just a shakeout to loosen up after a couple days off.
PM - drove to the track in the afternoon as soon as i got off work. mid 70's with low-ish humidity, it's uncommon but there's some really nice running weather to be found in the south. did a couple miles warmup, some strides and dynamics, then got into my flats and ran a set of 400, 300, 200 with 100m rec in like 50". ran 65, 47, 29. pretty decent, 29 and 47 took some effort with the short recovery but that 65 felt easy.
| | | |
| --- | --- | --- |
| Streak LT Miles: 1.00 | Peg 37 Navy Miles: 4.00 | Peg Shields Miles: 3.00 |
AM - 3 on hilton, 6:25 pace. ran early and was still a little impaired from celebrating my BRAVES making their first world series of the millennium last night
PM - a bit over 2 on mural. first mile in 5:48, second in 5:29, and i wasn't gonna let me ego drop the pace any more than that for the 3rd split(and i wasn't confident i could run more without giving in to said ego either). short but sweet
Peg 37 Magenta Miles: 5.00
AM - 6 on sokol, 6:04 pace. pace would indicate a good run usually but in reality got my ass handed to me(the analogy i thought of mid-run was "two dead fish hooked to a car battery" for how my legs felt). sokol is a tough course, but still. this weekend showed i retained most of my speed after a couple wack weeks, but my strength took a hit. i can usually get it back quick so i'm not worried, just probably means i've got a few mental slogs on the docket
| | | | | | | | |
| --- | --- | --- | --- | --- | --- | --- | --- |
| Pegs 36 #8 Miles: 173.00 | Pegs #9 Miles: 322.25 | Peg 37 White Miles: 258.50 | Streak LT Miles: 5.50 | Peg 37 Navy Miles: 473.50 | Fly's Miles: 41.00 | Peg 37 Magenta Miles: 453.00 | Peg Shields Miles: 361.00 |
Debt Reduction Calculator