Miles:
This week:
10.00
Month:
147.00
Year:
693.25
Fly's Lifetime Miles:
62.00
Pegs 36 #8 Lifetime Miles:
451.00
Pegs #9 Lifetime Miles:
322.25
Peg 37 Lifetime Miles:
187.50
Streak LT Lifetime Miles:
4.50
| | | | |
| --- | --- | --- | --- |
| Pegs 36 #8 Miles: 173.00 | Pegs #9 Miles: 322.25 | Peg 37 Miles: 187.50 | Streak LT Miles: 4.50 |
AM - 3, 6:17 pace. wasn't hard... wasn't easy though. new year, fresh start, getting back into shape and all.
RIP to MF DOOM, one of my favorite rappers of all time.
SOTD: vaudeville villain - viktor vaughn
all caps - madvilliany
doomsday - MF DOOM
books of war - RZA and MF DOOM
AM - 3 miles, 6:14 pace. i'll try and get in something longer and slower after work
also i discovered lactaid which means i discovered greek yogurt and that stuff mixed with muesli is the bomb yo
AM - 5 on the treadmill at 8.2 mph. 100 miles in the next 6 days! time to get based up with some base training
PM - 5 miles in about 31-flat. wanted to go longer but my legs were just refusing to slow down, even if it did feel like they were. hitting 12 miles in 1:15 would be fun but i wasn't confident the legs could handle it after basically no running last week. after a couple of days of doubles i'll be back in my pace pocket
sotd: the middle of next month - boldy james
AM - 5 on the treadmill, 8.2 mph. wish my 24/7 gym kept those hours after the lockdown but i gotta wait until 5AM to run instead, at least until it gets warmer. last winter i was able to run outside at 4am most mornings and i have no idea how i did it
PM - 8 miles, 6:26 pace. had some of the worst stomach cramps of my life!! i was barely able to keep my back straight so when my watch died at 7.5 it broke me and i stopped there. not sure if the cramps were from the greek yogurt i had after breakfast or the coffee 90 minutes before the run, but hopefully it's unrelated to both because i can't live without my 3 cups a day and adding greek yogurt into the diet is easy protein. i'll get that PM 12 tomorrow!
AM - 4 on the treadmill, felt fresh from two days basically off. i'm not sure if i got salmonella again or that lactose-intolerance medicine was false advertising but dealt with the worst stomach cramps of my life the past couple of days. mostly passed it now.
AM - 5 before work. cold and windy.
AM - 5 before work. for being below freezing out, it wasn't that bad. 4 years in Alabama have definitely made me better at running in extremes on the other side of the spectrum though. took it easy so i was surprised to see the first mile was 6:22 afterwards
AM - 5 on the treadmill. felt solid. ever seen the episode of the office where they race a 5k? i was andy on this run
AM2 - 12 at sandy. wet, cold, and hilly, my three favorite words to describe a run. oh, and muddy. last time i ran at sandy was november at about 7:08 pace, which was by far the fastest i've ever ran this tough-ass course. pace today was 6:40. probably should have been a few seconds slower but hit 9 miles right at 60 minutes and tried to get the pace to 6:38 so i could say i ran 30 seconds faster than i ever have at sandy; too bad the last 3 miles are all uphill. feels good to have 17 miles punched in before 9am!
PM - 8. came through the first two miles in 13-flat then relaxed; i'll be shocked if i can still do that in a few days
sotd: on that time - playboi carti
AM - 5 on the treadmill. was checking the logs last night and realized yesterday was my first 20+ mile day since september. my ex booty called me late last night but i went to bed at 8pm. tragic!
AM2 - 12 at sandy, 6:57 pace. was tired from the flux of mileage; finishing this run made for 42 miles in the past 28 hours. feeling pretty good! might end up getting 100 by thursday
PM - 8. high 6:40 pace the first 4 then the legs ran out of juice. survived it!
sotd: lost in moments - ulver. as someone who loves the industrial genre of music imbreding with basically any other genre, finding an industrial jazz song the other day that slaps was big for me
AM - off. recovery day; my legs aren't in desperate need of it but kinda feel like i'm at the cusp of overdrafting, with currency being miles and my legs being the bank in this metaphor. gonna try and get 25 again tomorrow if it feels feasible in the morning
PM - 5-mile shakeout, 6:18 pace. bounced back from the last two days much faster than i expected. felt really good! just super strong.
sotd: ante up - M.O.P.
AM - 5 on the treadmill. felt pretty good. the cold front we've had the past week melts away today so i'm saving the rest of my mileage for the pm so i can run in 60-degree weather instead of 20.
PM - 5 miles with some strong headwind, 6:18 pace again. too fast for a shakeout! luckily i didn't space these first two runs apart by much so i can afford the time to take a little more rest than i like to between shakeout and longer run(it's usually about 90 minutes)
PM2 - 15 easy. watch died but i'm sure the pace was slow. easy day tomorrow!
AM - 5 on the treadmill. working out some kinks from not getting the chance to run yesterday, but them's the breaks. hopefully should get a chance to run tonight to get the 100-mile week, either way easy day tomorrow then it's trying for 100 miles in 4 days again
sotd: tookie knows II - schoolboy q
AM - 5 before work, 6:37 pace. felt good, went a little faster for a shakeout just because it was cold and i wanted to get back indoors. didn't get the chance to run after work yesterday, oh well
AM - 5 on the treadmill. gonna have a lot more treadmill running on deck with the storms starting to come back in full soon. in an alternate timeline andy williams wrote a song about spring in the south called "it's the least wonderful time of the year"
PM - 5. didn't get a chance to run earlier because of GI issues. feeling better afterwards; always feel like it's russian roulette with this where either you run it off or you make it 100 times worse
sotd: omegah red - books of war
4AM - 8 easy. felt good, especially for it being totally dark out and below freezing for all of it. 7:09 pace.
11AM - 8 easy. was gonna go for 12 but my legs told me stop at 8 so i did. ran an hour earlier than i planned so that might have factored in, but on the bright side now i have the chance to run again before the storms hit tonight, or just get an extra hour of recovery. 6:51 pace. turned the pace off my watch face so all it says is distance so all the runs for the next few weeks are gonna be about the same effort.
6PM - 4 jogging, 7:44 pace. rain ended up starting much earlier than the snake oil salesmen we call meteorologists predicted, so my only options were the turf football field and the treadmill. both have their pros and cons, but turf is my absolute favorite running surface and i figured as long as i take it super easy the constant turning wouldn't be too much of a hassle for my legs. going out the door i thought the most i could manage was 4, but after a few minutes loosening up i felt much better. usually when i do this course for the first time i'm more susceptible to straining my legs, so still called it early. i'll probably have to run here again in the early morning since it'll still be raining anyway. i can only run so many turns!
sotd: i'm so tired - fugazi
3AM - 6 jogging on the turf field, 7:53 pace. it was pretty nice out for 3am in January; since it had just stopped raining it was high 40's with 100% humidity
4PM - 3. 6:59 pace. felt good aerobically, body wasn't hurting, but legs were completely lifeless, as they have been since the morning run. hopefully the shakeout gets the recovery blood flowing
AM - off. legs really haven't felt that good since the second run on tuesday. kinda annoying when i did 25's last week no problem that a 20 kicks my ass; but i'm hoping it's either from the 10 miles of turf turns or my shoes being past their prime, preferably the latter since i ordered a new pair last weekend. legs feel much better than they did at 3am, but if i don't feel comfortable running i'll just do a session on the stationary.
PM - 30 minutes at high resistance. got a little over 8.5 miles so i was fine with it
PM - 3 on the treadmill. new shoes came in! wild that i've bought 9 models of the exact same shoe. legs felt okay, i think. really i won't know until i see how i feel in the morning. not feeling too bad an hour later though
sotd: neighborhood threat - iggy pop
4AM - 5-mile shakeout, 7:02 pace. felt like a deer on ice the first mile then relaxed and felt better. did a light pickup for about 2 minutes towards the end to loosen up the legs. nothing crazy, about 6-flat pace. didn't realize how worn down my pegs i've been using were until i put on a new pair
sotd - samurai sword - the microphones
AM - 5 shakeout, 6:46 pace. felt great, surprised my legs bounced back from tuesday already; my calves were absolutely ripped to shreds wednesday/thursday
also i found a rare peg 36 color scheme and i will 100% pay extra to get them because they're sick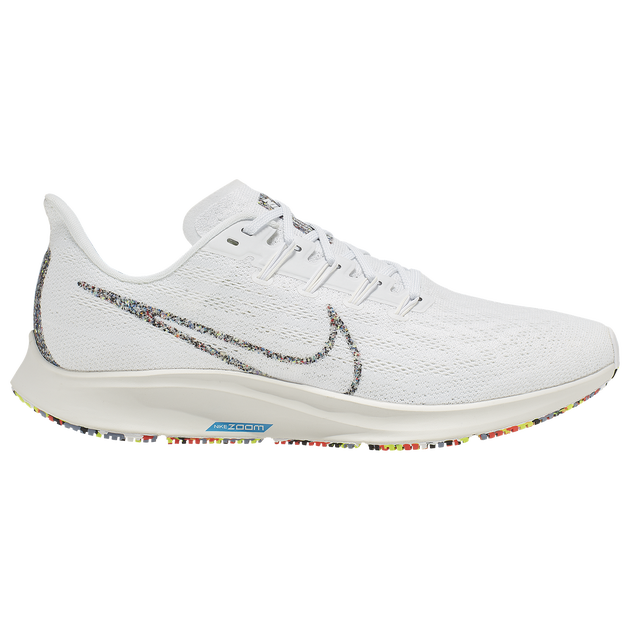 sotd: a madman's dream - east flatbush project
4AM - 7 miles pretty easy, 6:53 pace. 100% humidity, low 60's, and windy... not terrible running conditions for an early january morning. moving back up to doubles today!
PM - off. felt like i stretched too far and re-strained my calf; it's nothing major but i can tell over the past month my hips got out of alignment again so i'm using this as an excuse to see the chiropractor and give myself about 24 hours to let the adjustment set in. should be up and running again tomorrow night
sotd: fantasy - against all logic
PM - jogged on the treadmill for a couple minutes, then did 30 minutes hard on the stationary at high resistance. around tempo run effort, i guess. got 10.2 miles in that time
4AM - short shakeout. legs needed more time to feel better than i expected. felt alright... i think. one run at a time.
AM - 5. felt much better than yesterday!
AM - stationary
PM - few minutes of jogging on the treadmill and some more stationary to loosen up, then drills and plyometrics. burpees kicked my ass, but i definitely have a better vertical than i did a year ago. with as much jumping as i did and my legs feeling fine this probably means i can start running again
really wanted to run today but i had really bad stomach cramps and a jacked HR all day. long as it's not covid, whatever; hopefully i can sleep it off so i can run tomorrow. surprised how sore i am from the plyo session last night; feels like i did leg day(go figure)
PM - 4, 6:41 pace. felt pretty good! wanted to go longer but with only 7 miles ran in the last 8 days and a weight session later tonight(albeit mostly upper body) i decided to keep it short enough to test out the legs without really testing them. i'll go for 10 tomorrow and that'll be the real gauge. looking back it's only been two weeks since the wheels fell off and i've gotten some good stationary work in so maybe i haven't lost too much fitness. hope not; i was starting to feel really good a few weeks ago. legs feel stronger from the plyometrics!
PM2 - 10 minutes on the stationary to loosen up then core, back, chest and hips. probably gonna be sore tomrrow. good!
another day without running but this is one of the best excuses i've had in a while to miss it. i was completely ready to run but came outside to find my tires had been jacked, and no one else in the lot. it's messed up, and after filing a police report and knowing replacing this is all coming out of pocket after buying new ones just a couple months ago, i'm demoralized to the point where i don't think a run would fix it. it's a cold world man
PM - 3 at night after finally getting new wheels on the car. i'd been up since 2am so i was pretty tired but wanted to get the legs moving so i forced myself to hilton. could have felt worse after 2 days of no running
also i got a great story out of this crappy situation with the wheels. i needed a ride to an auto shop to get lug nuts but obviously couldn't drive, and the only person available to drive me was my ex i haven't seen in about 2 years. we drive to the shop and it was honestly less awkward than i thought it'd be.
so i get back in her car and after a few seconds driving back to my place i hear her sigh and look over and she's got the whole waterworks rolling down her cheeks. i'm like yooo wassup g and she says she just found out her new bf is cheating on her. well, apparently she meant cheating on her at that very moment because she pulls off the main road and drives to what i assume was her mans' apartment and is like "there's that two-timing mfs car, i think i remember where she lives" and pulls out, slams on the gas and drives around looking for her house, i guess
so now i'm just awkwardly sitting in the passenger seat trying not to say anything like i'm in timeout or something, worried i'm about to get caught up in a first-degree murder charge. there was a look in her eyes; i've never seen it in anyone before and honestly, it put the fear of god in me lol. she drops me off and i tell her she's too pretty for prison and she peels off and now i'm praying my ex doesn't catch a case because that looks bad on my tinder resume
like any faithful ex would i (mostly jokingly) offered to beat up her new man but apparently he plays football for bama so i'd like to emphasize the fact that my exes go on to date national champions which kinda feels like a dub for me somehow
sotd: i hit it first - ray j.
AM - 3 again. started to feel the days i haven't ran the past month coming back to haunt me but i definitely felt stronger than i would have if i didn't do the strength sessions this week. it's supposed to rain from noon through tomorrow morning but i'll still try to get out there for a shakeout tonight even if i'm tired after work.
AM - 5, 6:35 pace. was running on 3 hours of sleep yesterday and unfortunately didn't have it in me to do it again so slept through my alarm and didn't have much time before work, so took it a bit faster for still being half-asleep. felt much better than i have the past couple of days; i didn't look at my watch until after the run and i'm not sure if i expected the pace to be faster or slower.
feel like i've been lacking ambition in running the past couple of months, and REALLY feel like that switch got flipped the past couple days. not letting that fire get snuffed this time!
sotd - la mala ordina - clipping
AM - 10 miles, 6:39 pace. was tired but tried to pick it up the last mile and ran a 5:58. felt less like i was flying and more like i was desperately running for my life, lol. felt good to feel that pain; although i'd rather it correspond to something in the 5:20's instead. baby steps. shakeout and plyos tonight!
PM - 5, 6:51 pace. legs felt tired but had a LOT of bounce in them. guess that's why you do strength work
PM - plyometrics. tough one!
AM - 5, 6:36 pace. felt pretty good. took a step around mile 3 and felt my calf strain a bit. didn't feel it before or after that but told myself i'd stop at 5 to exercise caution. shame, but it's a run.
PM - 5 shakeout, 6:59 pace. felt pretty good! could feel the plyos in the legs, both for better and for worse(mostly better). weights in a couple hours!
PM - calves, quads, biceps, triceps. had a paradox where my calves felt strained from running, but the way to avoid that was by straining them more with weights, so might be incapacitated for the morning run tomorrow. either way, it was a good session.
bringing back sotd! today it's bad boy for life by p. diddy bc we're keeping the lombardi down in the dirty south!
20 min of jogging on the turf field
5 on the treadmill before work! felt good
AM - 8 easy before work, 6:53 pace. surprised i didn't cut the run short; it was cold with a vicious wind and corresponding wind chill. we're supposed to have a nasty winter storm hit us later today and last until tuesday morning, so monday's mileage is up in the air. hopefully the weathermen and weatherwomen are once again exposed as frauds tomorrow so i can get the work in.
sotd: blockbuster night pt. 1 - run the jewels
7 on rodeo, first 5 at 6:17 pace. weights later.
6:40 pace on hilton. i forget why i stopped early
12 on sokol, 6:43 pace. weights after
letting my fans know i am alive and well, and also getting some decent 90-minute runs and strength training in lately. been super busy with things like work and academics but i'll enter all my training whenever it clears up(should be some point in the next few weeks, probably immediately after tax day). i'm gonna try to do a 30-mile long run the saturday after next and if i get that done i'll definitely be here talking my talk lol. haven't ran yet today because of a pretty nasty storm, but once it clears up tomorrow it'll be 70's and sunny for the next week. i'm gonna get some great runs in.
12 on sokol, 6:34 pace. weights after
8 before work on mural. 6:41 pace. cold and dark!
treadmill. no running last couple days bc bad storms.
AM - 6 hilly, 6:52 pace. had a bad cramp.
PM - 3, 5:54 pace. felt amazing
AM: 11, 6:47 pace. tired from the second run yesterday.
PM: 5 on mural, 6:38 pace
11 at sokol, 6:37 pace. last 2 miles in 12:20
it rained all night so running on sandy should have sucked. lotta mud, lotta hills. however, i got my new shoes in the mail yesterday, plus a pair of 2" shorts(haven't worn short shorts since like 2017), so i guess that was a recipe for success.
11 miles at 6:18 pace with the last 4 in 24:07, 136 avg HR. felt amazing the entire way, i kept expecting the hills to finally do me in but it never came. a few days ago i felt super good on my second run of the day and ended up running 5:54 pace like it was 7-flat, and ever since then i've just felt great on every mile of every run. i'll probably run again tonight since we're supposed to have a severe storm hit us from basically midnight to midnight tomorrow(i'll say it for the umpteenth time, gotta love spring in the south), so not sure what i'll be able to get in. i might end up running over 100 miles this week for the first time in forever, but only if i can get in something tomorrow, so fingers crossed. if not i'll definitely clear that next week, then workouts start the week after that.
PM - 5, 6:33 pace. saw ethan running while i was stretching beforehand, he asked if i'd finish his run with him and i figured eh, it's been a while since i ran with someone. took it a bit easier because his breathing seemed labored(he said he ran a 15:20 5k last week so i'm kind of surprised), then once he dropped off after 3 miles ran the pace i wanted to from the start. ended up being about 6-flat, felt easy. good day of training. if i get a few more days like this in before workouts start, i'll be very excited to see what i can do when i really let loose :)
sotd- enecs eht no kcab - one be lo & DJ virus
AM - 3 on the treadmill
AM2 - 7 on sokol, 6:17 pace. felt great.
sotd: huh??? - rural internet
| | |
| --- | --- |
| Pegs #9 Miles: 7.00 | Peg 37 Miles: 3.00 |
AM - 13 on mural, 6:26 pace. it stormed last night, so not only was the course soaked and windy, but also nearly 70 degrees with full humidity by 6:30am. the run should have sucked, and it did, stayed strong though. after like 4 miles the average pace never got slower than 6:27 or faster than 6:26, so i was running good splits even if i felt like i was about to catch on fire.
also, if any southern vets have recommendations on combatting humidity on runs, would love to hear it. jogging 7:30's during the hotter months like i've done in the past is one thing, but aerobic runs like this in warm weather mean getting uncomfortably close to that red line, and i'm not trying to cross it on a run meant for recovery
PM - 5, 6:35 pace. i work this afternoon until late so my only chance to run was around noon. since the recovery time was small plus it's been a solid week of decent mileage, decided to take it easy... after running the first mile in 6:01 :)
sotd: stay fresh - j rocc
| | |
| --- | --- |
| Pegs #9 Miles: 13.00 | Peg 37 Miles: 5.00 |
6-mile jog on the track, 7:12 pace. felt tired from yesterday, i'm pretty sure it's more to do with a lack of recovery than the running itself. feeling a lot better now that i got the blood flowing
AM - 11 miles on sokol, 6:16 pace. sokol isn't an easy course, so flying on it without putting in too much effort is a huge mental boon for that first workout next week. might do some short hills this week, but if i do it won't be anything too hard.
AM - 11 miles on sokol, 5:59 pace. if yesterday was a boon, not sure what you'd call this. double boon? boon squared? boooon? either way, this was awesome, and running it on a hilly course with an avg HR of 139 makes it even better. last 5 miles in 5:58, 5:55, 5:54, 5:47, 5:44
PM - 3 on mural, 6:16 pace. probably would have taken the PM off, but we have a nasty storm hitting us from tonight to tomorrow night so i probably won't get a chance to run in the morning. all i got was 3 before the storm hit WAY faster than expected
PM - 3 on hilton, 6:22 pace. felt easy, but conditions were terrible.
AM - 11 on sokol, 6:10 pace. felt way easier than the two sokol runs i did earlier this week. long run should be fun tomorrow if i'm feeling good. ready to hurt!
AM - 18-mile LR at mural, 6:12 pace. last 13 in 1:19:39.
quick complaint; this run definitely would have been faster at sokol or hilton, maybe even sandy. temperatures went below freezing last night, so at 6:30 the grass was wet and mushy which isn't the best surface for running fast. otherwise, perfect conditions. no wind, 36 degrees at the start and 48 by the end. also might be worth mentioning i went to the gym 30 minutes prior to bike on the stationary for a few minutes and do a bunch of dynamics and drills to warm up, mainly because it was cold out and i wanted to keep the pace honest from the start. might be worth doing even after it warms up. great run!
pictured below: why i immediately regret getting cool color schemes for running shoes
PM - weights after work. mostly upper body and core, along with sled pushes and farmers walks. went heavy on the sleds and they killed
AM - 8 easy from northridge to sokol and back, 6:50 pace. then jogged to the track, did some drills, changed shoes and ran 6 x 100m strides with a 200m stride to finish it off. only timed the 200, that was a 30.0.
legs felt fine but i came up about 2k calories short of replenishing what i burned yesterday, and it bit me in the ass by giving me some serious hunger pangs during the run. strides felt great
also calling it now, i am 100% gonna lose at least one toenail this week. my middle 3 on my left foot have been on the precipace of falling off for about a month after a lot of trail running, and running in flats on a track isn't doing them any favors. onycholysis: a runner's best friend
| | |
| --- | --- |
| Peg 37 Miles: 8.50 | Streak LT Miles: 1.50 |
AM - 4 w/u + drills and strides, then 4 x k w/ 2:45 rec in 2:59, 3:03, 3:04, 3:04. 5 c/d
nothing crazy on my first workout, but even the tower of babel started from the ground, right? botched that second k by coming through the first 200 in 31, surprised that didn't end up hurting me more but i guess calling 6:20's easy pace had to be good for something. kept the total work short since i knew my legs were gonna get shocked from actual hard running, but never tightened up or went over the red line, plus i felt pretty good on the cooldown, so i think i ran the times i was supposed to. happy with it all things considered! RIP to my index toenail
PM - 6 at hilton, 6:06 pace. obviously, i was still reeling from this morning ;)
| | |
| --- | --- |
| Peg 37 Miles: 15.00 | Streak LT Miles: 3.00 |
AM - 6 on sokol, 6:24 pace. legs felt tired, but weren't hurting and really weren't all that sore either. however, what i said about not eating enough on sunday and it biting me in the ass, multiply it by 10 for this run. it's tough being a poor college student when you're burning over 5000 calories more days than you aren't, lol. ended up calling it at 6 because i was straight up starving, but also it's probably for the best i cut the 12 short this morning considering yesterday was basically all quality and i can't be getting greedy so early in training.
PM - 6, 6:18 pace. ankles felt a little stiff, i think that's more because of it being on hilton than anything else though
sotd: reptilia - the strokes
PM - 7 on mural, 6:17 pace. felt stiff at first, but the last 15 minutes or so i started feeling good. last 2 miles in 6:03 and 5:36. not too often that i'll dip under 5:40 to close out a run! hope to change that soon; bought myself an early birthday present in the form of a whole bunch of supplements after reading a book on them for endurance athletes. once i can add spirulina, beet root, and tart cherry extract to my pre-run shakes, it's over!
anyone else unable to comment on blogs? or am i being silenced for speaking the truth
AM - 4-mile shakeout, 6:43 pace. TERRIBLE run! i wore sweatpants for some reason despite it being 70 degrees out with full humidity, and by 10 minutes in my legs had overheated to the point they were completely lifeless. normally i'd be wearing running tights under, but i wasn't today, and couldn't strip the pants off and just run around in my briefs, so i was stuck in my own little slice of hell. those last two miles i just kept feeling crappier so i called it at 4.
AM - 8 on sokol, 5:59 pace. would have been longer(and probably faster considering the last 6 miles were 5:55 pace), but during that last mile my stomach was NOT having it. oh well, at least it felt a lot easier than 11 at the same pace last week.
AM - 4 miles on sokol, 6:11 pace. couldn't run this last weekend, isn't important why. felt good on this run(was already at 5-minute pace by ~10 minutes in), but since i hadn't run in 72 hours i cut it short since i could tell my legs needed a run to loosen up before i do anything else. in theory it should be back to the usual by tonight
AM - 8 miles on sokol, 6:07 pace. would have gone a few miles longer, but same issue as last friday where i really needed a bathroom but the park rangers hadn't unlocked them yet. it's kind of terrifying how controlled 6:00-6:15 pace has become for me lol
AM - 10 miles on hilton, 5:58 pace. kept it honest, but still relaxed. good run, hopefully 23-year-old me has a LOT more like it coming down the pipe :)
AM - 4 on sokol, 6:13 pace. watched the al davis 30 for 30 last night, it's a pretty good watch
AM - 10 on sokol, 5:58 pace. spent most of the run trying to recall where joe flacco signed this offseason; not that i'm a fan, it just bugged me that i knew i knew but still couldn't remember(spoiler: it's philly)
AM - 10 miles on mural, 5:57 pace. last 4 miles in 23:00.
this was supposed to be a long run, with the plan being to make the first 6-7 miles a little uncomfortable, but relaxed enough that i could drop the pace after that and still try and go for 20. legs felt good, conditions were perfect... but after 6 miles started having some rough GI issues. once that happened i said screw it and tried to run the last 4 miles in 22:59 or faster(so close). wish i could have gotten 20 in under 2 hours like i hoped, but in the last 72 hours i've done three 10-milers on three different courses all under 59:45, which is pretty sick.
AM - 10 on mural, ~6:10 pace. yesterday i tried to run the last 4 miles of my run in under 23 minutes and came up a few decimals short. today i ran the first 4 miles in 22:47. definitely could have held that pace a while longer, but i'm planning on doing a workout tomorrow so after 4 i ran another 6 a lot easier, about 6:35 pace(watch died near the end). i've been running for over 10 years now and i still have no idea how i got this fit over the past month or so(okay, i do, i just didn't think nudging my easy pace down would work out this well!)
AM - stretching, core, and weights. did front squats + step-ups and i think it gave me carpal tunnel syndrome lol
| | | | |
| --- | --- | --- | --- |
| Pegs 36 #8 Miles: 173.00 | Pegs #9 Miles: 322.25 | Peg 37 Miles: 187.50 | Streak LT Miles: 4.50 |
Debt Reduction Calculator