Click to donate
to Ukraine's Armed Forces
| | | | | | | |
| --- | --- | --- | --- | --- | --- | --- |
| Miles: | This week: | 0.00 | Month: | 0.00 | Year: | 0.00 |
| | | |
| --- | --- | --- |
| Running Miles | Swimming Yards | Bike Miles |
| 6.90 | 0.00 | 24.10 |
| | | |
| --- | --- | --- |
| Running Miles | Swimming Yards | Bike Miles |
| 1.60 | 0.00 | 0.00 |
Painful 1.6 miles. I walked and jogged... and now I'm wondering if it was a bad idea. I wanted to stretch it out a little bit before the race weekend.
Comments(9)
| | | |
| --- | --- | --- |
| Running Miles | Swimming Yards | Bike Miles |
| 0.00 | 0.00 | 0.00 |
Well, I still haven't run any miles. I'm thinking about going for a slow, easy jog tomorrow and see what that does for me in preparation for the "race" on Saturday. I call it the "race" now because I won't really be racing. I may be walking, but I still plan to participate, and I still think it will be a good time.
In the meanwhile, my slave driver of a co-worker has *forced* me to go up and down the stairs today about 100 times. Burt.... you are so evil!!! LOL This morning my leg didn't hurt, but it does now. I can definitely feel it. Maybe that's good though... I mean sometimes you have to fight fire with fire right? Okay, maybe not. Perhaps I should listen to the wise people who have told me to take it easy, ice, and relax! Hmmm...
Comments(10)
Race:
Outrun the FBI (5 K) (3.1 Miles) 00:26:57, Place overall: 64, Place in age division: 2

| | | |
| --- | --- | --- |
| Running Miles | Swimming Yards | Bike Miles |
| 3.30 | 0.00 | 0.00 |

Well, I did it!!! I'm very happy with myself. I ran the race, PR'ed, and miracle of miracles, placed for my age divison. I know I'm not a FBR, but I'm pretty happy with myself.

Here's the scope (complete with pictures!):

Brandon, Melanie and I met up with my mom and her boyfriend before the race. We registered, stretched, did some walking around to check out some of the FBI exhibits (way cool, by the way). I was feeling alright. I was a little sore, but nothing really to write home about. Here we are pre-race. Notice that Brandon dressed Melanie for the occasion. She is wearing a jogging outfit and "running shoes".

This is me and my mom (who was so kind to come and support us) and Yes, Burt, I am taller than someone! :o)

So the idea was to outrun some of the FBI agents. They got a 30 second lead (which I thought was a little cheap). If you passed one, you were suppose to tap them on the shoulder and they were to give you a sticker to put on your racing number. Out of the 6 of them, Brandon passed 4 (pushing Melanie!) I did not pass any of them. I came really close, but then we had to run through some extremely tall grass... and it definitely slowed me down. I did come really close though, so I'm pretty happy about that. And the guy looked like Michael Clark Duncan. O-well. Close is really only good in horse shoes and hand grenades, right? I was pretty happy that I passed people and never saw them again. That felt good.

Here is Brandon passing an FBI agent:

After I hit the grass, I was feeling the pain. I kept on. I tell you, one thing that helped me out was I have an ipod, and paid 30 bucks last week for the nike+ chip to put on my foot. I pushed a button on my Ipod, and it told me my distance, my time, and my current pace, in my ear. I didn't have to read. So after I passed the grass, I pushed the button, and it said 2.3 miles, time 18:12 sec, current pace, 8:52. I was so excited, I think it kept me going. Then I hit this freaking HILL in the GRASS. I decided that the hill was not going to defeat me, so I ran up and it back down. THAT'S when the pain really hit in. I had .5 miles to go, and I wasn't going to give up... so I just kept trucking along. I finish in 26:46 (I think, because they didn't give us our results and that is a few seconds behind the last number I remember seeing). I'll re-report when I get the results. Okay, results are in and they say I did it in 26:57. I don't think that's 100% correct because I know that it didn't take me 10 seconds to past that finish line from where I was looking at the clock, but o-well. I still PR'ed and still medaled, right?

Anyhow, I stayed around for the awards ceremony because Brandon was suppost to get something for passing the FBI agents. Low and behold, some how... I placed 2nd in my age divison. I don't know the 1st place girls time, but I'm dying to see what it was. Anyhow, I was surprised, and pretty close to tears. It was definitely an exciting moment for me. Here is me and Melanie with our medal.

Okay, now here is the fun facts that I now can get (thanks to my nike+). My first mile was a 7:41" mile :o) Yep... I did that!!! (I don't know how, and I definitely can't do it now!) Here's to a speedy recovery so I can hit the pavement again!

Thanks!

Comments(21)
| | | |
| --- | --- | --- |
| Running Miles | Swimming Yards | Bike Miles |
| 0.00 | 0.00 | 0.00 |
Zero running... so depressing. I'm starting to think that my injury is more than a pulled muscle and am contemplating going to the doctor. How does a doctor check something like that? Anyhow, what have I been up to in the meantime???
Working! Here is a picture of Burt and I hard at work LOL. (Can you tell we are working hard). Okay, we were on a site visit, checking out different design constraints for a proposal that I'm writing... and at the tail end of the project, there is a lake (owned by our client) to hold the water at the end of the irrigation system. We were checking out the potiential impacts of the project on the lake, when Burt decided to take a group shot. So, though it doesn't look like it, we truely *were* working. (I have some good blackmale pictures of Burt from that site visit... I'll have to remember to post them later)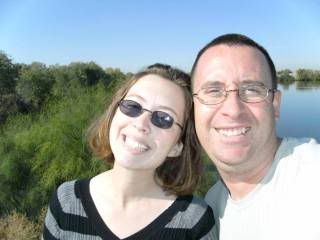 Okay... here is a picture, pre Melanie, of me doing something I love to do, but haven't been able to do since I decided to hurt myself... Hiking. I'm trying to cheer myself up, can you tell? It's hard to be positive when I can't hold my daughter and walk at the same time... but I *can* still play with her on the floor. Anyhow, this picture below is of me on top of Camelback Mountain. It's ironic and fun because I've been called Camel for most of my life, so It's a Camel on a Camel's Back. Okay, that was pretty lame, wasn't it?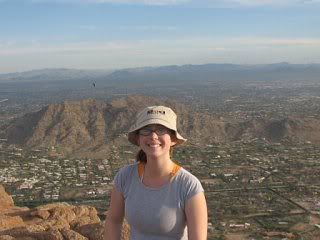 The following picture is from one of the happiest days of my life (Having Melanie is good competition for the Happiest Day, so I can't really pick just one). The goofy guy to my right is my brother (Christopher). As you can tell, the short gene runs in my family! (Poor guy!). Our anniversary is next Saturday! Doesn't Brandon look Handsome!!!
So, as you can tell, it's been a hard week (In several different ways) But, I'll be okay :o)
*** Added... Because Burt asked for it ***
Here is a picture of Burt, preforming the all time favorite "I'm a Little Teapot"
And here he is deep in thought...
Insert evil laugh. Maahahahaha
Comments(19)
| | | |
| --- | --- | --- |
| Running Miles | Swimming Yards | Bike Miles |
| 0.00 | 0.00 | 0.00 |
I'm back from the doctor's office with the verdict... stress fracture of my femur.
So, has anyone had this? What cross training would you reccommend? Will I still be able to do the Ragnar (End on February)???
I'm depressed!
Comments(10)
| | | |
| --- | --- | --- |
| Running Miles | Swimming Yards | Bike Miles |
| 0.00 | 0.00 | 0.00 |
Well, my husband is just awesome, trying to make me feel better. He is cute. He put together a list of things that I can do to get points (I know, very elementary school, but it somehow cheered me up). Once I get 25 points, he'll get me a price (a book or pj bottoms). Anyhow, this morning I did 50 crunchies... earning me 1 point. And it didn't hurt my leg.
Is it bad that I need a rewards system?
Comments(7)
| | | |
| --- | --- | --- |
| Running Miles | Swimming Yards | Bike Miles |
| 0.00 | 0.00 | 0.00 |
50 crunchies and 100 criss cross crunchy thingies (50 each direction).
2 points! :o) I have 22 more points to go.
*** Added yoga (moves that didn't hurt while I held them) ***
Comments(20)
| | | |
| --- | --- | --- |
| Running Miles | Swimming Yards | Bike Miles |
| 0.00 | 0.00 | 0.00 |
Abs.
Had to explain to my husband that the "plank" is truly the name of a yoga position, and it really *does* work your tummy. I got him to try it, but it looked more like down-ward facing dog on crack then the plank. I still love him...
Comments(5)
| | | |
| --- | --- | --- |
| Running Miles | Swimming Yards | Bike Miles |
| 0.00 | 0.00 | 0.00 |
Okay... I am the world's worst mother!!! Melanie was moaning in her sleep, but I decided not to go in there because I thought if I went in there, it would wake her up, and then she would be up for hours before going back to sleep. So I didn't. This morning, I go to get her, and there was something on her cheek. I realized it was dried snot. I scrubbed it off and then noticed dried up snot on her ear. Thinking that she must of wiped her nose to her ear, I went to wipe it off and got a bunch of wet snot stuff on my hand. I then took her into the light and noticed her ear was oozing the green stuff. I have never seen anything like that before. I feel awful. So, needless to say, we are taking her to the doctor as soon as they open.
Poor Melanie is stuck with me as a Mommy...
*** Sick Baby Update ***
We took Ms. Melanie to the doctor, and he gave us 2 antibiodics (one topical, and one oral). When we gave them to her last night, she was OUT! She is still pretty misearable, but there is definitely a light at the end of the tunnel! Oh, and the doctor also confirmed my theory that she is teething. Until now, Melanie has only had two bottom teeth. Now she is getting her two top teeth. It may be the end of nursing. LOL
Comments(13)
| | | |
| --- | --- | --- |
| Running Miles | Swimming Yards | Bike Miles |
| 0.00 | 0.00 | 0.00 |
Yoga and abs
Spent the day cuddling with my sick little girl.
Comments(1)
| | | |
| --- | --- | --- |
| Running Miles | Swimming Yards | Bike Miles |
| 0.00 | 0.00 | 0.00 |
Happy Anniversary to Brandon and I :o) I'll be back later to report
*** Added *** First, I have to add that I did my abs and yoga today. :o) Brandon was "sleeping" on the couch while I was doing the yoga... but what I really think was happening is that we was pretending to sleep and sneaking peaks. I swear I heard him chuckle once. Good thing I love him.
Brandon and I have been married for 5 years. He got me two books for our anniversary: Hello, Cupcake, and Fudge Cupcake Murder. I got him some new bike gloves, a funny bike horn (which will probably go in Melanie's buggy so she can tell him to speed up, a reflector for his bike, and a light). He really enjoys riding his bike and pulling Melanie in her buggy, so I thought he would like those things. Tonight we are going to dinner, which I'm excited about. I'm going to wear a dress that I wore to the lunch the day we were married. I really haven't worn it much since then, so I'm hoping that it will suprise him.
Comments(6)
| | | |
| --- | --- | --- |
| Running Miles | Swimming Yards | Bike Miles |
| 0.00 | 0.00 | 0.00 |
abs! Tried Yoga. It's pretty difficult with a 11 month old who thinks that mom is a playground. I swear... the table and plank are much more difficult with 17 extra pounds hanging on! LOL
I got a call from the Dr's office telling me that my xray looked pretty good, but they want to do a bone scan. :o( I keep thinking it feels good, but then there are moments where it HURTS! I'm going to give it another week or two and then try easing back into my running routine.
Okay... I have figured out why people say babies are expensive. It's because all the things they make for babies are freaking adorable, you can't help yourself. For example, today I stopped by Walmart to buy diapers. What do I find near the diapers? A beautiful Christmas dress. She NEEDS a Christmas Dress, right? And if she gets a Christmas Dress, she needs shoes to match them. So, I grab the dress and the diapers, and make my way to the shoes. (passing the movie section, where I have to admitt, I picked up Get Smart to surprise my husband). Okay... I find the most adorable black shoes to match her amazing dress... and what do they have next to the shoes... the cutest slippers ever. I couldn't resist. This is coming from ME! I HATE shopping. (I know you can't tell by this story, but believe me. And if you don't believe, ask my husband!). Okay. I couldn't resist the slippers, and once you see them, you won't be able to resist them either.
This is why people can't get out of Walmart with just one item!
Comments(4)
| | | |
| --- | --- | --- |
| Running Miles | Swimming Yards | Bike Miles |
| 2.00 | 0.00 | 0.00 |
Walk / jogged 2 miles. Melanie and I decided to go to the park. I was just going to walk to the park, but got a little frisky. It was a little tight and a little sore, so I didn't push myself too much. I'm a little sore now too.
The imagining place just called and I scheduled the bone scan. The soonest they could get me in was December 18th. That feels like forever away. O-well.
Here is a picture of Melanie enjoying the park!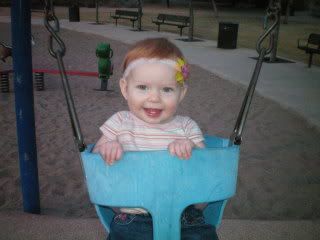 Comments(5)
| | | |
| --- | --- | --- |
| Running Miles | Swimming Yards | Bike Miles |
| 0.00 | 0.00 | 14.10 |
Happy Thanksgiving Eve. So, I haven't done anything productive today (as working out goes). I think I'm starting to get sot around the middle (though my scale says I'm the same, I don't feel the same).
I wanted to give everyone a sneak peak at the cake I made for Thanksgiving. Dad asked me to make a cake that looked like Thanksgiving. It's a spice cake with apple filling. I made everything you see, and everything is edible. (Yum!) I hope Dad likes it. I just found out that I'll be making more than the cake. Apparently he wants me to show up early so I can make dinner as he "helps" me. What a comedian!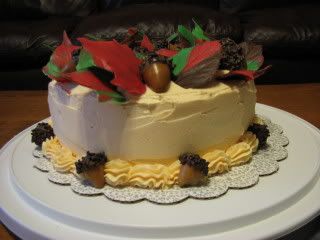 ***Added: Did my yoga (without the help of my 11 month old this time :o) ), and decided to do a little assessment of my own (copying Mike). I gave myself 2 minutes...
70 crunchies (I can't do a full situp)
21 girlie pushups. (That's 20 more than I actually thought I could do...)
I also did my ab workout. :o) I'm missing running. Everytime I see someone out side running, I get a little sad. I'm thinking next week maybe. Maybe 2 miles, at a slow pace, like Teena is?
***Added more... 14.1 miles on my dad's exercize bike. I think that's the most action that bike has seen. Totally joking (or am I?)
Comments(11)
| | | |
| --- | --- | --- |
| Running Miles | Swimming Yards | Bike Miles |
| 0.00 | 0.00 | 10.00 |
I went on my first bike ride in a while. It was super nice out. I love this weather!!! I passed a guy who was also riding his bike. At first I felt personal triumph... until I realized the guy was smoking while riding. Doesn't that defeat the whole purpose of riding your bike? You aren't getting the health benefits for riding if your smoking... and you sure as heck aren't enjoying the fresh air. O-well.
I officially tried a chin up (for the chin up competition) Week one: 0 chin ups. (I'm a total whimp!)
Yesterday my mom took some family pictures for us. Here is a sneak peak of one of the pictures she took. :o)
Comments(11)
| | | |
| --- | --- | --- |
| Running Miles | Swimming Yards | Bike Miles |
| 6.90 | 0.00 | 24.10 |
Debt Reduction Calculator