| | | |
| --- | --- | --- |
| Mizuno Wave Inspire 11 (blue) Miles: 101.41 | Asics Gel Kayano 21 Miles: 3.99 | Mizuno X10 Trail Miles: 13.71 |
It was 7:37am when I started and the sun was up. It's been a couple of days since I ran this, so the only thing I remember is stopping to talk to Rob Carlock, my old supervisor at RWCD. I asked how it was going and he said, "It's dry up." We had a chuckle together. He asked how far I was walking. I told him I was actually jogging, and I'm just getting over Covid, so I'm just doing a mile and a half. That pretty much ended the conversation.
Mizuno Wave Inspire 11 (blue) Miles: 1.45
I finally did two loops. It was nice and dark out. 6:45am when I left. A bit cold, but as usual, I was wearing shorts and a T-shirt. I was thinking I wasn't going to see anybody today. But as I was heading south after crossing Adobe, I saw two walkers on the other side of the Canal. (BTW, I know it's not proper English to capatlize Canal in the context I'm using it, but since I'm referring to the Roosevelt Water Conservation District Canal, and I used to work for them, I do.) Since the Canal is empty right now, one of the walkers decided they would take the opportunity to walk down the steps. It was dark, but I could tell she was a girl. I wasn't sure about the other. But they both sat down on the steps and when they said good morning to me, it was obvious that they were both girls. One of them put her phone on the sloped bank of the Canal. It started to slide down, and they both started saying, "Oh no! Oh no!" It was mildly funny. I finished my two loops and I'm feeling A-ok.
Mizuno Wave Inspire 11 (blue) Miles: 2.54
About a week ago I received a package in the mail from Ragnar. It was a box of Emergen-C that they sent out to all the 2020 team captains. That was nice. I set it on my night stand. A few days ago I brought it upstairs and asked my wife where I should put it. (We're still renovating, so I have no idea where anything goes anymore.) She said she was going to take it to Maggie. Maggie thinks she has Covid. So it was put on the stand next to the front door. And there it remained until today. I texted Maggie to see if she was feeling better and if she still wanted the medicine. She said no and yes. But she didn't respond until after I had started running. My plan was to just run it over to her house. Luckily she responded during my first loop, so I just ran home, grabbed a Walmart bag, and ran to her house. We talked for a while. At one point my knee started to tense up, as it sometimes does after I finish running. I thought I was going to fall down, but I stood there and pretended it didn't hurt. Then I ran down to University, over to the east side of the Floodway, and back home.

Mizuno Wave Inspire 11 (blue) Miles: 3.30
I just hit 700 miles on these shoes. I almost hit it on my last run, but I was 0.03 miles shy.
I saw two of the white cats that roam our neighborhood this morning. We had one of them, but one night as I was taking Herbie for a walk, we heard her scream, ran to the backyard to see what was going on, but we never saw her again.
I saw a couple walking their dogs as I entered the Floodway. I passed them up and said good morning while they held the dogs still. As I approached Brown, I saw this old lady I see every once and a while. I said good morning to her. She actually beat me to Adobe and she kept heading south, so I figured I might pass her again once I headed north from University.
I saw a man down in the bottom of the Floodway after crossing Adobe. I lost sight of him as he approached the toe of the channel. Then I saw him as he walked up the service ramp. We waved at each other and I didn't think to much about it until I heard, "Is that you, Burt?" I recognized his voice right away as Tom O'Hare. Tom is one of my favorite people from the ward, but he doesn't know that. He's so genuine and funny. He's a convert to the Church with a Catholic background. I love Catholics. But they don't know that. I stopped to talk with him, but he said, "Don't let me stop you." So I was off again. I turned north on, now back on the east side of the Floodway. When I got to the green belt, I passed the dog walking couple, on the west side of the Floodway. Then I realized that I never saw the old lady. She must've turned off at the green belt.
Mizuno Wave Inspire 11 (blue) Miles: 2.55
Two nights ago my wife told me she was taking the girls to the gym to work out. I said, "What about dinner?" She said I could just make myself something or she'd make me something when she got back. I looked around in the fridge and was like, I have no idea what to make. So I grabbed a cheese stick. I texted my wife later and told asked her to make me something when she got back. I got in bed and started watching Netflix. I was almost asleep when she brought me three delicious shrimp tacos. I ate them and promptly fell asleep. Bad idea. I woke up at 3 in the morning and was not feeling well. Like my food was just sitting there in my stomach not digesting. I got up and sat on the toilet a while. That helped a little, but I couldn't get back to sleep. I decided not to go running because I wasn't feeling good. Last night I made sure not to go to bed until it had been a while since I ate. I think I fell asleep around 10pm. But again I woke up at 3:15am and couldn't go back to sleep. I decided I should go running.
I picked out my green shorts and my old faded orange Ragnar Ambassador shirt. Hey, nobody would see me in the dark. I started running at 4:50am. I noticed that my shirt was starting to ride up my belly. My weight gain is out of control during the pandemic. I pulled it down while I was running down the street in case someone drove by. But once I got to the Floodway I just let it be. I wondered how far up it would go. Before I knew it, I was wearing a crop top. Hey, nobody would see me in the dark. I just let it sit there until I almost reached Brown.
It was dark. You know how when you're driving down the highway at night and a car is coming toward you, there's that time when the headlights are in your eyes and you can barely see the road? That happened to me. The street light from Brown Road was shining in my eye, and I thought I was going to step off the trail, and I almost fell. I got to the other side of the Floodway which is also the RWCD road. I saw tail lights all the way down at Adobe. They then became headlights.I thought it was weird to see headlights on the RWCD road at 5 in the morning. If memory serves me, shift change is at 5:30am. But then again, it's dry up, so they're not running shifts. After a while the headlights turned east and drove away. I got to Adobe and could see the reflection of a vehicle sitting in front of the gate. Then I heard a dog bark. As I got closer I could see the owner struggling to get his two dogs under control. I told him good morning, so he would know that I'm coming through. He said, "You're all right." The dog he had a hold of was barking at me and the other dog ran behind me and barked once. I said, "Hi puppy!" Who walks their dogs at 5:07am? Probably a lot of people.
When I got in line with my house, I could hear David crowing. Stupid rooster. I figured that would be the end of the excitement for the day, but as I was running north on the east side of the Floodway, I could make out the outline of an owl in the top of a palo verde tree. I decided to take a picture and I think it turned out pretty good. Stay away from my chickens, owl! But you can take David.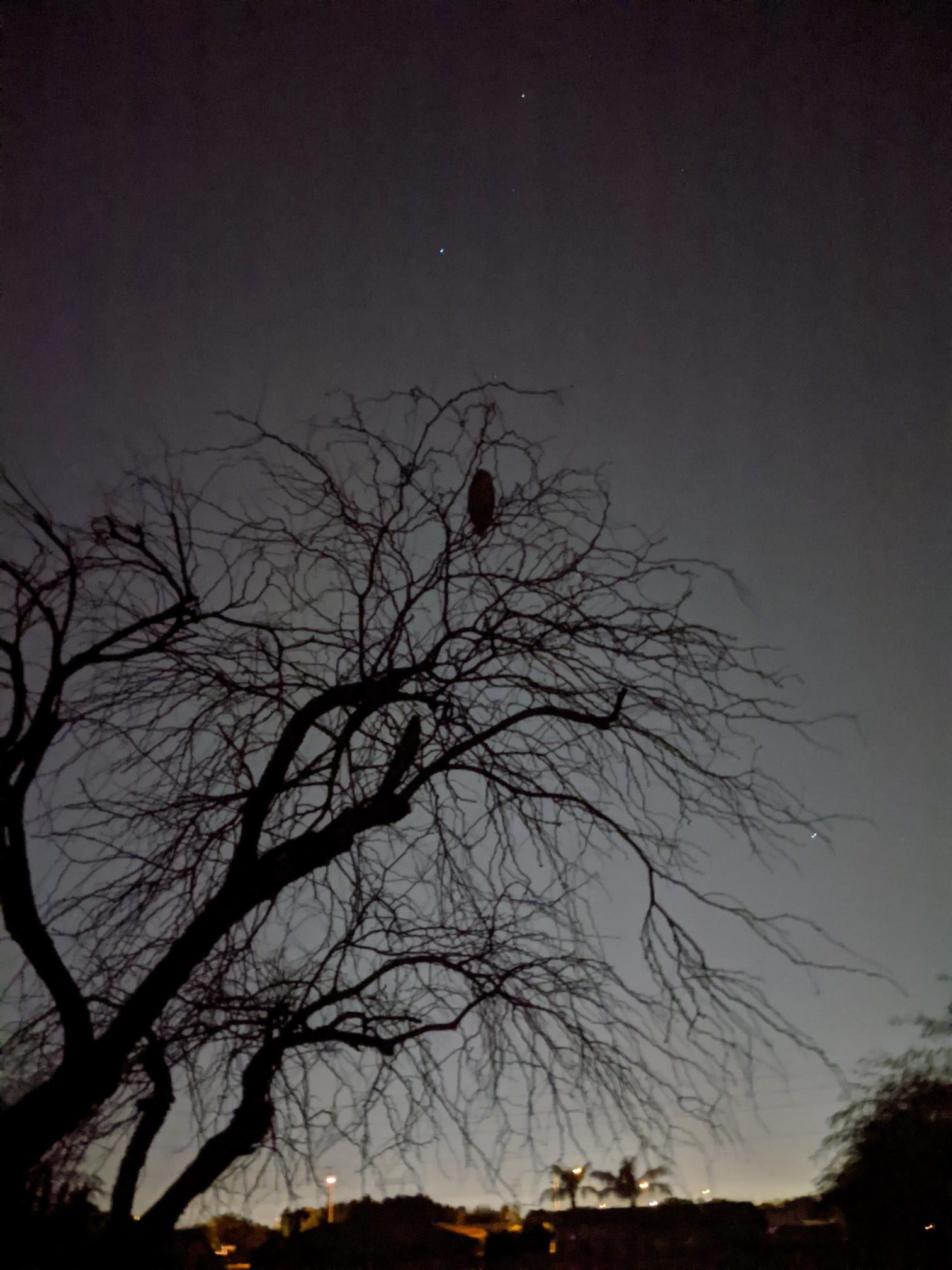 Mizuno Wave Inspire 11 (blue) Miles: 2.55
I finally got some decent sleep last night. I went to bed early. At 11:30pm I was awakened to the sound of my daughters laughing. I thought, "oh no, I hope I can get back to sleep." Luckily I fell asleep again not long after that. I woke up at 5am and started running at 6:24am. It was still quite dark. Yesterday when I checked the temperature on my phone, it said 38º. Today, 53°. As I made my way to Adobe I could see someone running west on Adobe. I knew I had no chance of catching them. When I turned the corner at Adobe I could see the figure still running up ahead, crossing over the Floodway. And I saw another figure. One of them looked like they turned north to run on the west side of the Floodway. It was real dark, and hard to tell even though the street light was on. The other one stayed there. The closer I got the more visible he became. He was just standing in the road. Not in the driving lane, but right next to the stripe. I thought that was queer. But he was looking at his phone. I wondered if he was timing someone. The other person? But they came from the other direction. I think. Who knows? It was too dark. So I just went north on the east side of the Floodway as usual. After about a minute I could see the glow of the guy's cell phone. Ah, he was just catching his breath. Probably doing half mile intervals. He passed me up pretty quickly, and I tried to keep an eye on him. But even though I left an hour later than yesterday, it was much darker than yesterday. No stars. Was there a haze blocking them? Was it so close to sunrise that the suns rays were blocking them? I don't know, but I had to concentrate hard on the trail to make sure I didn't run into a tree or something. Every now and again I would look across the Floodway to see how far ahead of me he was. Then about half way to Brown someone shined a flashlight at me. I don't know if they were shining it at me or down in the Floodway, truth be told. But I thought it was the half mile interval guy. So he's only doing quarter mile intervals? But I then I saw the soft glow of his cell phone way up ahead. So maybe this was the original guy (or gal) that turned north. So many mysteries in the dark. When I got to Brown, he was no where to be found. I'm guessing he continued north.
Now that I was on the RWCD road, I could see much better. The RWCD road is nice and straight as opposed to the winding trail on the other side of the Floodway. Also, there's no trees blocking what little light is given off by the street lights and neighborhood lights. Speaking of street lights, have you ever been walking down the sidewalk at night and you get close to a street light and it turns off? Do they have motion sensors? Shouldn't they turn on rather than off? You would think as a civil engineer, I would know the answer to that. Anyway, after I crossed Adobe I could hear the refuse man in the rich part of the ward. So there's a neighborhood just to the west of the Canal. That's the rich part. The neighborhood south of them, south of the green belt, where Maggie lives, is the poor part. Sorry Maggie. My neighborhood is the in-betweens. Anyway, the refuse man. I say refuse because I don't know if it was the recycling man or the green waste man. Although, I think they are one in the same right now. Once the pandemic and lockdown started, they same truck was picking up both. I don't know if they've gone back to separate or not yet. Also, I shouldn't say man, because there was a lady driver a while back. She was nice. I didn't think my recycling was out to the street yet. Or my green waste, but what are the chances anything is in the green waste barrel? I hoped I would make it back to my house in time to take them out. I did make it back in plenty of time. Also, the green barrel was full. Someone chopped up our Christmas tree and filled the barrel up. But I'm guessing it's going to take 4 or 5 barrels to get rid of all of it.
Mizuno Wave Inspire 11 (blue) Miles: 2.57
I woke up shortly after 3am again. My wife was telling me how she tossed and turned the night before. She got mad at me when I told her she might be going through the change. I noticed that she was tossing and turning again. Well, once I was up, I was up. I tried to go back to sleep, but to no avail. I decided to sit on my throne for an hour and then go running. Right when I finished and before I could flush, I heard a crash outside. Whenever I hear a noise outside my mind goes to - coyote jumping over the fence to steal my chickens. So I ran to the window to look for the culprit. There was no coyote, but the trees were getting tossed around. The crash I heard was the sun room door slamming from the wind.
Now I was excited to go running. Sometimes I love facing the elements. Today was one of those days. It was 5:26am when I started. I thought I would have the whole loops to myself. Who else would be this crazy to be out in the wind this early? The sky was overcast and it was actually light out. My theory from the other day must be wrong. The lights from the City were illuminating the clouds and I could see quite well. It's been a few days since I ran, so I was a bit stiff. But I was enjoying the run, and the wind died down a little. In the home stretch between University and Adobe, I saw the owl swoop down in front of me and land on the wall. I was going to take a picture, but when I pulled my phone from my pocket, I realized it was raining. I mean, I knew it was, I just thought it was a light sprinkle. So, I opted not to take a picture. I continued running and saw two figures approaching me. It was two sweet old ladies all bundled up. I, of course, was not, so one of them said, "You're getting all wet." My response? "Yeah, and I just saw an owl."
Just in case you're wondering, I did go back and flush the toilet.
Mizuno Wave Inspire 11 (blue) Miles: 2.62
I was awoken a few ticks before 4:30am by David crowing. I was out the door at 5:23am. The weather was nice. I saw a police vehicle at the stop sign and it slowed down to check me out. It wasn't too dark. There were some clouds that were providing reflection from the city lights. I looked upward and estimated between 40% and 50% coverage. As I was about to enter the Floodway I detected the unmistakable odor of moss. The Canal must be getting filled up. I got to Brown and crossed the Floodway to the Canal. The water was gushing through the radial gates. There was water once again in the Canal. Did they fill it up yesterday and I not know because I didn't run? I looked down in it. It was dark, but it didn't look full. Hard to tell. I could see the reflections of the clouds in the water and every now and then would spot the outline of a duck. I got to Adobe and once again could hear the water gushing through those radial gates. I didn't think about it at the time, but the water doesn't usually gush through. When the Canal is full, the gates open from the bottom and water runs underneath. This does cause some turbulence, but not a gushing turbulence. At the half way point between Adobe and University is a well. It only gets used about once a year. When I passed by it, I looked down in the Canal and it was as dry as a bone. What the heck? I could've swore I just saw water! I ran back to the other side of the well. Clouds! There's water. Am I going mad? Back to the other side, and ah ha! Here comes the water. It was just barely moving along despite the gushing sounds at the gates. I guessed there couldn't be more than 1 cfs (cubic feet per second) moving through. I wondered at this rate how long it would take to fill the Canal. Maybe I'll do some math later. Seems like it would take a while. I texted my buddy Brad at the District to tell him that I had just passed the water as it was filling up the Canal. I told him that I guess I'm faster than water. Probably not the text he wanted to see before 6 in the morning.
I decided to do 3 loops today since I missed yesterday for no good reason. I continued down to Main. Once I crossed University it got darker. I looked up and now it looked like there was only 20% to 30% cloud coverage. There was quite a bit to the west of me, but nothing above or to the east. I ran to Main and went to the other side of the Floodway. Before I got to University, I saw a man in his backyard in the 55+ community. His porch light was on. I said good morning to him. Right before University is their tennis courts. There were no lights on, but a dog started barking at me. I then saw the owner telling it to be quiet. Since he probably heard me tell the other guy good morning, I said good morning to him, too. I crossed University and looked down at the wall to see if I could see Jeff. His sleeping bag was there, and it looked like he was in it. On the other side of the wall is a small little neighborhood park. There's an opening in the wall for access. Looking through the opening I saw another person. Where are all these people coming from? I looked at my phone and it was 6:06am. I didn't think I was going to see anyone, but within two minutes I had seen 4 people. I saw one more person before I finished. They were wearing a headlamp. I contemplated yelling at them that if they hurry they could catch up to the water. But that would've been weird.
Mizuno Wave Inspire 11 (blue) Miles: 3.78
David woke me up again at the same time as yesterday. So I was out and running at exactly the same time as yesterday. 5:23am. But before that I had remembered that I left the water running in the backyard last night. I meant to shut it off before I went to bed, but I forgot. So my grapefruit trees are nice and watered. But my orange trees didn't get touched. About a month or so ago I noticed that a couple of chickens were roosting the night in one of the grapefruit trees. This is what my remaining chickens from our previous batch use to do after the coyote attacks. Then there were three in the tree. The other night I saw four. But this morning, even David was up in the tree. I assume it was because I left the water on and it was flooding out their coop. So, being up in the tree above the wall line, his crowing had no sound blocking whatsoever. He usually crows when he wakes up in the morning and at least three more times for every hour after. He also crows if someone turns on the sunroom light late at night. And he crows if someone goes in the backyard. So since I was in turning the water off, he started crowing again. I bopped him on the head with a shovel. That stopped him for about a minute, but then he was at it again. I took the recycling and green barrel out to the street. Then I started my stretch routine, and he must've heard me and started crowing again. I keep saying he's got to go, but like Aunt Polly, I don't have the heart to do it. (I'm listening to the Adventures of Tom Sawyer right now.) So I was running north on the Floodway and I can clearly hear David again. I'm like, "I've got to be half a mile away!" I pull out my Strava and sure enough, half a mile. He must be waking up everyone. The rest of the run was uneventful. The sky was overcast and gray. The Canal is completely full and serene looking.

Mizuno Wave Inspire 11 (blue) Miles: 2.55
Saturdays are supposed to be my long runs. But I'm not in shape for long runs. But still, I should be able to do at least 4 miles. Well, I got up this morning, later than the last few mornings, but it was still dark out. My knees were sore. Why are they sore? I'm not running long or fast. But they were sore. I thought maybe I would just need to start going and they would loosen up. I stretched out and started running. I thought, well, I guess I'll only be doing two loops today. I don't even feel like 3.
I got to the Floodway and I saw a coyote running down Adobe. I turned around for a second and then turned back. I saw it standing in the middle of the road a few hundred feet away. It was staring at me. The street light had turned off. I stopped and watched it for a while. I thought I saw something smaller dart across the street. Maybe a cub? Nah, must be my eyes playing tricks on me. But why is it just standing there in the middle of the road? I thought I would wait until a car came by to scare it away. The street light turned back on and I tried to hide myself behind the warning sign. Still it just stayed there staring at me and no cars were coming. As I was about to give up, my eyes finally adjusted to the sight, and I realized I was staring at a tree trunk. What a fool I am.
I ran up to Brown and headed back down to Adobe on the other side of the Floodway. I saw a black figure coming toward me. I think. Who knows with my eyes today. But it was. I couldn't tell if they were running or walking. Walking. Man or woman? Woman. Then I thought, "I bet that's Edythe." And it was. I said, "Good morning! I'll see you tomorrow at church!" Shortly after that I realized my knees were still hurting and decided just to do one loop.
Mizuno Wave Inspire 11 (blue) Miles: 1.47
It's been raining off and on for the last couple of days. I didn't run yesterday because I took a nap Sunday and couldn't get to sleep until after 2am. Even then, I tossed and turned. I fell asleep early last night. I got up early this morning and got ready. My knees weren't hurting like they were Saturday. I left my shoes somewhere. Either upstairs near the sun room or downstairs in the laundry room. I went outside to feed my chickens and got a bunch of mud and probably other stuff on them, so I took them off so as to not spread it all over the carpet. Anyway, I didn't feel like going and looking for them, so I just grabbed another pair. My flourescent Asic Gel Kayanos. They felt a little tight. When I started running it felt like I had some spring to my step. But I realized it was just the shoes. My legs were not feeling great and there was a tinge of soreness in my lower back. It was finally cold, but luckily there was no rain. I decided to just do one loop again.
Asics Gel Kayano 21 Miles: 1.45
Another early to bed, early to rise. I wore my schnazzy shoes again. It was actually cold this morning. 38º. That's still short and T-shirt weather, though. At least for me. The moon was somewhat full. But it still seemed rather dark. I decided to try and push the pace a little this morning to help keep warm. I ended up being 50 seconds per mile faster than my average lately, which isn't saying much.
Asics Gel Kayano 21 Miles: 2.54
I woke up before David again. My phone said it was 52º out. Nice. I grabbed my shoes out of the sun room. Less than 80 miles before I trash them. They really should be trashed right now. The sky was overcast with the moon shining behind the clouds creating a soft glow to light the way. I was going slow today because I pushed it yesterday. I saw something between the Floodway path and the wall. I couldn't tell if it was a cat or a stump. So I stopped and turned my light on. Two eyeballs shined back at me. As I was approaching University I saw a light coming towards me. Must be a cyclist. I watched the light as it crossed University and it pointed in all directions. It was zigzagging. I'm guessing the guy didn't know how to get through the fence. But after he got through he continued to zigzag and I wondered if he was going to run into me. So I yelled, "Good morning!" He said good morning back and rode on. As I exited the gate, I saw what I thought was a jacket hanging on the fence. Then I noticed that there was something else hanging next to it, so I went over to get a closer look. It turns out it was a bunch of pants and a few shirts. I said out loud, "There's a whole wardrobe here." Then I could see a light underneath the bridge and I said, "I see your light." But I didn't say it loud enough so that whomever it was could hear me. I then crossed the Floodway and headed back north. I saw Jeff's sleeping bag. It was too dark to see if he was in it. If I look at him at all, I just look for a lump. But he's so skinny that I can't see a lump in the dark. Approaching the green belt I saw another light across the Floodway over by a big tree. I'm pretty sure it was the cyclist. He had stopped there and turned his light off. I then saw another sleeping bag between the path and the Floodway. Someone was in it and I could make out other objects by him. Maybe a bag and some trash. It was one of those mornings where if I wasn't confident in my manhood, these things could have freaked me out.

Mizuno Wave Inspire 11 (blue) Miles: 2.55
I woke up late again. It was going to be light out when I ran, but I had to do it. There was a beautiful sunrise that I wish I could've enjoyed longer. But sunrises don't last all day. There wasn't that many people out, but I could see the few that were. As I was heading south on the west side of the Floodway approaching Adobe, I could see two people walking. I could also see something shorter out in front of them. Possibly a dog? I got closer and realized it was a tiny human. Then another. Then another. None of them could be older than 3 years old. Who has that many tiny humans? Then I saw the mom was carrying an infant in a pouch on her chest. I finally realized that it was the Smith's from the ward. I stopped and talked to them a bit from a distance. Sis. Smith told me they had just picked up another foster child. I told her my wife is jealous. She wants a foster child.
I downloaded Spotify. It's nice because unlike YouTube, I can turn the screen off on my phone and the music keeps playing. So I listened to music blaring out of my pocket while I ran today.
Mizuno Wave Inspire 11 (blue) Miles: 2.55
It's been hard to be an NBA fan lately with all the nonsense and down right dangerous rhetoric that some of the players spew. But it's hard not to be when you've been one for most of your life. I still get messages on my phone when the Suns play. Late last night I saw a message and checked the score. There was just seconds left in the game and the Suns were down by 2. The Suns hit a 3 pointer with just over a second left and ended up winning. I also get suggestions to watch the game recaps the next morning after a game. The recaps are between 9 and 10 minutes long with just highlights of both teams scoring. I decided to watch the recap this morning to see just how exactly they pulled it off. I did it while I was stretching out. I usually don't stretch out for quite that long. Devin Booker hit the three with Chris Paul assisting. I started my run and I knew that I was a few minutes earlier than yesterday, so maybe if I was lucky I would get to see a beautiful sunrise. I can't see the sunrise when I'm running north (north by northwest really) because it's behind me. But I can see it when I'm running south. So halfway through my first loop I was treated to a beautiful sunrise with the American flag waving in the midst. But despite all my stretching out, my legs felt uber tight, and I decided one loop would be all I should do today.
Mizuno Wave Inspire 11 (blue) Miles: 1.46
Ever since we bought our house just over a year ago, we've been trying to renovate it. When I say we, I mean my wife and my daughters. So far they've ripped apart one of the upstairs bathrooms, tore the drywall out of the kitchen, and graffittied my office wallpaper. We've had a couple of contractors come by to give us quotes, but then they seem to disappear. But we did have one guy do some work in our laundry room. My wife demo-ed the cabinets and the tile. Then the guy came in and installed the new flooring. It's supposed to be waterproof. Well, we had some flooding issues and it appears it's not as waterproof as advertised. So we called my old friend to see if he could help out, and it turns out, this kind of stuff is exactly what he does for a living. So during this week, their team has come by to remove the flooring, cut out drywall, put fans out to dry everything up, and eventually they'll put things back together. As part of the renovations, my wife wants to remove our bathtub and construct a walk-in shower. I told my friend that after they pulled out the vanity and the toilet, and he said now's the time to do it. So thinking that today might be the last day I get a decent shower, I better go running.
We're down to one toilet in the house now. It's all the way upstairs and I have to go through Julianna's bedroom to get to it. After my normal daily routine of sitting on the throne for half an hour, I headed back downstairs to get dressed. My legs felt stiff and sore going downstairs. I wasn't sure if it was from running or from sitting on the toilet for half an hour. But as I started running, I felt surprisingly well.
The moon looked to be about half phase, but it was providing decent light. I could actually see my shadow from the moonlight. As I approached the Floodway I saw two fast moving figures approaching me. I realized it was a couple speedwalking. They were probably speedwalking faster than I was running. I ran north on the Floodway path and saw two more figures approaching. It was the two old ladies I see from time to time. Going south down the RWCD road, I saw another runner on the other side of the Canal. When I got to Adobe, I could see a cyclist coming down the road. I must've fixated on it, because there was a lady running west on Adobe and I didn't see her until she said good morning to me.
Looking down the RWCD road, I could see a bright light that looked like it was on the road, also, but appeared to be way down the road. Like past University. The Canal takes a slight angle about half way between University and Main, so whomever it was, they must've been near that point, which was about 3/4 of a mile away. I started thinking about how I don't normally see this many people out this early. Then I remembered that yesterday when I took my daughters to school, I saw 5 runners within the first half mile. The first one I saw was a blonde girl. Now I've seen this blonde girl before and she looks exactly like the Schumacher's youngest daughter who has recently returned from her mission and gotten married. The Schumacher's have beautiful children. The boys are handsome, strong, square jawed chaps, and the girls look like blonde bombshell Barbie dolls. But I thought, it can't be her because now that she's married, I'm sure she doesn't live with her parents anymore. They do have one son and his family that moved back in with them, Blake. Blake was the Sunday School President, and his father, Bruce, was his Secretary. Then Bruce got released and I was called to be the new Secretary. But this was all during Covid, so we never did anything. Now there's a new President and I'm still Secretary. I did take attendance in the last Zoom meeting we had. Anyway, I realized that the first girl I saw wasn't the Schumacher girl. When I pulled up to the light at 48th and Brown there was another girl about to cross the street. Lo and behold, she was the Schumacher girl! I said to my daughters, what is she doing in this neighborhood? She doesn't live with her parents, does she? My daughter said she didn't think so, but she probably does live near here because she's in charge of Mission Prep.
So as the memory of yesterday's drive to school were playing out in my mind, I could still see the light way down at the end of the Canal. It didn't seem to be getting closer. I would have guessed by how bright it was, that it was one of those lights cyclists screw on to their bikes. But cyclists move relatively fast, even if they are pedalling slow. I started to wonder if it was a runner and they for some reason had their headlamp on backwards, and that's why it didn't appear to be getting any closer. But, I thought, they should be hitting that angle soon, and I wouldn't be able to see them anymore. Eventually I realized there were two lights. They were coming towards me, but at a very slow pace. It didn't dawn on me that they could be walkers. But they were. I saw them cross University. Their lights were so bright, that they could probably see me and recognize me from a distance if they knew me. I planned in my head what I would say to them: "Good morning. I could see you guys from a mile away!" And that's exactly what I said, but right after saying good morning to them and spitting out the rest of my packaged greeting, one of them said, "Good morning, Burt." It was the Schumacher's! What a funny morning.
Mizuno Wave Inspire 11 (blue) Miles: 2.60
Yesterday was Emily's birthday. She wanted Olive Garden for dinner. So we did an online order and had a veritable feast. I don't even want to know how much we spent on it. There's tons of leftovers. We also had ice cream for dessert. Lots and lots of ice cream. I thought I would have a rough night of sleep. I slept fairly soundly for the most part, but I did wake up to switch from my right side to my left side and vice versa often. But I would immediately go back to sawing logs. At some point during the night Emily joined us. I usually hear her come in, but didn't last night. Maybe it had to do with all the fans blowing for the construction. Anyway, around 4:30am I was trying to wake up, but had another bout of sleep paralysis. I was doing everything I could to break out of it or to alert my wife so she could shake me out of it. But with Emily between us and the fans, she didn't even notice. I finally woke up. Blah! I went upstairs to use the bathroom. Despite all the food I ate last night, I didn't have a bowel movement, and I hoped that wouldn't come back to haunt me during my run. It did. I had to stop to compose myself a couple of times, but it wasn't too bad.
It seemed to be just a hair darker than yesterday. Approaching Brown Rd., I saw a figure moving towards me and then I could see a dog, also. I thought it might be this girl I see sometimes walking her dog, so I said in a pleasant voice, "Gooooood morning!" Then I realized it was Jesse Lee and he said, "Good morning, Burt." Oh. I lowered my voice down a couple of octaves and in my manliest voice said, "How's it going, Jesse?"
I felt all right during the run other than my battle for composure. On the last leg of loop 2, I saw two bright lights on the other side of the Floodway and thought it must be the Schumacher's again.
Mizuno Wave Inspire 11 (blue) Miles: 2.57
We spent all morning Saturday cleaning up the junk on the side of our house. Then to make my neighbor happy, we trimmed some of the trees along the wall. The City of Mesa had brought out a bunch of large trash bins and placed them throughout the neighborhood. It was a lot of hard work, and I was quite sore for a few days. However, I've also been lazy and busy with work. I finally decided to get out and run this morning. The front door was open. At least the screen door was closed. It was a little cold in the house, but not too bad. I saw the Schumacher's again with their headlamps on. I think their batteries are going a bit low. They were halfway across University when I turned to go to the other side of the Floodway. When I got home I decided to cool off outside. Sometimes I just sit on the side of the bathtub to cool off. But we don't have a bathtub anymore. It didn't seem like I was waiting too long when the Schumacher's came passing by. I had left them behind with 3/4 of a mile to go. I must've been sitting there longer than I thought.
Mizuno Wave Inspire 11 (blue) Miles: 2.53
Today is Feb. 15th. I realized I didn't blog so I'm going off of memory. The trouble is, I don't remember too much. However, as I was running this morning I remembered that I forgot to mention one thing. Now I know why I forgot. Because I completely forgot to blog! I will now mention that one thing.
I did my usual two loops around the Floodway/RWCD Canal. As I was about to hit the last leg of the second loop I saw someone walking toward the gate. I thought it might be Jeff, the hobo, and it was. He went over to his little corner. Then I saw someone else walking down the path. He had on a backpack and what looked like Army camo. Another hobo. So I ran a little and stopped to see if he was going to interact with Jeff, which he did. I trust Jeff, but I don't trust anyone else I haven't met. Then I realized there was another hobo walking along the top of the bank of the Floodway. He probably saw me watching them. So I ran away and there behind an umbrella on the ground was another hobo. This place is becoming skid row.
Mizuno Wave Inspire 11 (blue) Miles: 2.55
I got up later than I wanted to this morning. But then again, I went to bed later than I wanted to. Saturday we did one more load of tree branches. My allergies have been acting up for the last couple of weeks as a result. But at least my yard looks better, right? So says my neighbor.
I ran north on the Floodway path and was brooding about my wife kicking me off the toilet. I wasn't done! I guess at the time I thought I was done, so I can't blame her really. I went to the other side of the Floodway to head south and I saw someone coming. She had to wait for me at the gate so we didn't bump into each other. It was Edythe. Later I saw two more runners, a girl and a guy. The girl was about 20 feet ahead of the guy. I said good morning to her first, but she didn't say anything back. Then I said good morning to the guy and he did respond with a good morning of his own.
I was running even slower than usual this morning for reason already mentioned. I even had to stop and compose myself briefly about 0.05 miles away from home.
Mizuno Wave Inspire 11 (blue) Miles: 2.53
Other than the two cyclists I saw at the intersection, there was nobody else out this morning. It was cold. It was dark. Only a lunatic would be out in shorts and a T-shirt at this time of day.
Mizuno Wave Inspire 11 (blue) Miles: 2.54
My wife is going to go on a hike tomorrow with her group of friends from Kingman. I decided I would like to join. I woke this morning at 3:30am and thought I would go back to sleep for another hour and then go running. But I woke up after 6am. I didn't start running until 6:45am and it was already light out. I ran into Edythe again. She was walking today. My legs were really sore. Like really sore. So I decided to just do one loop so that I would be all right for tomorrow's hike.

Mizuno Wave Inspire 11 (blue) Miles: 1.47
This was a hike, not a run. Daylene and crew came into town again. They planned on doing two hikes this weekend, Weaver's Needle on Saturday and Daisy Mountain on Sunday. My wife told me that the hike was 12 miles long. I said I wanted to go. Honestly, if she would have said it was 13 miles long, I probably would have opted out. It turned out to be 13.71 as measured by Strava.
We were supposed to meet at 7:15am to start. We were just a couple of minutes late as Vickie was putting her stuff together. She had bought a new backpack and water pouch. She was trying to close the lid and she said she kept feeling like it was not going on straight. I grabbed it, turned it upside down, squeezed it, and it wasn't leaking. So I said it must be good. She discovered it was leaking during our ride out there. She also forgot to grab the two water bottles she had gotten out to take with her.
Weaver's Needle is in the Superstition Mountains in Apache Junction, AZ. Vickie had told me to bring a jacket, which I did, but I took it off as soon as we got there. Some of the other hikers said it will probably get cold as we get up to higher elevation. I knew I could tough it out, and it never did get colder. It did get pretty warm. Not hot, but warm.
There were a lot of cars in the parking lot. We figured it would be pretty busy. The first 2.5 miles was kinda busy. I guess a lot of people just hike the Peralta Trail up to the point where you can see Weaver's Needle. Then they turn around and go back. After that, we hardly saw anyone. This is a picture of the point where everyone turns around.
I was snacking on mixed nuts while I was walking along, and I would take sips from my Camelback. We stopped near the halfway point, and I was starting to feel tired. I hoped after I ate some more food, I would feel better. My appetite wasn't great, and I could only eat half of my ham and cheese sandwich. I forced down a piece of beef jerky, also and a couple of miniature cookies. We started off again, and I was lagging way behind the rest of the group. After a while they stopped and waited for me. They started again as soon as I caught up and now I was in the middle. Well, there was six of us, so Daylene and Chuck were in front of me and Vickie, David, and Toby or Koby or Colby was behind me. Vickie poked my shoe with her walking stick and apologized. I moved over so they could pass me so I could be behind everyone again. I prefere to hike alone because sometimes I want to go fast and sometimes I want to go slow.
I realized I was starting to crash. I felt like I was ok, and would be able to make it, but that I would have to go real slow. The group stopped for me again right before a very steep climb. This is where I really had to stop and get some rest. My wife said she still had a liter of water. She asked how much I had. She pulled it out of my pack and I realized I had hardly drank any even though I had been sippping on it quite often. That was my problem. So I took some big drinks and at some energy beans. That climb was brutal, but after I got up it, I started feeling better. I was now drinking more and more water. The wind started to pick up, too. It would completely dry my mouth out which would make me drink more. By this time we had told the rest of the group not to wait for us. With about four miles to go, Vickie was out of water. She thought we only had three miles to go, but I said I think it's going to be closer to 4. I was right. She said she would be fine. We kept going and stopped to rest one more time. I found a patch of grass and laid down. If my legs weren't on top of rock, I probably would have taken a nap. We started going again and I asked Vickie if she wanted any of my water. She said she was fine. I then took another sip and realized that was the last of my water. We still had 2.5 miles to go. I was feeling better now despite not having water and now Vickie started to lag. I just kept going so that I could get back to the parking lot and hopefully someone would have water.
Now we were starting to see more people again. I was able to follow them to know that I was on the right trail. Vickie has the AllTrails app, so she wouldn't get lost. I know she's a stronger hiker than I am, but I felt bad about leaving her. I tried to go slow so she could catch up, but she never did. There were still some more significant climbs in those last two miles. Luckily the mountains provided shade for a bit of it. But the wind was still blowing and making my mouth dry. My lips were getting cotton mouth. I just had to keep moving forward so I could get to the parking lot.
Finally I saw the parking lot. It looked like it was a mile away, but I knew it was closer. I was so thirsty. Also, for much of the hike we were without cell service. But I was back in range. Since I hadn't seen my wife for a while now, I called her. She answered and I asked how she was. She said fine. She didn't sound happy. Next, I called Daylene. She said she was still there waiting for us. I said, "You didn't have to wait for us, but since she did, did she have any water?" She said that Dave had some. What a relief. I just had to get there. The final half mile was all downhill. But it was very steep and it had steps. It was painful. At least I could move my legs again, but they were continuing to ache with each step. At times I would yell out if I started to slip or if a step down was real high. I'm glad no one heard me. I finally got to the parking lot, and wouldn't you know it, they didn't have any water waiting for me. C'mon, guys! LOL! But they went and got it. Not too long afterwards we saw Vickie coming. She was exhausted and dropped all her gear when they handed her the water.
I guess I really don't like hiking that much and I had forgotten that. That's why I didn't do Rim to Rim with my wife. Maybe if I get in better shape and lose a few pounds. Oh well. We went out to eat with the group once we were done. This turned into an all day thing even though we thought it would only be half a day. We had plans to finish cleaning outside, but that didn't happen. I guess we'll have to do that next weekend.
Mizuno X10 Trail Miles: 13.71
My legs were finally feeling recovered enough to go for a run. I decided to just do one loop even though I felt like I could do two while I was running. While I was heading north on the Floodway path I turned around. Maybe because of the scary movie I watched last night that was trending #2 in the world. I saw a light behind me. I've run this route enough to know it wasn't just a street light or a house light. Someone was behind me. But I promptly forgot about it until I crossed over to the other side of the Floodway and saw the person about to reach the gate. I then watched him as he crossed over to my side. I figured he'd probably catch me, and he did. He said, "Good morning!" I said, "Is that you, Jesse?" It wasn't. It was an old man that looked like a prospector. He totally had a full blown conversation with me even though he was running faster than me. It ended with him saying, "See you Monday." I couldn't help but notice how short and choppy his stride was. Am I really that slow? Obviously yes, but still.

Mizuno Wave Inspire 11 (blue) Miles: 1.45
I slept a lot yesterday. So last night I didn't try to go to sleep until 1am. Even then I heard a mosquito buzzing around, so I couldn't sleep. I finally got a few hours in and woke up at quarter to five. It took me over an hour to get ready. It was 39º out. A bit cold. I was having a hard time breathing this morning. My allergies are still kicking my bum. I just did one loop again.
Mizuno Wave Inspire 11 (blue) Miles: 1.45
Another bad night of sleep. But it may be due to the fact that my daughter had her baby at 2:30am this morning. I kept waking up to ask my wife if she did. I got out late. Late for me. 6:55am. I ran to Adobe and saw a kid waiting for the bus. There was also a mini van parked by him waiting. I looked over to the Floodway and saw a coyote. I was going to knock on the window of the van to point it out to them, but they had their window down and were already looking at it. They wanted to warn me about it, so they were probably surprised when I ran towards it. I took a couple of pictures, but only one was decent. I can't remember if I blogged about this or not, but about a week and a half ago, a coyote jumped the fence and killed three of our chickens. Most of them have started sleeping in the tree. I think the black one hunkered down in the coop still. Maria still sleeps by the back door, close to our window. So, late at night I heard Maria start clucking. It was the type of clucking when Herbie gets too close to her. So I immediately jump up and run to the window and pound on it. I saw something scamper away. I then ran outside to check on Maria, and luckily she was fine. I had scared it away before it got her. My daughter, Julianna, had also heard the commotion from her bedroom above us. She went to the sunroom and then she was like, "Dad? There's something dead right there." Next to the steps was one of our white chickens. She handed me her phone so I could use the light. I then went over by the tree where the chickens sleep. I saw a bunch of black feathers. I counted the remaining chickens and there was one more missing. So, that's three and almost four with Maria. Ever since then, the chickens have been sleeping another branch up and I put Maria in a laundry basket, and she sleeps in the laundry room.
I did my first loop and was looking for the coyote on the way back. I suspect it went through the culvert to the south side of Adobe. I crossed Adobe and couldn't see it anywhere. I decided to run to the well, cross the Floodway, and head north on the other side of the Floodway. But then I saw the service ramp and decided to run down it instead. Once I got to the middle of the Floodway, I stopped to look around. No coyote. I was hoping it wasn't brazen enough to jump my fence in the daylight. I started to run to the other side of the Floodway, but just as I reached that service ramp, I got a phone call. It was my #1 client, and probably the only person I would stop to take their phone call. We talked for a while and then I headed home. Right before I got home I got a call from Krysta Summers, no relation to Tara Summers. Since she works for my #1 client, I answered. But I didn't stop running. She was like, "Do you want me to call you back?" I was like, "Nah, I'm almost home." After I got off the phone with her I checked on the chickens. All present and accounted for.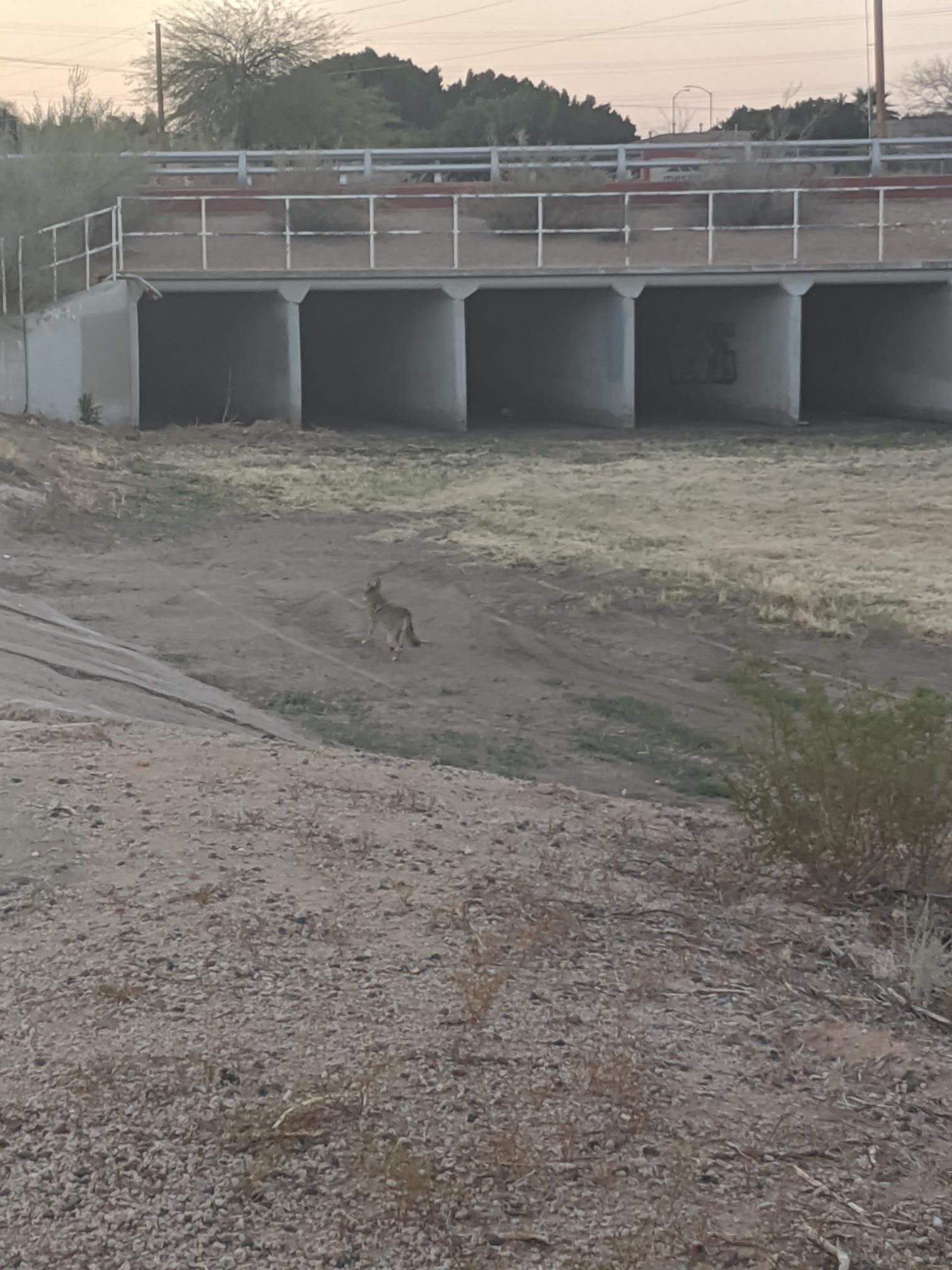 Mizuno Wave Inspire 11 (blue) Miles: 1.79
Wow. It's been a week since I've ran. I've just been lazy. We finally had a neighbor complain about David, so we had to "take care of it." The neighborhood should be sleeping better now. I should be sleeping better now. I did sleep well last night, but I didn't get up until shortly after 6am. It was completely light out when I started my run. Luckily it's Spring Break and there aren't that many people out.
I didn't feel great today, but decided to push two loops out. I could tell I wasn't at full lung capacity, but I wasn't wheezing. It's now been about an hour since I ran, and I am starting to wheeze.
Mizuno Wave Inspire 11 (blue) Miles: 2.56
Today is my daughter Abby's sweet sixteenth. It's been a while since I ran, and I was feeling pretty blah, so I decided to do a thing I don't do very often. Run in the afternoon. I changed my clothes and was ready to head out when my daughter Julianna asked, "Did you get mom's text?" "No." "Oh, she said be ready to go at 6:45." "We're going out to eat? We're not ordering in?" "Yeah." Dang it! Well, my wife was on her way back from Wickenburg picking up AJ, so I figured I could do at least one loop. That's what I did, and that's all I felt like doing anyway. So it was good. Afterwards I showered real quick and we went to IHOP. All 17 of us.
Mizuno Wave Inspire 11 (blue) Miles: 1.44
So Maggie baked a cake for Abby's birthday. But apparently she forgot and made it yesterday instead of the day before on her actual birthday. My wife said she felt bad and she cried. I laughed. I guess there's this Instagram thing where people use glasses to scoop out a piece of cake to eat. That's what we did. We're trendy like that. Anyway, the cake was probably part of what caused me to not sleep well last night. So I woke up early and decided to go for a run. It was 5:43 am when I left. So it was nice and dark, but it would be getting light out soon. I saw a man walking his dog leaving the Floodway as I was entering it. I stepped off the pavers and into the gravel to avoid them. I said good morning to them, but I'm not sure if it was someone I knew because I didn't look at him that close.
As I got closer to Brown Rd. I saw another man running with a dog. I immediately knew it was Jesse. I asked in a loud voice, "Jesse?" I listened and no answer. But then I heard music. He was playing music from his phone, so he probably didn't hear me. He said, "Hey, Burt." But I didn't say anything back because I had already said something to him. He probably thinks I'm a jerk now.

Mizuno Wave Inspire 11 (blue) Miles: 2.55
Two days in a row! Woot woot! It was light out when I started. 6:42am. My lungs were a bit congested so I forced out some coughs right before entering the Floodway. The next thing I knew I was seeing stars. I had to stop and compose myself. After that, I felt fairly decent. I still run slow, so that hasn't changed.
Mizuno Wave Inspire 11 (blue) Miles: 2.53
I slept better last nigh despite eating a cinammon roll before bed. Dartell came back to town to see my new grandson and she made cinammon rolls for Abby's birthday. She's been in Kingman for months. After her mom died she went up there to help out her dad and brother.
I woke up rather gassy. I'm often gassy, but this morning I was especially gassy. Oh that's right. Dartell wanted Santa Barbera quesadillas for dinner. Beans. The American fruit. Once upon a time I wrote a race report on this blog where I made many similes to gas. I got censored because this is a family friendly blog. LOL! This entry may get censored as well. So I got up early and it was nice and dark out. As I was heading south between Brown and Adobe on the west side of the Floodway, I let one rip. Right after that I heard a voice. I couldn't see anyone at first and I looked behind me and back in front of me. Finally I saw a man coming with a dog. Was he talking to his dog? Or did he have something to say about my expulsion? Right after that I saw another man coming with a dog. I didn't realize right away that it was Jesse because I thought the two guys might be together. I reached Adobe and saw another guy and a dog. So three dog walkers in less than two minutes. Actually Jesse was running.
Oh, one more thing. Something had our neighbors chickens agitated this morning. They are down to 4 chickens because last summer they lost a bunch to the heat. They had shade and misters, but the heat was still too brutal. Just yesterday I noticed they have more chicks under a heatlamp right next to the coop. So maybe the chicken was upset about the chicks. Not sure, but it worries me. Their chickens are safe in their coop from predators, but mine are not. Last night was the first time in a couple of weeks that I didn't bring Maria inside to sleep. But they're all good right now. The End.
Mizuno Wave Inspire 11 (blue) Miles: 2.55
I woke up in the middle of the night and had to go potty. But I didn't feel like going all the way upstairs, so I just held it in and went back to sleep. Come 5am, I couldn't hold it any longer, so I got up. I went running shortly before 6pm. It was still dark out, but it was getting light. I saw a man walking on Adobe as I approached. That's when I noticed my shirt was riding up my belly. So I pulled it down. I crossed Adobe and was heading towards the Floodway. I could see three women coming towards me, all three of them walking dogs. Two of them were on the sidewalk and the third was in the bike lane. I had to run out in the street to go around them. I also had to pull my shirt down. I hope they weren't laughing at me. I could see a light all the way up at Brown Rd. It was just sitting there for the longest time. When I finally decided to watch it to figure out what it was, it started to move. It was moving pretty fast, too, so I figured it was a bicycle. It was on the other side of the Floodway. It was still too dark out to be able to tell if it was being pedalled or if it was electrical.
I started running south on the other side of the Floodway and as I got closer to Adobe, I saw another light. Was it the bicycle that had gone all the way down to University and turned around? Nope. It was the same guy that passed me a few weeks ago. It was just getting light enough to see, so I thought it silly that he still had his light on. I crossed Adobe and saw a runner coming towards me. He was an old man with shoulder length gray hair. He was wearing jeans and hiking boots. Silly.
After passing by the well site, I could see a light underneath the Floodway bridge at University. Was this the bicycle? I kept watching it the whole time, but I never figured out who it was. I headed back north on the other side of the Floodway. I could see another light heading my way, but on the the other side. It was the same guy again, still with his light on, but now it was perfectly light out. I guess he was probably in the zone and couldn't bother to save his battery.
Mizuno Wave Inspire 11 (blue) Miles: 2.56
So in my church we have what's called ministering. It used to be called home teaching. This is where you are assigned to a family to check in on them, usually monthly. It's changed a bit now that it's called ministering. You don't do a monthly report, but you have quarterly interviews with the Elder's Quorum Presidency to see how you're doing and your families are doing. For a couple of years my families have been high counsil members. Basically that means they're pretty solid. I certainly don't check in on them every month. They don't need it. However, I was also assigned to the daughter of one of these high councilman. She lives with her parents. I should say lived. She died a week ago from a severe asthma attack. And guess who never went to meet her. Yep. Her ministering brother. Me.
Today is the funeral. I told the father that if there's anything he needed from me in preparation for the funeral, to let me know. Yesterday I got a call from the Elder's Quorum President asking if I was going to the funeral. I said that I was planning on it. He then asked me a favor if I'd be willing to do it. Apparently there is something in the church handbook about having someone watch your house while you are at a funeral. I guess some people learn of the funeral and take advantage of that time to break into your house while you're gone. Isn't that just the lowest of the low? Who would do that?
So, that's what I'll be doing today. I got up early and decided to just do one loop so that I would have time to shower and get ready. My pace was 30 seconds faster than yesterday's. I'm pretty sure I saw Edythe Ray on the opposite side of the Floodway. I ran the loop clockwise today because I saw a zanjero truck and wanted to see if it was someone I knew. But I didn't recognize him.

Mizuno Wave Inspire 11 (blue) Miles: 1.47
I woke up very early this morning. Usually when I get up that early, I go back to sleep. But I've been playing Scrabble with Tracy and noticed she was up, too. However, she's two time zones away so it wasn't too early for her. She asked if I was going for a run and I said that's a good idea. But then she told me to go back to bed. So to spite her, I went for a run.
It was 4:28 when I started. Before I started I stretched out. The reason I didn't run yesterday is because I was having cramps in my right calf. So I knew I needed to stretch out good. Right as I was finishing I saw some random dude walking down the street. Creepo!
I could see the moon behind the houses as I was leaving. I thought it might be nice to take a picture of the moon this morning, but by the time I got to Adobe, the moon was behind some clouds! So I just kept going hoping it would pop out again. When I was heading south on the west side of the Floodway, I spotted it. I ran about 10 more feet and stopped thinking it would be a good time to take a selfie. I had to back up to get where I could see it again, but when I got back, just seconds later, it was gone again!! So I ran some more. Then it came out again and I stopped and tried to take a picture with it, but it was gone before I could get a good one.
Mizuno Wave Inspire 11 (blue) Miles: 2.57
So my friend Sarah who used to be one of the Third Thursday Adventure Run volunteers has been on a running streak. Back when she was about to hit 600 days of running at least 1 mile a day in a row, I told her I wanted to join her for day 600. But then I got Covid and couldn't. Today was day 700, and there was no way I was going to miss it, even though I typically don't run on Sundays. So my wife and I drove out to Tempe Town Lake and met up with her. She wanted to do 7 miles for day 700, but I only wanted to do 3, so she ran 4 miles before we got there. She was nice enough to slow down for us, but sadly my wife couldn't keep up. We ran one mile and reached some picnic tables, so we decided to stop and wait for her. We started running again and stopped at a shade structure/bench which was the turn around point. After talking a while we started off one more time. As we got to the last turn before the parking lot we stopped one last time for Vickie to catch up, but she was only about 200 feet behind us, so we started running again as soon as she caught up because we were only 6 or 700 hundred feet from the parking lot.
She was so grateful for us for coming out to support her. I told her I was grateful for her for letting us, because it's kinda awesome that she's run so many days in a row. I told her I wanted to join her for day 730 (2 years) and certainly day 1,000. We had some good conversation, too, while running. It was so nice to catch up.
Mizuno Wave Inspire 11 (blue) Miles: 3.13
About 30 miles to go on these shoes.
I snored myself awake this morning. It was 5am. I started running at 6:03am. I had to take the garbage out to the street first. I noticed one of the hinges was broken on one of our barrels. The other one looked broken, too. I also noticed what looked like diarrhea on our driveway. And some hot dogs in the gutter. Strange morning.
I ran towards Brown Road and could see a bright light coming even though it was getting pretty light out. It was a cyclist. Then I saw two men crossing the street. About the time I reached the fence, they started to run. I wondered if they were going to run or if they were just running to beat the traffic. Once they got to the sidewalk, they started walking. Ok, I guess they were just trying to beat the traffic. But when they reached the fence, they started to run. By this time I was half way across the Floodway and wondered if I could catch them. They didn't look fast.
I followed them for a bit when I noticed another light coming towards us. I could tell it was a person running, and knew it was the old man I've been seeing lately. As we passed each other he said, "All right, man. Good to see you." I said, "Same to you." I then looked ahead at the two other men and saw that they were way ahead of me. I won't be catching them. I wondered if the old man would turn around at the fence. If he did, there was a good chance he would catch me.
I turned around to look when I reached the halfway point between Adobe and Brown. Sure enough, he was coming. I probably sped up a little. As I approached Adobe I noticed that the two men were walking again. Maybe I would catch them. But they were quite a bit ahead of me. What if they were only going to walk for a quarter mile and start running again? I probably wouldn't catch them. The old man was getting closer. There's no way I can hold him off until I reach University, is there?
The two men kept walking once they reached the halfway point between University and Adobe. I caught them! Hey, it doesn't matter that they were walking. I caught someone! With about 20 yards to go before I reached the fence, the old man caught me. He said, "You're running deceptively." I asked, "How so?" He replied, "I thought I was going to catch you a long time ago." I said, "I may have sped up."
He crossed the Floodway and started heading north on the other side. I followed him. There's a little dip on the trail right after you enter the fence. When he started running down it, he stopped and walked. He finally took his ridiculous light off. Haha! It was so light out by now. He didn't even need it on the first time I saw him which was like a mile and a half away! Anyway, I caught him. That's three guys I caught in one day! He said something about not liking running downhill. He said some other stuff that I couldn't make sense of. He started running again and I asked how far he runs. He said according to [nonsensical noise] about 5.4 miles. It takes him an hour. I said, "That's great." He had now passed me again and said that he would see me on Frid-, Thursday. Tomorrow is his day off. He's really friendly. I think he thinks that we're best friends now.
When I got home I noticed the lid from the garbage was completely off. How did that happen? It was on when I left. Did the diarrhea man do it?
Mizuno Wave Inspire 11 (blue) Miles: 2.56
I felt terrible this morning. My legs were sooo stiff! I ran a minute per mile slower than yesterday.
As I came up to Adobe, I saw a lady walking east of the intersection on the north side of the road. I realized it was Edythe. I wondered if she would follow me. I got on the Floodway path and saw the two old ladies I see all the time. I passed them up. I didn't want to look back to see if Edythe was following me. I ran up to Brown before looking. She wasn't coming. That means she probably crossed the street and went down the Floodway south of Adobe. Probably trying to avoid me. I stopped at a power pole to stretch out. My legs felt a little better after that, but I still thought about only doing one loop today. I got down to Adobe and figured I could go a little further. I stopped again at another power pole. I was leaning against it stretching my calves out. That's when I saw Edythe on the other side of the Floodway. I yelled, "Hi Edythe!" She said good morning back in her usual cheery voice.
I was going to cross the Floodway at the green belt, but I decided to tough it out and do the complete loop. I think I stopped one more time. Maybe twice. Hopefully I'll feel better tomorrow.
Mizuno Wave Inspire 11 (blue) Miles: 2.56
My knees were hurting after my last run. Everytime I would walk up or down the stairs, they'd ache. My wife asked me if I wanted to run Usery this weekend. I said it depends on how my knees feel in the morning. I woke up around 5am and decided to go for it. I said to my wife, "Hey, get up." She got mad at me. But she got up and we left. There were vehicles all over the place. There may have been some sort of activity going on. I saw a RaceLab truck. Or just a bunch of people getting up early to be active. That being said, we were the only ones that parked at the sherrif's station. That's typical.
We stretched out and headed out of the parkin lot. I kept waiting for my wife to run, but she wasn't, so I just started hoping she'd follow. It took her a while to start. So I had a good head start on her. Despite all the vehicles everywhere, there weren't that many road bikers. I mean, there were, but not as many as I would've expected. I remember one guy cruising down the hill. I stepped off to the side and within moments he was passing me by. He must've been going 40mph, easily. A lot of the cyclists would stop at the bottom, turn around and come back up. So I saw a lot of them twice.
I got to the two mile mark and crossed the street. I could see my wife coming. She was probably less than 0.2 miles away. I told her she was almost there as I passed by her, but she had her headphones in and didn't hear me. She just asked how my knees were feeling. I think her overall pace was faster than mine today. We got home and showered just in time for the first session of General Conference.

Mizuno Wave Inspire 11 (blue) Miles: 4.01
Emily came in our room around 4:30am. She climbed in between us and proceeded to try and spread the sheet out for what felt like 20 minutes. When it finally seemed like she had adjusted it to her liking, she got up and left 10 seconds later. I couldn't get back to sleep, so I got up to run. I signed up for one of those challenges on Strava where you are supposed to be active for at least 15 minutes a day, 5 days a week for four weeks. Let's see how it goes.
My legs were a little sore from Saturday. But it was the good sore. So I decided to just do one loop. I also decided to not stretch out. It was approaching 6am and it was pretty much light enough out to be able to see real good despite the sun not breaking the horizon yet. I saw a lady walking her dog on Adobe but I didn't catch up to her before turning on to the Floodway path. When I got to Brown I was treated to another beautiful sunrise. There was scattered clouds throughout the sky and the sky turned maroon and pink.
Heading back I was thinking about how I hadn't seen anyone other than the dog walker. Yes, I was only doing one loop, but it was light out, and I would've expected for more people to be out. When I got to Adobe I did see two other runners heading west down Adobe. The blonde girl looked real familiar. I've probably seen her on Strava or something. But now that Strava has disabled Flybys, I won't know for sure.

Mizuno Wave Inspire 11 (blue) Miles: 1.44
I woke up at 4:57am. I wasn't really dragging today like I do some days and got out the door and running at 5:41am. I did stretch out beforehand today. I wasn't expecting it to be so light outside. The days are getting longer. Today's sunrise wasn't as pretty as yesterday's, but it was still pretty good. I saw a lot more people out today. My legs were super sore. I wanted to do two loops, but I opted for just one.
Mizuno Wave Inspire 11 (blue) Miles: 1.45
I got a late start today. The sun had been up for an hour. I saw sooo many people today that it was impossible to keep count.
Mizuno Wave Inspire 11 (blue) Miles: 1.46
I may have missed a beautiful sunrise. When I went outside to stretch, the sky was pretty and pink, but I'm guessing that if I had been out there 10 minutes earlier, it would've been prettier. Oh well.
I saw the old man that thinks I'm his best friend. He was running towards me as I was heading south on the west side of the Floodway towards Adobe. When he got about 20 feet from me he waved. Then he said something that I couldn't make out, but I think it was, "I'll see you tomorrow." Then he said, "I don't think I'll be catching you today." I was already over half way to Adobe and was only going to do one loop again, so I said, "Not today."

Mizuno Wave Inspire 11 (blue) Miles: 1.45
Emily came in our room at 3:47am. I couldn't get back to sleep, so I went running. I started at 4:26am. It was dark. I loved it. I was feeling decent today, so I did two loops. My wife is leaving today to hike the Grand Canyon again. So I would like to run Usery tomorrow, but don't know that I will by myself. That's also partly why I did two loops today. I got over to University where Jeff lives. He had a light on as he was laying on the ground. When he saw me coming he tried to hide the light and then turned it off. I could see something directly ahead of me in the bottom of the dip. It was actually two things, but I couldn't tell what they were. As I got closer I saw one of the things stand up and pick up the other thing. It was a man and a backpack. He said good morning to me, and I said it back to him. I'm guessing he was a vagabond, also.
Mizuno Wave Inspire 11 (blue) Miles: 2.58
I forgot to mention Friday that when I took my shoe off, I looked inside at the heel and could see straight through them! Will they last another 15 miles? We'll see.
Last night I had two bouts with sleep paralysis. The first time I tried to wake myself out of it as best I could. I tried slinging my arm over the side of the bed. But who knows what I'm really doing when this happens. I finally managed to get my arm close enough to my night stand that I could knock on it with the back of my fingers in the hopes that my brother would hear me and wake me out of the sleep that I could not escape. The plan worked. Kind of. My wife shook me awake. I realized that I haven't shared a bed with my brother in 30 years. I'm telling you, it's weird when you're dreaming something, but you think it's reality. About an hour later I rolled over. This time, the mere thought of sleep paralysis put me back in it. Luckily my arm was close enough to my wife that I was able to nudge her so that she could wake me again. It was almost 4am now, so I just stayed awake and got ready for a run.
Normally I try and have a bowel movement before I run. But we're down to one bathroom in the house still and I heard someone upstairs in the one remaining bathroom, so I decided to hold it in and go later. As soon as I stepped outside I saw a white cat running down the sidewalk. It went and stopped under a car. I stretched out and then heard noises in the leaves by our front yard orange trees. I went to take a look and I saw a different cat jump up on the fence. At least, I'm pretty sure it was a cat. It was dark out. I definitely saw a dark tail. Anyway, I went over to the wall just to make sure it wasn't a coyote. I shined my light, but I wasn't sure if it jumped in my yard or the neighbors yard. Hopefully my neighbors didn't see me shining a light in their yard.
When I got to Adobe I could see a light coming my way. I knew it was a cyclist. I said good morning as the passed by but got no response. I also saw a runner coming my way on the south side of Adobe. I couldn't tell if it was a man or woman. I started my first loop. It was so dark this morning. Some of the lights were blinding me again where it was hard to see the trail. I got to the west side of the Floodway heading south towards Adobe. I could see tail lights ahead. I figure it must be an RWCD truck checking Canal levels. Then the lights got dim. At the same time, some white lights started to get bright right next to them. It took me a second, but I realized the vehicle must've done a 360. Now I had headlights shining at me, but I was still far away. After a while the lights suddenly turned off. I started imagining that the RWCD truck had driven into the Canal, and that I would have to make a dramatic rescue of the zanjero. That actually happened to Mosiah once. Luckily someone saw it happen and helped him get out.
Once I got to Adobe I saw a black car parked next to the fence. So my dreams of being a hero were dashed. It wasn't long before I saw a shadowy figure ahead. It was a man walking two dogs. He held them close as I went by. When one of the dogs barked at me, I said, "Good morning!" The man said good morning back. When I got to University, I could tell the sky was getting a little blue instead of black. I ran to Adobe and it was even bluer. It won't be long before I won't be able to beat the sun anymore.
Mizuno Wave Inspire 11 (blue) Miles: 2.54
11 miles to go on these shoes. I slept decent last night, although I woke up a bunch of times. Mike King and I used to live right by each other. We shared back walls. One of our neighbors died yesterday. I texted him about it. Around 3:30am I looked at my phone to see what time it was. Right when I did, Mike responded. That has nothing to do with running, but I just thought about it, so I blogged about it.
Our dog Herbie had the runs last night. My wife told me he went all over the stairs. When I got up at 4:40am I saw that there was more on our welcome rug and at the top of the stairs. I had to clean it all up. I was already sweating by the time I started running.
I just did one loop today. It was getting light out already. I saw lots of people walking their dogs.
Mizuno Wave Inspire 11 (blue) Miles: 1.45
I guess I forgot to blog today. (Today being Thursday, but it's really Friday.) I don't remember much. I know I didn't run the day before, but I did walk Herbie. I do remember it was dark and I heard a voice up ahead on the Floodway Trail. Then I saw a guy zig out of my way with his dog.
Mizuno Wave Inspire 11 (blue) Miles: 2.55
I woke up at 3am. Herbie was restless, which means he probably had to pee, so I took him outside. I can't confirm whether or not I relieved myself under the grapefruit tree, but Herbie started barking at something and I couldn't get to him right away. I'm not sure what he saw. Maybe a cat. I tried to go back to sleep, but I couldn't. So I went running. It was 4:30am and plenty dark out. I felt pretty good. I live inside my head so much that I really enjoy running this early with no lights. But sometimes my mind does play tricks on me. Today it was wondering if I was seeing a person, but I would quickly realize it was just the warning markers next to the Trail. I saw Jeff with his light on from across the Floodway. Rather, I saw a light where Jeff stays. He must've seen or heard me coming because he turned it off before I got there and tried to stay hidden. I also saw that same car that parked by the RWCD Canal as I did a few days ago. Only this time I was behind him.
Mizuno Wave Inspire 11 (blue) Miles: 2.58
| | | |
| --- | --- | --- |
| Mizuno Wave Inspire 11 (blue) Miles: 101.41 | Asics Gel Kayano 21 Miles: 3.99 | Mizuno X10 Trail Miles: 13.71 |
Debt Reduction Calculator