Click to donate
to Ukraine's Armed Forces
| | | | | |
| --- | --- | --- | --- | --- |
| Easy Miles | Marathon Pace Miles | Threshold Miles | VO2 Max Miles | Total Distance |
| 67.95 | 8.60 | 1.40 | 3.10 | 81.05 |
| | | |
| --- | --- | --- |
| Night Sleep Time: 0.00 | Nap Time: 0.00 | Total Sleep Time: 0.00 |
| | | | | |
| --- | --- | --- | --- | --- |
| Easy Miles | Marathon Pace Miles | Threshold Miles | VO2 Max Miles | Total Distance |
| 13.00 | 0.00 | 0.00 | 0.00 | 13.00 |
Ran 5 miles with Ted in the morning. We caught the 8:00 mile guy and showed him who's the boss. We also found a live runner, but he stayed with us unlike the imaginary 8:00 mile guy. His name is Dave Bell. He has just run 2:43 in Boston, and owns a running store in American Fork (26.2 miles). He will be running with us tomorrow. For the single ladies (do we have any on the blog?), he is not yet married, hot material.
When Ted was done, I asked him to help me figure out the battery contact problem in Zhu (our other car, Ford Escort Wagon 93). He wiggled the cable around and Zhu was happy, it started. Ted is a good guy to know, always prepared, and a quick thinker, knows how to solve problems.
Ran another 1.84 miles. Then Sarah and Adrianne went for their run before it got too hot. Our kids were still asleep, but Adrianne's baby was awake and in the stroller already. So I took the stroller and circled around the block to make it 10 miles. Felt very good, smooth stride. Caught the 7:30 guy for the whole run.
The hamstrings became sore over the weekend. That is very good. My hamstrings are the primary sore muscles only after my best marathons. The only other times it happened that I recall were Top of Utah 2003 (2:27:46), St. George 2003 (2:24:47), and Ogden 2006 (2:30:03). Nevertheless, they feel fine after jogging a mile. There is a little bit of soreness in the shin muscles that flex the ankle (dorsiflexors), that is also a good spot for me to be sore. I recall being sore there a while ago when I would increase my mileage from 30 miles a week to 60. However, this has not happened in over 15 years as I have never been at 30 during that time.
Ran with the kids in the afternoon and evening, and added a little more. Total of 13 for the day.
My recovery from a marathon makes me wonder if perhaps I got to the point where my cardio and muscular fitness exceeds my neural capabilities. Try as I might, I cannot run myself into the ground. If this is right, then I should focus on neural training. I believe a good portion of it actually happens when you run. But at the same time, a good portion happens when you do not run. Beds make champions! I know some things about it, but there is a lot more to learn.

| | | |
| --- | --- | --- |
| Night Sleep Time: 0.00 | Nap Time: 0.00 | Total Sleep Time: 0.00 |
Comments(2)
| | | | | |
| --- | --- | --- | --- | --- |
| Easy Miles | Marathon Pace Miles | Threshold Miles | VO2 Max Miles | Total Distance |
| 8.35 | 4.60 | 0.40 | 0.00 | 13.35 |
Recovery tempo run in the morning. Ted joined me for the warm-up and the cooldown. I suppose the term "recovery tempo" may sound contradictory, but I find this type of run very useful. It gets the blood going through the legs and gives you an overall pleasant feeling. It also measures how well you are recovering. And it helps maintain aerobic fitness through recovery.
I did the standard 5 miles on the Provo River Trail. My initial goal was to keep the 6:00 mile guy at bay. That was fairly easy, I decided at 0.5 to keep the 5:48 guy at bay instead and get sub-29:00. First mile in 5:47. Next mile in 5:42. They say the appetite comes while you are eating. Decided to keep 5:44 guy at bay. 14:21 at the turnaround (2:52), 17:14 at 3 miles (2:53,5:45). Next mile in 5:43. Got to close one more second on him. HR finally reached 155. Ran the next uphill quarter in 1:26 followed by 1:25.5. Saw Ted ahead of me and subconsciously sped up. Ran the next quarter in 1:23.5, followed by 1:20. Got 28:32.8 for the run, last mile in 5:35.
Hamstrings were not as sore as yesterday, but still sore. I could feel it during the tempo, but not much more than when running easy. I could really feel it at Dr. Jex's office during the massage. He also had my X-ray results. Since March my neck curve has improved from 27 degrees to 30 (ideal 35-45), forward head tilt from 5 mm to 2 mm (ideal 0), lower spine curve in sitting position from 5 degrees to 16 (ideal 35-45), and lateral lower spine deviation from 8 degrees to 6 degrees (again sitting position), ideal 0.
Ran with the kids in the afternoon.
| | | |
| --- | --- | --- |
| Night Sleep Time: 0.00 | Nap Time: 0.00 | Total Sleep Time: 0.00 |
Comments(1)
| | | | | |
| --- | --- | --- | --- | --- |
| Easy Miles | Marathon Pace Miles | Threshold Miles | VO2 Max Miles | Total Distance |
| 13.30 | 0.00 | 0.00 | 0.00 | 13.30 |
Easy run with Ted in the morning. Dragged my feet along through 10 miles in 1:16:24, felt sleepy, avg. HR 113. We did run really early - 5:00 AM. Ran with the kids in the afternoon plus some more. The hamstrings felt a lot better.
Now some pictures from the Ogden Marathon with comments. First, this one: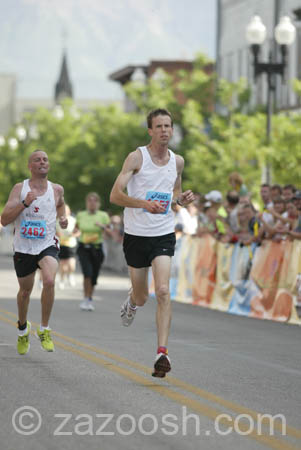 Steve Ashbaker is finishing ahead of Joe Wilson. I have known Steve for 8 years. We've had many conversations. Steve has had a lot of struggles. I believe aside from Steve himself there is not anybody there who can truly appreciate better than me the significance of the event that this photo captures. Thus I feel responsible to provide a bit of background to help other appreciate it as Steve is too modest to do it himself.
Steve always wanted badly to be in the Joe-class, doubted that he could, and agonized over his inability to be there for years. Now here it comes! The seemingly impossible happened, and there was even a photographer to capture it. Joe runs the best marathon he's ever run in Utah in my opinion. Not timewise, but quality wise. Ogden course it not fast, and it was hot. I believe the only other time he ran a better race was his 2:21 in Austin in 2003. Joe ran for Weber State and rocked the boat. Steve was as far away from running at college age as one could be. And now as Steve turns 36 thinking a few months ago that he does not have much of a running future we fastforward through a few months of thorough training to see the dream come true: Joe gives it all, runs one of his best races, and yet Steve pulls away from him.
Now another picture that Ted pointed out to me - some food for thought: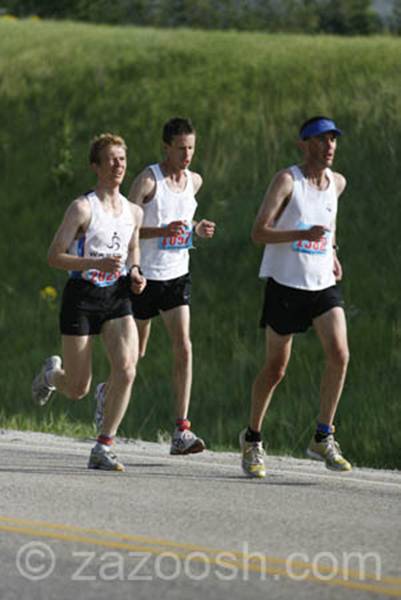 You see myself next to Steve Ashbaker and Mike Dudley. The interesting part here is the size of my quads next to two runners that eventually beat me in that race. As Ted said, this definitely explains why I get no soreness in the quads. I cannot complain about that, but the mystery is how in the world they got so big. The obvious answer is this is a peculiarity of my running form. I do not do any weight lifting or special strength work with my legs other than running. I do not even run uphill very much. But I guess that is enough. I do not have to run uphill. I take uphill with me wherever I go. I suppose my form makes me work as if I were running uphill even when it is flat. Can I fix it? Yes I can. I do not quite see the end or exactly how, but I have faith that eventually I will. Faith is to believe in things which are not seen but are true. We have seen some things already that were not seen at first and were very easy to question, but proved to be true. I need to be patient and wait for my time. I've had one breakthrough already a few years ago which happened just like that - through faith. There is another one coming.

| | | |
| --- | --- | --- |
| Night Sleep Time: 0.00 | Nap Time: 0.00 | Total Sleep Time: 0.00 |
Comments(10)
| | | | | |
| --- | --- | --- | --- | --- |
| Easy Miles | Marathon Pace Miles | Threshold Miles | VO2 Max Miles | Total Distance |
| 8.00 | 4.00 | 1.00 | 0.00 | 13.00 |
Another recovery tempo run this morning. Ted did the warm-up and the cool down with me. Ran the standard 5 mile tempo on the Provo River Trail.
Felt tired all day yesterday, so was not expecting much. Just tried to run relaxed. First mile in 5:47, second in 5:42. Passed Karl Jarvis and Nick McCoombs. Tried to talk Nick into running the remaining 5 miles with me. Also found out that he had not yet been paid by the Salt Lake Marathon just like Steve. I imagine Hobbie has not been paid either. I think I'll wait a week and then will lead an aggressive campaign to encourage the Salt Lake Marathon to pay the runners on time. As you may gather, Nick and Karl were going pretty fast if I could have this much of a conversation with them while passing them at 5:45 pace.
Next 0.5 in 2:53, 14:22 at the turnaround. The turnaround was not effective, next 200 in 46 seconds. But I made up by the 3 mile mark - 2:53 for the 0.5, and 5:46 for the mile. Now I am 1 second behind my pace two days ago. Subconsciously picked up the pace, next mile in 5:37. That felt good. Decided to shift gears into threshold pace on the last mile. Next quarter uphill in 1:23, felt strong. Maintained the same effort, next two quarters in 1:22. Saw that I needed to run 1:21 quarter to catch the 5:40 guy. Ran it in 1:18 just to be sure. Last mile in 5:25, last 2.5 in 13:55, the whole tempo in 28:17.7. I was very pleased not only with the pace on the last mile, but also with how aerobic it felt. Unfortunately, no reliable HR data today - my Garmin 305 was giving me some bogus numbers the entire run.
Ran part of the cool down with Karl and Nick, we found them on the trail as we went back.
Ran with the kids in the afternoon.

| | | |
| --- | --- | --- |
| Night Sleep Time: 0.00 | Nap Time: 0.00 | Total Sleep Time: 0.00 |
Comments(5)
| | | | | |
| --- | --- | --- | --- | --- |
| Easy Miles | Marathon Pace Miles | Threshold Miles | VO2 Max Miles | Total Distance |
| 13.40 | 0.00 | 0.00 | 0.00 | 13.40 |
Easy run with Ted in the morning. Started out asleep as usual, eventually warmed up to 6:50 pace. HR at 6:50 pace towards the end of the run was 129-131, just what it should have been. Did 10.04 in 1:11:24. Felt very good.
Ran with the kids in the afternoon. Benjamin started out asleep, 10:00 mile pace according to him felt like he had led shoes on. Then he felt better and better, and on the last mile ran 7:58. His comment was that 8:00 pace felt like walking.
Magna 5 K tomorrow. The tempo on Thursday gave a hint that the spinal correction might be starting to work. However, I can still explain away the results with a mere increase in aerobic endurance from mileage. My course PR is 15:31 (2005). Last year I ran 15:35 with a strong headwind for the first 1.8 miles. I will have two adjustment excuses tomorrow - a marathon a week ago, and training through the race with an 80 mile week, already 66 miles on the odometer before the start of the race. However, they are excuses. This was the first marathon of the year and on a non-Desnews course. I've had a whole week to recover from it. In 2003 a week after finishing my fifth marathon with four done in a period of less than 3 months + a few 26.2 mile long runs in between them with the slowest being 2:52 for additional punishment I could still run a half in a low 1:13 thinking I was running the full and then keep going and run another half in 1:24. So I really have no excuse for a 5 K.

If I go under 15:00, I'd say the spinal correction is working for sure.


| | | |
| --- | --- | --- |
| Night Sleep Time: 0.00 | Nap Time: 0.00 | Total Sleep Time: 0.00 |
Comments(3)
Race:
Magna Classic 5 K (3.107 Miles) 00:15:44, Place overall: 7

| | | | | |
| --- | --- | --- | --- | --- |
| Easy Miles | Marathon Pace Miles | Threshold Miles | VO2 Max Miles | Total Distance |
| 11.90 | 0.00 | 0.00 | 3.10 | 15.00 |

Magna 5 K, 15:44, 7th place. Tough field at the start - Trever Ball, Teren Jameson, Dennis Simonaitis, Nick McCoombs, and Steve Ashbaker looked like trouble at the start. In addition to that, a breakthrough race for Albert Wint. He actually did look like trouble too - I told him I noticed he had lost some weight. Consistent training makes a big difference. He has always been going out with the leaders and then losing it after a mile big time. Today he did not lose it. Good job Albert!

My goal for the race was to see what I could do in a 5 K off a routine post-marathon recovery/start of easing back into high mileage. I knew there was a good chance of running a bit slower, and feeling stale and tired on the last mile, and that chance materialized. Nevertheless, the finish was not too bad.

At the gun Teren and Trever blasted out like sprinters and went to run their own race. They each came thinking they could coast through it in 14:40 for some easy money. Tough luck. They had to race each other, as neither was willing to coast for an easy second. They ended up getting some good times - 14:10 for Teren and 14:13 for Trever.

The course is 1.8 miles of very good downhill that starts out steep then gradually reduces, then about a mile of 0.5-1 % grade up, followed by 100 meters of a sharp drop, then a very slight down, maybe 0.3% to the finish. We did get some headwind in the first 2 miles, although not as much as last year. With the headwind it is hard to tell how much it is affecting you. I've done many interval workouts going on the same stretch back and forth, and there were days with no noticeable wind when one direction was nevertheless being noticeably favored. Other times, there appeared to be a significant headwind that should have been favoring one direction, but there did not seem to be much of a difference. I think what happens is that you could have a steady 5 mph wind that you do not notice, and it will affect you more than occasional 3 second gusts of 15 mph that you will notice.

In any case, for today we were sufficiently lucky to have enough runners that have recently run at sea-level to determine that this course today was probably equivalent to a perfectly flat sea-level 5 K run in ideal conditions. Dennis ran 14:55 in Carlsbad, and 15:12 today. Trever had a recent 10,000 performance on the track at sea level of 28:55, and ran 14:13 today. Giving Dennis 17 second bonus for the lack of crowd support on a Saturday morning in Magna, UT at 8:00 AM, I think it would be fair to say this was like Carlsbad, with the downhill in the end compensating for the altitude and the headwind.

Dennis, Albert, Steve, Nick, and I were together for about 0.5 mile, then Dennis took off. I told Steve to go with him, but he did not. I think he should have, this would have saved him from Nick's furious kick on the last quarter. The rest of us stayed together until 2 miles. First mile in 4:36 ( really steep), second in 4:59 (less steep). After two miles I was done running that pace. Not sure exactly what happened - I felt like if I slowed down I could go forever, but I could not go any faster even for just a mile. The marathon probably pitched in some to this, the lack of taper and medium high mileage this week did too. What perplexes me is why the fatigue manifests itself this way - instead of finding yourself unable to run fast from the gun, you find yourself unable to hold the pace instead. My theory on that - when the nervous system is tired, once you reach a certain lactate level it just shuts down. When it's fresh and snappy you will just push through it.

Steve, Nick, and Albert pulled away. I tried to hang in there and not quit mentally. Running through the last mile I actually felt strong in a way, like I could run that pace forever, but just not any faster. I saw Albert get dropped with around 0.4 to go. I thought maybe I could catch him, but he was too strong, I was just maintaining the distance at best. The third mile was 5:36, the kick in 32 seconds and change. The actual finish time was 15:43.6, but with the USATF rounding rules it becomes officially 15:44. 15:12 for Dennis, 15:15 for Nick, 15:21 for Steve (new course PR for him by 14 seconds, the old was set without running a marathon a week before), 15:31 for Albert.

Chad had a great race with a new PR of 16:16, improvement of 24 seconds over the same course a year ago. McKenzie Snyder, 13 years old, ran 17:56 finishing 4th in the womens in a tough field - the female winner was Devra Vierkant with the time of 16:22, which is a new course record by 28 seconds. Teren's wife Emily set a Utah record, I believe, in the mothers of a 3 months old or younger division with the time of 18:16. Her best time ever is 16:09 on the track. Ted's son James met his goal of breaking 20:00 finishing in 36th place with the time of 19:45.

This race had only 70 people but 37 of them (52%), broke 20 minutes! Prize money went 5 deep for open, and 3 deep for the masters. Think about the significance of this. This shows how much Demetrio Cabanillas, who is the race director of this race, cares about helping athletes improve. He does not have much to give money-wise, but he gives what he can. His award ceremony is particularly inspiring. Nothing fancy, just a group of runners gathered around a tree in a park. For each runner that earned an award he lists their most important accomplishments if he happens to know them and most of the time he does. He knows what is happening in the local running community very well. I would like to publicly thank him for his contribution to the sport.


Did a long cooldown afterwards. Also ran with the kids when I came home. 81 miles for this week. I think I'll keep it at 80 for another week and then see how I am feeling.


| | | |
| --- | --- | --- |
| Night Sleep Time: 0.00 | Nap Time: 0.00 | Total Sleep Time: 0.00 |

Comments(3)
| | | | | |
| --- | --- | --- | --- | --- |
| Easy Miles | Marathon Pace Miles | Threshold Miles | VO2 Max Miles | Total Distance |
| 67.95 | 8.60 | 1.40 | 3.10 | 81.05 |
| | | |
| --- | --- | --- |
| Night Sleep Time: 0.00 | Nap Time: 0.00 | Total Sleep Time: 0.00 |
Debt Reduction Calculator