Russian champion tries Crocs, commits to racing a marathon in them
Nikolay Chavkin in the video below did 3x1000, first two in Adidas carbon-fiber models, the last one in Crocs. Surprised by the result (2:52, 2:52, 2:50) with the fastest interval done in Crocs, he committed to racing a marathon in Crocs if the video gets 42K likes and 195 comments (for 42 km 195 m, the marathon distance). Nikolay's current marathon PR is 2:14:00. The video was created by a Russian sporting goods store chain. Their moto is "more sports - brighter life", which we think is wonderful, and also deserves a Like. If you want to see a fast marathon in Crocs, go to the video and click the Like button. And make sure to share it with your friends.
| | | | | | | |
| --- | --- | --- | --- | --- | --- | --- |
| Miles: | This week: | 0.00 | Month: | 0.00 | Year: | 0.00 |
| | |
| --- | --- |
| La Sportiva Wildcat - Green Miles: 20.00 | Mizuno Wave Elixer 5 - Black Miles: 72.00 |
On the South side of Lake Mountain are three different access roads to the top. I've gone up and down the one furthest to the west several times, that being the main road. I thought I would try the route in the middle, perhaps going almost to the towers and then take the main road back south. Well, it didn't turn out that way, but I had a great time in the early morning in the snow on the mountain.
I started at 4 a.m. at Redwood Road and ran up Soldier Pass road, almost to the pass. The temperature was about 30 in the lowlands, so all the mud was frozen. The road I wanted turns right, just before the switch back to the top of the pass. The middle route stays down in a canyon, so I was successful in easily staying on the right route. But as I approached 6,000 feet, the snow started to get deeper. I stopped to put on my microspikes and then could make better progress. But as I reached 6,400, the snow drifts in the small canyon really made things slow and soon I was just doing post-hole hiking. That was OK, it looked like I was almost to the top of the ridge. But then my canyon narrowed and looked like it was ending. I guessed I had missed a turn (I believe I did). Since I was going so slowly, I turned back and tried to find my missed turn, but never noticed it in the dark.
So, when I reached the junction for the eastern route up, I decided to go take that one. I knew it would be much steeper and it was. This route quickly climbed up the slopes and they were bare of trees and thus free of snow for longer. Dawn was arriving as I reached the top of the ridge and had amazing views to Cedar Valley to the west, the Tintics to the south, and Utah Lake to the west. But once again, as I reached 6,400 feet, the snow slowed me down. I continued on because the view were spectacular as the sun started to rise. Fog blanketed Provo across the lake and it was heading my way. Once I reached 6,600 feet, I believe I made it to the junction where my first route should have climbed to the top of the ridge too. At that point my toes were really getting cold going through foot-deep snow, and I just had a little slush left in my bottle (it had frozen, probably about 20 degrees up there). So, I turned around. I was glad that I found a nice new training route. Doing a loop of those two routes would be nice because the first one is down in the trees and the second has wonderful vista views. This will be fun once the snow melts. The route on top continues along the length of the top of Lake Mountain to the towers on the north side.
With all my exploring, I traveled about 20 miles in 4.5 hours. Not speedy, about 4,000 feet of climbing with lots of snow.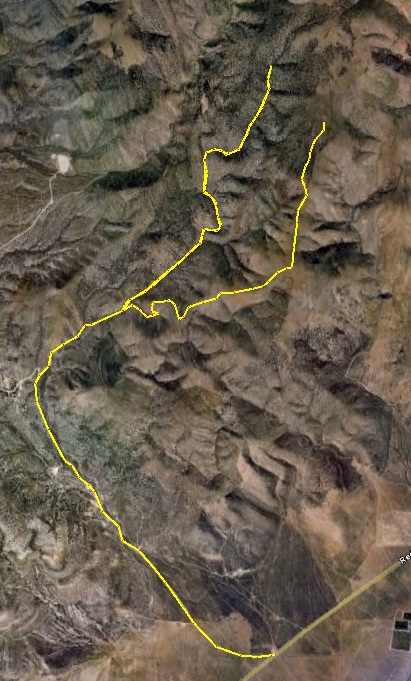 La Sportiva Wildcat - Green Miles: 20.00
Comments(3)
Well, no Bear 100 for me this year. I booked travel to NY for Virgil Crest. The RD gave me a nice race director's discount and I'll help promote their race. Should be fun. Grabbed airline tickets before oil prices keep shooting up.
Comments(2)
Out at 3:50 a.m. Ran seven on the pavement since it was above freezing. The knee complained a bunch. Went into the treadmill and it calmed down. Did some hill work. Long stretches at 15%+. Averaged 9 miles x7:30 pace x 7% incline.
Mizuno Wave Elixer 5 - Black Miles: 16.00
Add Comment
Ten fairly easy treadmill miles. 10x8:00x6%
Watched a guy who came in to lift weights. I have a hard time understanding those guys. He does some simple reps, and then walks around slowly for five minutes, takes a drink, looks at himself in the mirror, watches TV, looks at the weights and slowly sets up the next easy exercise. He was there for 40 minutes and I think was actually working about 5-7 of those minutes. To me that is a waste of good time. No sweat on his shirt when he left.
Another guy who is trying to lose weight is similar. He actually stands and stares at the weights and machines for long minutes. I think he thinks he is doing good by just being there and looking at the weights. Oh well at least they are doing something.
Mizuno Wave Elixer 5 - Black Miles: 10.00
Comments(7)
I love runnin in freshly fallen snow. So I was out the door at 4 a.m. in the snow storm. Ran five miles. One inch fell as I ran. Then I went indoors and ran the treadmill, averaged a 10x7:40x4%. The guys doing weights today were tough, worked hard the entire time. They are led by a former BYU running back. They guy next to me on the treadmill was a treadmill pounder. Slamming feet and body flying all over the place. Now that is tough. I think he did three miles.
Utah county got slammed this morning with snow. We had six inches by the time I left for work. But in Salt Lake County, hardly anything.
p.m. More treadmill, dreaming of the trails. Need to blow up those machines.
Mizuno Wave Elixer 5 - Black Miles: 20.00
Comments(1)
20 miles on the treadmill. Stopped before permanent insanity set in. Watched the various people coming in to work out. One lady, I couldn't understand. She got on the treadmill next to me, turned on the huge fan to blow us like crazy, ties her sweatshirt around her waist like she is going for a hike, just in case she needs it later. She stays on for about ten minutes and doesn't even go a mile. Then she spends the next 20 minutes doing odd stretchs, and various exercises that she could have done at home in front of her TV. Then she was gone, left the fan blasting. I don't get why people don't want to sweat while they exercise. A couple other guys came in, didn't lift weights, just did some sit-ups and stretches, one of the guys read a book most the time. They left after 40 minutes. Then the guy from earlier in the week came in who does short reps and then slowly walks around the weight machines. Oh, the thrilling things to watch while on the treadmill. I can see the stuff from the reflections on the window.
My 20 treadmill miles involved some pretty good work. Incline averaged about 6% and the machine thinks I climbed 5,000 feet along the way.
For the rest of the time, I ran outside on the Jordan River trail. It was a bit chilly in shorts with the stiff northerly wind, but I really enjoyed it after that mind-numbing experience in the workout room.
I'm at the top of the mileage board for the week. If I stay there, that will be my third week this year at the top.
I posted this picture on my facebook page. All my buckles (or most). I think I lost one or two.
Top row: Bear(6), Across the Years (2)
Row 2: Tahoe Rim (4), Leadville, Wasatch (3)
Row 3: HURT, Rocky Raccoon (4), Bighorn (3)
Row 4: Old Pueblo (3), Javalina, Zane Grey (3), Pony Express Trail
p.m. 5 miles with the dog. Had to get my daily miles up to 50K. 97 miles with just five days of running. Not bad.
Mizuno Wave Elixer 5 - Black Miles: 26.00
Comments(4)
| | |
| --- | --- |
| La Sportiva Wildcat - Green Miles: 20.00 | Mizuno Wave Elixer 5 - Black Miles: 72.00 |
Debt Reduction Calculator